Last Monday, the FCC handed down two decisions that severely impact the way that local television stations operate. The first ruling places strict limits on joint sales agreements (JSAs), arrangements that allow stations to sell advertising time on behalf of a competing station for a commission. Stations are now barred from selling 15% or more of another station's ad time, cutting off a sizable stream of revenue for several companies. The FCC, in a 3-2 vote, ruled that JSAs allowed TV stations to circumvent agency ownership rules that prohibit duopolies in markets with fewer than eight independently owned stations.
Media giant Sinclair Broadcast Group Inc. (NASDAQ:SBGI) is one firm that stands to lose millions in JSA-generated revenue as a result of the FCC's decision. Of the company's 149 stations, 24 are involved with JSAs. The JSAs are distributed amongst 20 different markets, ranging from 27th-ranked Baltimore, MD to 147th-ranked Sioux City, IA. JSAs accounted for $36 million of the company's $1.22 billion in revenue last year.
JSAs are an important source of revenue for Nexstar Broadcasting Group (NASDAQ:NXST) as well. In the company's Q4 2013 earnings call, Chairman and CEO Perry Sook stated:
approximately 70% of our revenue comes from markets where we derive an economic benefit from more than 1 station.
The company has 18 JSAs with Mission Broadcasting in 15 different markets.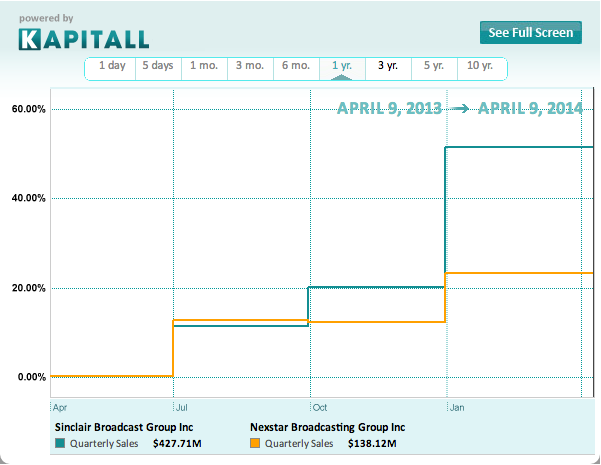 Click here to get more information on Sinclair and Nexstar.
Meanwhile, Spanish-language media company Entravision Communications Corporation (NYSE:EVC) has only seven JSAs, leaving its revenue less vulnerable to the FCC's decision. Entravision is also the only television broadcasting company publicly traded on US exchanges with significant institutional buying, where net purchases comprise at least 5% of share float. Net institutional purchases totaled 4 million shares in Q4 2013, which represent approximately 6.76% of the company's float of 59.15 million shares. The top holders of the stock are American Century Companies, Inc., which owns 9.71% (or 5.8 million) of all outstanding shares and Dimensional Fund Advisors LP, which owns 5.04% (or 3 million).
The upcoming midterm elections may provide a clue to bullish sentiment towards Entravision. Last October, University of San Francisco professor Ken Goldstein estimated local broadcast television would receive around $2.4 billion in political ad sales. Entravision's prevalence in top Hispanic markets makes it attractive to candidates, providing access to an increasingly important demographic in US politics.
In the past, heavy political spending has translated into considerable revenue gains for Entravision. Over the course of 2012, political ad spending on local broadcast television reached an all-time high of $2.9 billion; Entravision received a record $16.6 million in television and radio political ad sales during the election cycle, driving up revenue by 14.87% year-over-year to $223.3 million. Two years earlier, in 2010, midterm election campaigns spent $2.1 billion on local television spots, and Entravision earned $7.1 million in revenue from ad sales. Political spending, combined with World Cup advertising, boosted net revenue to $200.48 million that year, up 5.95% from $189.23 million in 2009.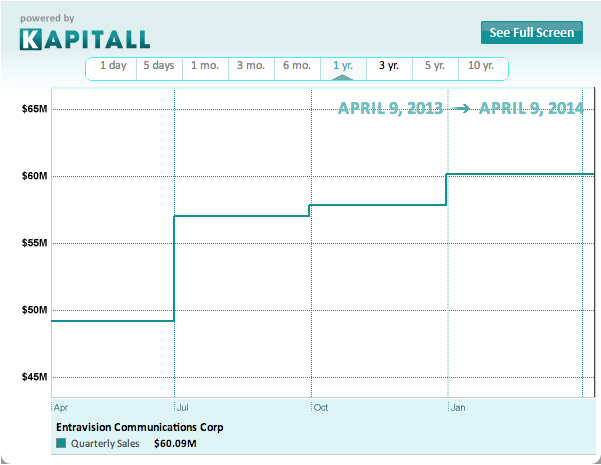 Click here to get more informaiton on Entravision Communications.
Conditions for greater political ad spending have become even more favorable in the wake of another government ruling: the Supreme Court's decision to remove aggregate federal campaign contribution limits. Last Wednesday's McCutcheon ruling could lead to more political spending on local television ads, which research firm Kantar Media's Campaign Media Analysis Group [CMAG] now projects will reach between $2.4-$2.8 billion. One place that can expect to see lots of political ad spending is Colorado's 6th congressional district, which covers the southern portion of the Denver-Aurora metropolitan area.
Politico writes that the district is the setting for the "most competitive House race in the country," a showdown between Republican incumbent Mike Coffman and Democrat challenger Andrew Romanoff. According to the news site, the race is positioned be one of the most expensive campaigns in history, bringing in funding from outside parties and ultimately costing upwards of $25 million. The costly campaign is likely to be a huge boon for Entravision, which owns and operates three stations in the district. Hispanics currently comprise 20% of the district population, rising from 8% after Colorado redrew the map following the 2010 census.
In addition to Colorado's 6th congressional district, TVB, the trade association for commercial broadcast television, lists 13 other districts that will have competitive House races this year. Entravision owns or manages stations in two of those districts: California's 36th and 52nd. Hispanics make up 46.6% of the population in the 36th district and 12.9% in the 52nd, so as candidates strive to win over Hispanic voters, Entravision stands to benefit from their spending.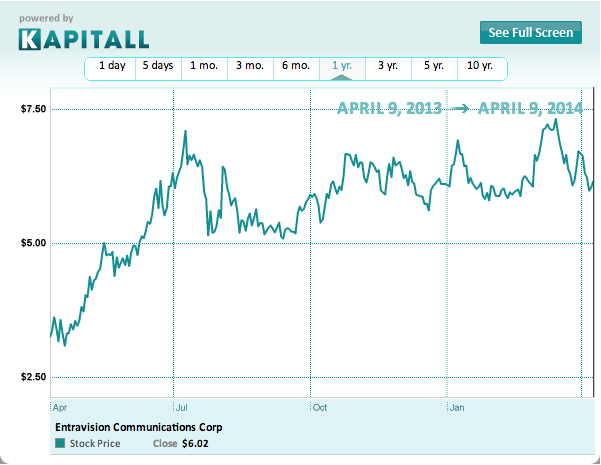 Click here to see a summary of the companies under discussion.
An added bonus for investors considering Entravision is that the stock is undervalued per the Graham Number. The figure uses a stock's earnings per share and its book value to determine the maximum fair value for a stock. If a stock's price is below the number, it's time to buy; if it's above the number, it's time to sell. Entravision's diluted TTM earnings per share is $1.50, and its book value per share is $1.54 in the most recent quarter. The Graham number for Entravision is $7.21, and the stock closed at $6.02 yesterday, implying a potential upside of 19.77%.
Disclosure: I have no positions in any stocks mentioned, and no plans to initiate any positions within the next 72 hours.
Business relationship disclosure: Kapitall is a team of analysts. This article was written by Mary-Lynn Cesar, one of our writers. We did not receive compensation for this article (other than from Seeking Alpha), and we have no business relationship with any company whose stock is mentioned in this article.