Sometimes when I read the forecasts from bearish investment managers, I think it's time to sell all my stocks and hide out until the storm passes. And yet, as the financial advisor and investment strategist, I am supposed to provide the steady hand and confidence to remain invested during the ups and downs of the market. But as I look back on the quarter, and look forward for the remainder of the year, there are a few data points that bear particular attention - some are quantitative, others are qualitative, and they will have an impact on the positioning of the asset allocation. And yet, the basic questions are simple:
Are we at a top?
Should we modify the asset allocation?
As a note of caution, I feel like I have predicted 8 out of the last 0 market tops over the recent market cycle. The fact is, no one definitively knows when the top occurs, and yet, we look at evidence to try to gauge whether we should be fully invested or less than fully invested so as to preserve some of our capital in the ugly times - and there will be ugly times, there always are. If we jump too early, as I have been prone to do, we look at the gains and feel a sense of lost opportunity (See "Sitting on the Fence"). If we jump too late, we will suffer the financial penalty of inaction. And if we try to "time the market," we end up missing the gains and eating the losses - the worst of both worlds.
Update on Model Portfolio
As discussed in an earlier article, the asset categories that underlie the investment allocation are as follows:
The Fixed Income Markets
The first data to examine is the behavior of the yield curve during the first quarter. The following comes from the US Treasury website: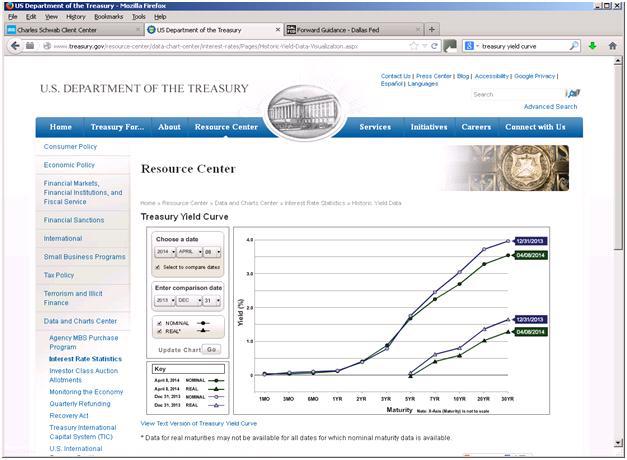 Despite the announcements of reduced QE, the curve flattened, and as a result, investments like long-term fixed income and preferred shares continued to outperform. I'm calling "enough" on this trade, and recommending the following actions:
Simplify the fixed income assets by reducing the number of fixed income investment vehicles to three (Money Market, Short Term, and Preferred)
Leave the fixed income allocation in short term and money market.
This change means that, for the rest of the year, this set of assets will not earn much of anything - thank the Fed, don't shoot the messenger.
In addition to the above simplification, I exchanged ISTB for FSTIX - the investment performance of each will be similar, although FSTIX is less liquid and hence one should be prepared for holding of 9 months.
The revisions to the model allocation therefore are as follows:
| | | |
| --- | --- | --- |
| Asset | Original | Revised |
| AGG | 30% | 0% |
| ILTB | 5% | 0% |
| ISTB / FSTIX | 55% | 100% |
| HYG | 5% | 0% |
| PFF | 5% | 0% |
Precious Metals and Commodities
Precious metals have had a fine quarter, somewhat buoyed by geopolitical strife, but also by the continued expansive monetary actions. The logic underlying the precious metal investment is that, eventually, the USD currency must show some effect of the massive liquidity injection. Of course I have been writing about that for years, and to date, nada. Looking into 2014, I am continuing the allocation into GLD related commodities, but I am recommending to sell call options for June 2014 on the SLV (22) and GLD (150) positions. As you know, GLD and SLV never pay a dividend, so the only way to get some income from the investment is to identify times where price volatility can be harvested in the options market. The volatility income for these calls is not ideal, but again, we are not dealing with an ideal investment climate right now.
Equities
Love… hate, that's all I can say. As investors, we love the returns, but hate the levels. The first chart I am showing merely illustrates what we have seen over that past few years. The market is at all-time highs.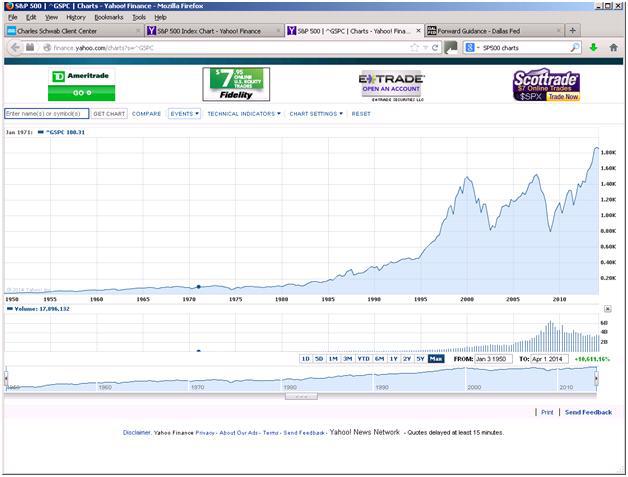 Investment managers such as Dr. John Hussman Ph.D. are cautioning that this market cycle, when it finally comes to equilibrium, will rest at levels far below the current prices that we are currently enjoying. I respect the data-driven approach that underpins their investment approach, and the underlying data that supports their analysis shows a strong correlation to actual observed market returns over long periods.
So, we're in a pickle. At these levels, there is always a desire to take some off the table, but if we take too much, then we risk sitting in such a terrible investment alternative (like money markets) that our funds become stagnant. From a big picture, we have to remember the role that equity plays in our portfolio. Following is the asset allocation at a macro level:
| | | | |
| --- | --- | --- | --- |
| Asset | Conservative | Aggressive | Income |
| Cash | 15% | 0% | 5% |
| Fixed Income | 60% | 20% | 55% |
| Equity | 25% | 70% | 35% |
| Commodity | 0% | 10% | 5% |
Now, the problem with a sustained, multi-year underperformance in equities is that the aggressive investor is faced with the very real prospect of negative returns. Those losses are never pleasant, and they can wreak havoc on plans for retirement or other savings goals.
What is the Fed Saying?
Following is an excerpt from a speech from Richard Fisher of the Dallas Fed and to be complete in my citations, I saw the link on Hussman's market commentary.
"…Thus, through financial engineering, we have helped bolster a roaring bull market for equities: The indexes for stocks have nearly tripled from the lows reached in March 2009."
and
"Alongside these signs of rebound have been some developments that give rise to caution. I have spoken of these in recent speeches, echoing concerns I have raised in FOMC discussions:
The price-to-earnings (PE) ratio of stocks is among the highest decile of reported values since 1881. Bob Shiller's inflation-adjusted PE ratio reached 26 this week as the Standard & Poor's 500 hit yet another record high. For context, the measure hit 30 before Black Tuesday in 1929 and reached an all-time high of 44 before the dot-com implosion at the end of 1999.[1]
Since bottoming out five years ago, the market capitalization of the U.S. stock market as a percentage of the country's economic output has more than doubled to 145 percent-the highest reading since the record was set in March 2000.
Margin debt has been setting historic highs for several months running and, according to data released by the New York Stock Exchange on Monday, now stands at $466 billion.[2]
Junk-bond yields have declined below 5.5 percent, nearing record lows.[3]
Covenant-lite lending is becoming more widespread. In my Federal Reserve District, 96 percent of which is the booming economy of Texas, bankers are reporting that money center banks are lending on terms that are increasingly imprudent.
The former funds manager in me sees these as yellow lights…"
[bullet footnotes can be found on Fed web-page]
So, clearly there is a camp that believes we are at or near the top, and the question is, do we want to modify the investment pattern based on this evidence? In a nutshell, I believe that the answer to these questions is "yes" and the following overlay could be used to reduce the equity allocation:
Sell Calls on SPY for December 31 with a strike at or around current levels. At the time of my writing, a call on the SPY500 for December 31 at a strike of 187 was receiving a bid offer of about $7.50
To complement this approach, one could purchase June 30 SPY puts with a strike price below current levels, but not wildly out of the money. For example, June 30 SPY Puts at 182 could be purchased this morning for about $3.60.
An additional trade to offset some of the cost of puts would be to sell some out of the money June SPY puts. For example, the 175 puts were being bid at about $1.90
The effect of the above put trades is to provide some downside cover, and to keep a good portion of the call proceeds in case we want to roll that put position into the September contracts.
Implementing the Option Overlay
To simplify the implementation of this approach, one will first concentrate the equity exposure into a smaller set of investment indexes. For example, the pattern could shift as follows:
| | | |
| --- | --- | --- |
| Asset | Original | Revised |
| SPY | 55% | 80% |
| IWM | 20% | 5% |
| EEM | 5% | 5% |
| EFA | 20% | 10% |
Clearly, shifting the assets mix as above will reduce the potential for a more diversified return profile, and inherent in the shift is the belief that correlations tend towards 1 as market return volatility increases in a downward fashion. The correlation shifting has been empirically demonstrated during the financial crisis, and there is no reason to believe that these assets will not move in sympathy with each other if we are truly entering a market top and the beginning of a multi-year decline in returns. We can re-visit the wisdom of these calls as time progresses.
The second question is: what percentage of the equity account should have this overlay? That's a call that has to be based on an individual's tolerance for risk and reward, but as a scale guide, I believe one could sell calls on 75% of the portfolio at or around present levels, and that puts could be used to cover 100% to 120% of the value of the portfolio. So, it's not a call to sell everything and run for the hills, but this is a substantial reduction in equity exposure with a bearish short-term bent.
An alternative to the equity option overlay is to reduce the assets by selling. Regrettably, I followed that approach early last Spring, and have been less than fully invested as the market continued to make new highs. It has been amply demonstrated that timing the market can result in underperformance, and the counterpoint is that sustained, multi-year negative returns can be hazardous to your financial health.
Disclosure: I am long SCHA, SCHE, EFV. I wrote this article myself, and it expresses my own opinions. I am not receiving compensation for it (other than from Seeking Alpha). I have no business relationship with any company whose stock is mentioned in this article.
Additional disclosure: This article is not a recommendation to buy or sell stocks or options. I publish it for educational purposes and to share my investment experience. My actual portfolio is long FSTIX, Money Markets, GLD and Global Equities (US and Int'l). I have initiated a short call position on GLD and on high beta stocks in the SP 500. I have not purchased puts because my equity allocation is under-invested relative to the model I write about.