Opportunities to avail
There is healthy growth in the telecommunication services offered by Vodafone (NASDAQ:VOD) throughout the world in both the developed and emerging markets. With the growing use of smart phones and tablets, data consumption is showing good growth. The use of 4G networks is growing rapidly in developed markets and emerging markets are showing growth in both 3G and 4G data traffic. Despite that, Vodafone is struggling with its group revenue growth. This is being taken very negatively by investors and the stock price has experienced a 13% fall in price in the last month after the third quarter results announcement. This article will explore if there is real damage to the Vodafone's business and it will continue to hit the company's top line growth or this issue will be resolved and is only a bump in the road to success. If it's just a bump that VOD will recover from then this dip in price presents a good investment opportunity.
Why the halted performance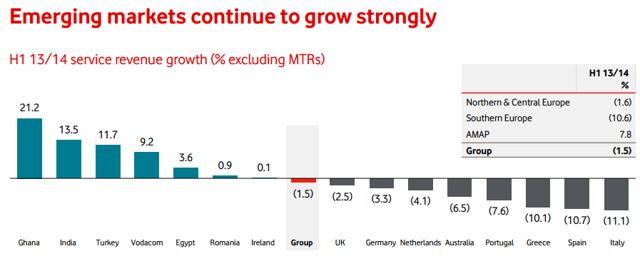 These are the half year results of VOD that showed there are two sides to the story. VOD is struggling to continue growth in the developed markets that are showing a negative growth in revenue. This is a matter of concern for VOD and revenues can not fall persistently this way, as these developed markets form a big portion of VOD's revenue. On the other hand, the emerging markets are proceeding very well and VOD has been able to attain healthy growth in these markets. Ghana, India, and Turkey are showing a robust growth in revenues. Overall the situation is not good for VOD since its group revenues fell by 1.5% in the first half of the financial year 13/14.
Third quarter results show that group service costs for the third quarter fell by 4.8% YOY and second quarter revenue also fell by 4.9% YOY. Revenue in Europe showed a negative growth of 9.6% in the second and third quarter, and growth from the AMAP region is growing by around 5.5%-5.6%.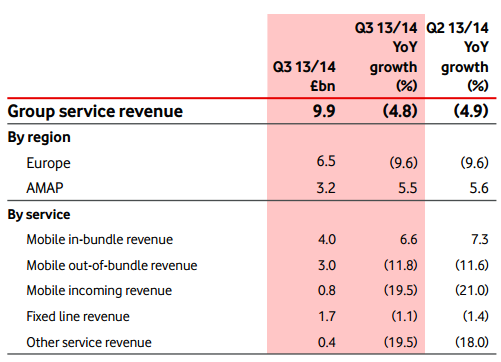 VOD is expected to continue its healthy growth in the emerging markets and its situation in Europe is expected to stabilize and improve soon.
How will the future change?
If we look at the region of Europe, where VOD is suffering negative growth, we see positive demand trends supporting VOD. The following graph shows that in the developed market desktops sales are declining, laptops sales have shown little growth, and smart phone and tablets have shown outstanding growth in sales. The same trend can also be seen in almost all of the developing markets and in many emerging markets, including the Middle East and the Asia Pacific region. This growth is expected to continue in the coming years in all of the markets VOD serves. This trend is resulting in increased consumption of mobile voice and data consumption and VOD is expected to capitalize on this.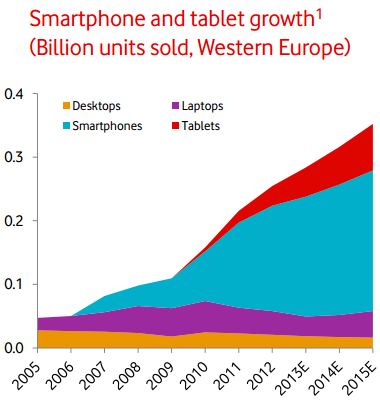 Source: Company presentation
The following graph shows that Vodafone's mobile voice and data traffic in Europe has grown and the company is capitalizing on the growth in mobile devices, especially smartphones and tablets, and the voice and data traffic of VOD in the European markets has grown substantially. VOD has the capacity to stabilize its position in the European market and its current negative growth is expected to stabilize soon.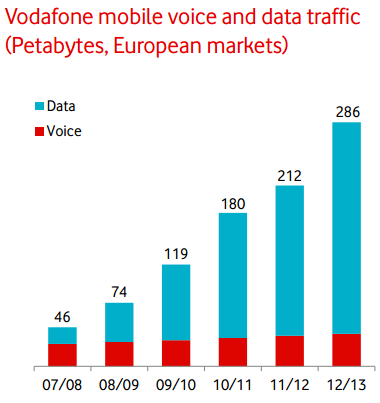 Source: Company presentation
Is it the right time to make a move?
VOD's shares have outperformed two of its competitors, Verizon (NYSE:VZ) and AT&T (NYSE:T), and the S&P 500 Index in the last year producing a return of about 26%. Rival shares have performed very badly as they end up in the negative zone given in the following exhibit.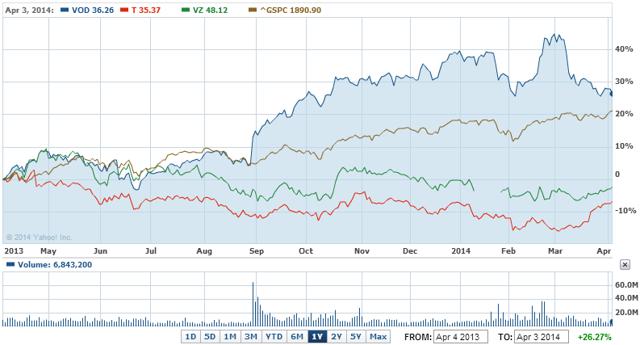 Source: Yahoo Finance
Vodafone's dividend yield is 8.33% and this is very attractive and high compared to the industry average of 0.91%. The payout ratio is also high and VOD is returning 28.19% of its earnings to shareholders. This makes VOD a very attractive value stock.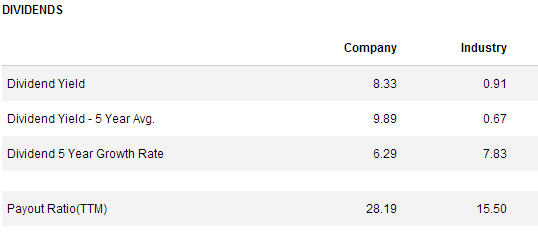 The valuation shows that these analysts are overall bullish about VOD's price performance in the coming months. The most conservative target price estimate will give a return of about 18% on the current share price. Mean and median target prices, if materialized, will give a return of about 81% to 90% at the current price of $36.26. The most optimistic analyst's price estimate presents an upward potential of 227.5%. Only four analysts' forecasts are included in our estimate so we need to further evaluate the stock as the reliance on very few analysts is theoretically more risky. Let's look at the price multiples of VOD to further understand the valuation.

Source: Yahoo Finance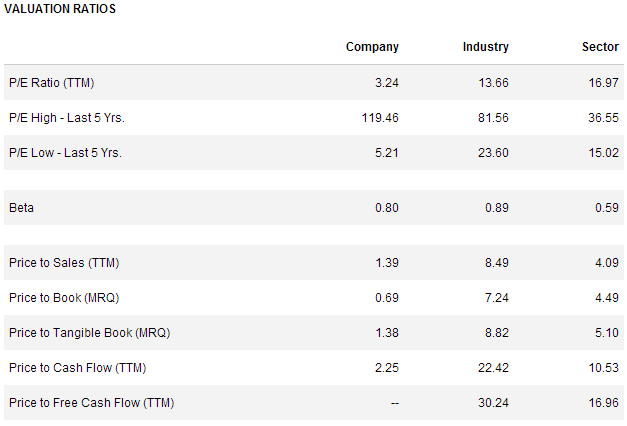 Source: Reuters
Trailing twelve months P/E ratio tells us that we have to pay $3.24 to get VOD's $1 earning. This indicated that the stock is really undervalued. The P/E ratio is much lower than the industry average of 13.66 times. Price/sales and price/cash flow ratios are all much lower than the industry and indicate an undervaluation of the stock.
Target price estimates given above seem consistent with the relative valuation shown by the price multiples. VOD's share has been punished by shareholders due to the negative growth shown by the 3rd quarter results released a few weeks back. For medium term investors this dip in price seems to be a very good opportunity to take a position in VOD and since the company is certainly not doomed and its shares will rebound in the coming months.
Conclusion
VOD is one of the largest and most stable companies with a huge presence in the developed markets of Europe, emerging markets of the Middle East and the Asia Pacific region. It is struggling with its top-line growth but with the growing demand for its services in the markets it is operating, VOD is expected to overcome the problem and continue to create value for investors. The current dip in price is a good opportunity to take a position.
Disclosure: I have no positions in any stocks mentioned, and no plans to initiate any positions within the next 72 hours. I wrote this article myself, and it expresses my own opinions. I am not receiving compensation for it (other than from Seeking Alpha). I have no business relationship with any company whose stock is mentioned in this article.