Smartphone growth has been impressive over the past few years, leading to higher revenues for telecom operators from data services, but at the expense of huge investments. This means that operators' cash flow generation has been hampered by this investment cycle in infrastructure, to offer modern infrastructures and higher broadband speed. One company that is especially well positioned to benefit from telecom operators' spending is Ericsson (NASDAQ:ERIC), the world's leader in mobile network infrastructure. The company is based in Sweden, but is traded in the U.S. on the NASDAQ through its American Depository Receipts.
Ericsson is a Swedish multinational provider of communications technology and services. Founded in 1876 by Lars Magnus Ericsson, the company is headquartered in Stockholm, Sweden. The company employs more than 110,000 people worldwide and works with customers in more than 180 countries. Ericsson has a market capitalization of about $44 billion. Its two largest shareholders are two Swedish investment companies, Investor AB (OTCPK:IVSXF) and Industrivarden AB (OTC:IDTVF), which held 21.5% and 15.21%, respectively, of its voting rights at the end of 2013.
Ericsson's offering comprises services, software and infrastructure within Information and Communications Technology [ICT] for telecom operators and other industries, including telecommunications and IP networking equipment, mobile and fixed broadband, operations and business support solutions, cable TV, IPTV, video systems, and an extensive services operation. The company's business is divided into four segments: Networks, Global Services, Support Solutions, and Modems. As a global company, Ericsson's revenues are very well diversified geographically, with North America being its largest single market, accounting for about 26% of its revenues. Ericsson had a joint-venture with STMicroelectronics (NYSE:STM) that was dissolved in 2013. Previously, Ericsson had a joint-venture with Sony (NYSE:SNE) for mobile phones, but Sony acquired Ericsson's stake in 2012.
Its largest division is Networks, accounting for more than 60% of its revenues and the majority of its earnings. Its main competitors are Alcatel-Lucent (ALU), Nokia (NYSE:NOK), and Chinese companies Huawei and ZTE (OTC:ZTCOY). The global telecoms equipment market is characterized by fierce competition and rapidly evolving technological changes. Over the past few years, Chinese companies have gained strong momentum at the same time that the market has consolidated. Ericsson has been active in M&A, given that it bought several companies and assets enlarging its leadership. Ericsson's large operational scale and installed client base are important competitive advantages over its competitors, protecting its market share. Moreover, the company's market position is also supported by its technological leadership and large R&D investments. In 2013, its R&D investments were close to $5 billion, or more than 14% of its revenues.
Ericsson is one of the strongest holders of essential patents in the wireless industry and has approximately 35,000 granted patents at the end of 2013. Ericsson is the world's leader in the 2G/3G/4G mobile network infrastructure market, with about 40% market share. This means that 40% of the world's mobile traffic runs through networks supplied by Ericsson. The company expects that by 2019 there will be about 9 billion customers in the world, from about 6.7 million at the end of 2013. This represents a CAGR of 5% during this period. More impressive is the growth expected in the number of mobile smartphones, which Ericsson sees increasing by three times compared to today. This means its networks business should continue to enjoy robust demand over the coming years, as telecom operators continue to invest on infrastructures to meet increasing customer demand for data services.
Regarding its financial performance, Ericsson has reported relatively stable revenues over the past few years, but its profitability has been much more volatile. In 2013, the company's revenues were practically flat at $34.7 billion, but its operating income increased by 70% to $2.7 billion. Its operating profit margin increased significantly, from 4.6% in 2012 to 7.8%. This volatile financial profile is mainly justified by its Networks division, which have highly correlated earnings to telecom operators' general spending. This level of spending is somewhat cyclical and is dependent on a number of factors, such as the telecoms operators' financial health and the overall macroeconomic outlook. This explains why in 2009 and 2012, two years with tough economic conditions, Ericsson's operating margin was much lower than usual as shown in the next graph.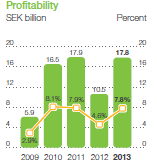 Ericsson has focused more on profitability than volume over the past few months, explaining its huge increase in operating income during the past year. Another issue that affects the company profitability is currency movements due to its global exposure, being another factor that can lead to volatile earnings. When the Swedish krona (SEK) is strong, this will be a headwind for the company's earnings and contribute to some earnings surprises on a quarterly basis. On the other hand, when the dollar and other major currencies strengthen against the SEK, this will represent a boost to Ericsson's earnings.
Going forward, Ericsson's revenues are expected to rise to $37 billion by 2016, representing a modest CAGR of 2.1% over the next three years. More appealing is its profitability improvement, given that its operating income is expected to reach $3.5 billion by 2016 or an operating margin of 9.6%. This is a strong enhancement from the 7.8% margin achieved in the past year, and shows that Ericsson's strategy of focusing on profitability should gain traction in the medium term.
Regarding its dividend, Ericsson has a very good history. Over the past five years, the company has raised its dividend every year despite its volatile earnings. Its growth has been very good, taking into account that its historical 5-year CAGR was 10.7%, measured in SEK. Its last annual dividend was SEK 3.00 ($0.46) per share, an increase of 9.1% from the previous year. At its current stock price, Ericsson offers an interesting dividend yield of 3.5% with good growth prospects, taking into account that the company is expected to maintain its policy of growing dividends over the next few years. By 2016, its dividend should climb to $0.55 per share, or a CAGR of 6.2% over the next three years. On the other hand, like many European companies, the dividend frequency is annual and the Swedish dividend withholding tax is 30%, reducing a little its appeal for income investors.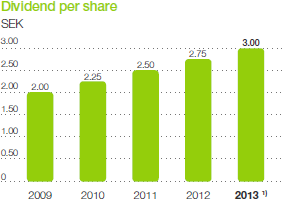 Ericsson's dividend stability may give a false sense of safety. Reflecting its volatile earnings, its dividend payout ratio has been erratic over the past few years. In bad years, the payout has been above 100% of earnings, but rapidly recovers to more sustainable levels in good years. In 2013, Ericsson's dividend payout ratio was 80%, which is nonetheless a high and worrying level. However, based on cash flows, which is the best way to analyze the dividend sustainability over the long term, Ericsson's dividend is clearly safe. In 2013, its cash flow from operations amounted to $2.6 billion, which was more than enough to finance its capital expenditures ($700 million) and dividend payments ($1.4 billion). Furthermore, the company's balance sheet is rock solid given that it has a net cash position of $5.7 billion, an amount that covers almost four years of cash dividend outflows.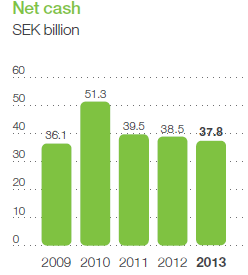 Conclusion
Ericsson's key strength is its leading position in the mobile networks and equipment industry. Smartphone penetration should continue to increase at strong growth rates over the next few years, supporting the company's core business growth. Ericsson is focused on improving its profitability, leading to good dividend growth prospects. Despite its volatile earnings, its dividend is safe due to its good cash flow generation and the company's very conservative balance sheet.
On the negative side, as emerging markets are currently out of favor among many investors and Ericsson has a significant exposure to these markets, its stock price can be volatile in the short term. Nevertheless, for long-term income investors, this may represent a good buying opportunity and investors should buy on dips.
Disclosure: I have no positions in any stocks mentioned, and no plans to initiate any positions within the next 72 hours. I wrote this article myself, and it expresses my own opinions. I am not receiving compensation for it (other than from Seeking Alpha). I have no business relationship with any company whose stock is mentioned in this article.