The yield on the US 10-Year note is still between my annual levels at 2.999 and 2.813. Comex gold is trading below $1200 supporting my view of a struggle to return to its June 21st high of $1266.5. Nymex crude oil is below my annual pivot at $77.05. The euro is shy of my monthly resistance at 1.2670. For the Dow a return to my weekly pivot a second time is a coin flip. Dissecting the 91 community banks that did not make May 17th TARP dividend payments.
US
Treasury Yields
– Semiannual and quarterly supports are 3.479 and 3.486 with my annual and weekly pivots at 2.999 and 2.941, and daily, annual, quarterly and semiannual resistances at 2.890, 2.813, 2.495 and 2.249.
Yields should stop their decline between 2.999 and 2.813.
Courtesy of Thomson / Reuters
Comex Gold –
Quarterly support is $1140.9 with annual support at $1115.2. Semiannual and daily pivots are $1218.7 and $1215.3 with weekly, semiannual and monthly resistances at $1238.4, $1260.8 and $1279.3.
The all time high of $1266.5 set on June 21st was a test of June's monthly resistance and the $1260.8 to $1279.3 should be a significant top for gold.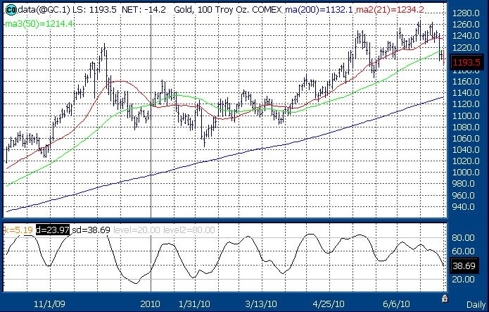 Courtesy of Thomson / Reuters
Nymex Crude Oil
–
Weekly and quarterly supports are $71.71 and $56.63 with daily and annual pivots at $73.36 and $77.05, and monthly and semiannual resistances at $79.36 and $83.94, which should limit the upside as the global economy slows down.
The 200-day simple moving average provides a resistance at $77.21.
Courtesy of Thomson / Reuters
The Euro –
Daily support is 1.2518 with monthly resistance at 1.2670. Monthly, weekly and quarterly supports are 1.2035, 1.1957 and 1.1424.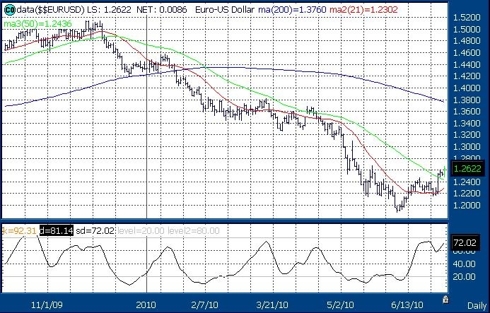 Courtesy of Thomson / Reuters
Daily Dow:
Daily support is 9,477 with a weekly pivot at 9,856 and 21-day, 50-day and 200-day simple moving averages at 10,105, 10,361 and 10,361, and my annual pivot at 10,379. MOJO is declining with new semiannual and monthly resistances at 10,558 and 10,891 after my annual resistance at 11,235 was tested at the April 26
th
high at 11,258, which marked the end of the bear market rally that began in March 2009. We are in the second leg of the multi-year bear market that began in October 2007.
Courtesy of Thomson / Reuters
Review of the 91 Deadbeat Banks - The number of community banks not paying TARP Dividend Payments to the US Treasury and hence tax payers rose to 91 in May, up from 74 in February and 55 last November. Twenty banks have missed four or more payments with another eight missing five. Saigon National Bank (SAGN.OB) has missed all six of its dividend payments.
In total these 91 deadbeat community banks received about $3.5 billion from TARP and 61 Publicly Traded Banks should not have received one thin dime as they are overexposed to C&D and CRE loans. Because of this stress their own banking regulators have told these banks not to make dividend payments because doing so would hurt their capital ratios.
The 61 banks are thus on the ValuEngine List of Problem Banks with one, Western Illinois Bancshares (MBHI) a failed bank. In total these 61 banks have $99.9 billion in assets, $10.9 billion in Construction & Development Loans and a loan pipeline that's 84.6% funded. This is not a healthy group of banks.
Since I produced the List of Problem Banks there have been 55 publicly traded banks that have failed – Total assets are $116.7 billion with $21.5 billion in C&D loans and a pipeline of 90.3%.
There are still 714 publicly traded problem banks by my measures with total assets of $164.7 billion, $16.4 billion C&D loans and a pipeline of 78.0%.
Community Banks are failing because of overexposures to C&D and CRE loans negotiated between 2004 and 2006, and these loans are defaulting which causes banks to fail, and disrupts the economic recovery. There are 7,932 FIDC-insured banks: 2719 or 34.3% are overexposed to C&D and / or CRE loans. There are 4,101 banks or 51.7% who have funded 80% or more of their loan commitments to C&D and CRE loans. This is a big reason for the lack of lending and hence job growth on Main Street USA.
There are six publicly traded community banks that are in arrears on TARP dividends that are not overexposed to C&D and / or CRE loans, but five of these with the symbols, CNBF, FDLB, FBP, FSNF and IBCP have real estate loan pipelines between 80.1% and 100% funded.
That's today's Four in Four. Have a great day.
Disclosure: No positions