Introduction:
Recently there seems to be a lot of discussion about "total return" investing and how more investors should be focused on "total return" as a guiding principle to their investment strategies. Some of the articles that discuss total return investing suggest that this strategy is a good one for those investors in "the accumulation" phase of their investing career.
Contrasted to Dividend Growth Investing (DGI), total return investing is about building a large enough portfolio to provide for one's retirement years, whether the investor decides to convert to an income portfolio at that point in time or he instead chooses to use a draw down strategy by selling his holdings to fund his retirement years.
I've seen some comment threads that point out that a portfolio that has a value of $2 million is better than one that has a value of $1 million, when an investor reaches retirement age. Well, duh. Would I rather have a $2 million portfolio or a 1 million dollar portfolio? Gee, let me think about it for a while.
Where the disconnect comes in the equation is the assumption that a total return strategy is going to result in a larger portfolio over time. Well, maybe, maybe not. We can construct hypothetical portfolios, using various financial sites, all day long, but forecasting the future tends to be a little more difficult.
I think by now, most readers at Seeking Alpha would know that I am primarily a Dividend Growth Investor. Now I want to clear the air here and make things crystal clear. Being a DGI does not preclude me from purchasing stocks that are not in the CCC club and does not preclude me from purchasing stocks that don't pay a dividend.
My own over-riding guideline has always been "value" and I believe that value is where you find it. Sometimes it's in the CCC club and sometimes it's not. Sometimes it's with stocks that pay dividends and sometimes it is not. However, my preference is to purchase DG stocks and I would suggest that I am very well aware of my own portfolio's total return.
What Is Total Return?
Investopedia defines "Total Return" this way:
When measuring performance, the actual rate of return of an investment or a pool of investments over a given evaluation period. Total return includes interest, capital gains, dividends and distributions realized over a given period of time.

Total return accounts for two categories of return: income and capital appreciation. Income includes interest paid by fixed-income investments, distributions or dividends. Capital appreciation represents the change in the market price of an asset.
What I Know:
One might assume that total return investing requires an investor to be a trader. I think this is a misconception for a number of reasons. First, holding quality companies over a long period of time allows for price appreciation and in the case of a dividend investor, the reinvestment of those dividends into additional shares of the underlying stock. Second, as one looks at the total return of the stocks in a portfolio, you have to at least be intellectually honest enough to take a clear look at stocks that are underperforming and ask questions as to whether or not a particular company still warrants being held in your portfolio.
Sometimes, an underperformer is the result of chasing a company and buying it at a price that is not a value. Sometimes a company just has some fundamental changes to its business model and that company might not be able to sustain growth of revenues and earnings moving forward. Sometimes it can be something as simple as you being a "little early" with your purchase of the stock.
I believe that a DGI can and should look at his holdings through the lens of total return and that should help the investor to make a more rational judgment as to whether or not a particular stock should remain in his portfolio moving forward.
What You Should Know:
In a previous article, I discussed our purchases of six companies that we thought were priced at a value. Those companies were, Safeway (NYSE:SWY), Staples (NASDAQ:SPLS), Western Union (NYSE:WU), CA Technology (NASDAQ:CA), CSX Corporation (NYSE:CSX), and Norfolk Southern (NYSE:NSC). Those stocks were selling at values relative to their intrinsic worth that signaled an opportunity for my investment portfolio, so we purchased them. We have since sold Safeway, Staples and Western Union with healthy returns, but have continued to hold CA Technology, CSX Corporation and Norfolk Southern.
More recently, we also highlighted a group of companies that we are considering adding to our Portfolio For Do It Yourselfers in this article. We liked these stocks so much that we added them to that portfolio as well as my own retirement portfolio, The Common Man Portfolio.
The stocks discussed here were Caterpillar (NYSE:CAT), Capital One Financial (NYSE:COF), Cognizant Technology (NASDAQ:CTSH), Deere (NYSE:DE), F5 Networks (NASDAQ:FFIV), Holly Frontier (NYSE:HFC), Joy Global (NYSE:JOY), Oracle Corp (NYSE:ORCL), Qualcomm Inc. (NASDAQ:QCOM), Questcor Pharmaceuticals (QCOR), and Schlumberger (NYSE:SLB).
Let's take a look at the performance of these particular companies since we made our purchase back in June of last year.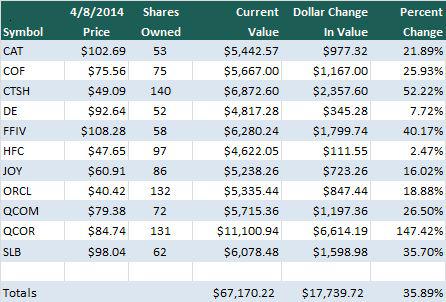 What We Can Learn:
As a complete group, the stocks in this portfolio have done pretty well since our purchase. Again, from the perspective of being a DGI, the questions I want to address is found in the performance of Holly Frontier and Deere since they were purchased in June.
As for the other stocks in the portfolio, my attention is focused on where these companies go from here. Do they have room to run with more appreciation? Am I better off taking my profits and selling? Should I be adding more money to these stocks by purchasing additional shares?
These are not stocks that I would consider to be "core" to my DGI portfolio. Two stocks don't pay dividends at all. F5 Networks and Cognizant Technologies are the two that do not.
QCOM has recently announced a 20% dividend increase, payable in June of this year. QCOR has announced a merger with Mallinckrodt plc (NYSE:MNK) for $5.6 billion. CAT and DE are cyclical stocks and have some risk based on economic growth in China. HFC may be a company that I bought a little early.
Conclusion and Summary:
I think that the stocks showcased here represent a situation where when they were purchased, they were purchased at prices that represented value. In any investment strategy, there is no other factor more critical to success in the long term than purchasing stock in a company at a price that represents value.
Looking at total return allows an investor to judge the performance of each holding in a given portfolio and while that is an important metric, it is only one metric.
As I've discussed previously, I view my own investment strategy as an active one. That means I have to make decisions about the stocks that I hold. When I purchase traditional DG stocks, that decision process is reduced by the nature of the companies I am investing in.
With a total return driven metric, I have to do a little more analysis as to what I project is going to happen in the future. But, the total return metric allows me to begin the process of assessing the stocks I own and the next course of action that I am going to take.
Disclosure: I am long CA, CAT, COF, CTSH, CSX, DE, FFIV, HFC, JOY, NSC, ORCL, QCOM, QCOR, SLB. I wrote this article myself, and it expresses my own opinions. I am not receiving compensation for it (other than from Seeking Alpha). I have no business relationship with any company whose stock is mentioned in this article.