Biotech investing often feels like a casino, with its pack of daily blow-ups and multi-baggers that can make or break your investment, nay trading, portfolio. It is not for the faint of heart, and some might even say, not good for your sanity, especially if your portfolio is concentrated in the industry. But for pharmaceutical stock investors, there is one overlooked area that doesn't quite have the same cachet or the promise of miracle drugs and mega-winners, but can do wonders for your mental health and investment portfolio. We are talking here about generics, the miracle drugs of yesterday, that offer investors the opportunity to participate in the growth in prescription medicines, but without the high risk associated with the early-stage biotech investing. Kind of like 'Eating the cake and having it too'.
And the poster child in the group has to be Dublin, Ireland and Parsippany, NJ-based Actavis plc (NASDAQ:ACT), a global, integrated specialty pharmaceutical company that is focused on developing, manufacturing and distributing generic, brand name and bio-similar drugs, including in the areas of hypertension, sleep disorders, contraception, pain and other conditions. Its shares started rising from the $80 range just over a year ago in February 2013, almost tripling over the following year to top out just short of $240 (see Figure). This is an amazing ride in such a brief period of time for a large-cap company (currently valued at a market-cap of $33.3 bill.), whether in healthcare or any other sector.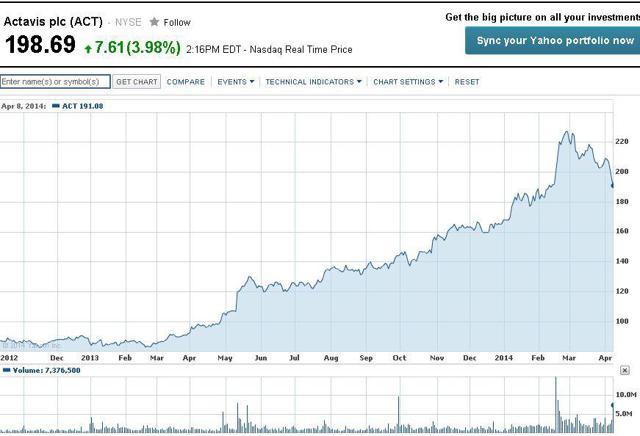 A leading global pharmaceutical company, Actavis is the third largest generics company in the world. It started out in 1984 as Watson Pharmaceuticals, and through a series of high-profile acquisitions such as Switzerland-based Actavis Group, Belgium-based Uteron Pharma SA, Australia-based Ascent Pharmahealth Ltd., Greece-based Specifar Pharmaceuticals SA, and many others, it has attained its current size and position. Currently, it is engaged in the acquisition of rival Forest Laboratories (NYSE:FRX), announced in February that is itself a $24 bill. market-cap developer of branded prescription drugs for depression, Alzheimer's and hypertension.
Forest Labs will add another 40% to 50% to Actavis's current $10 bill. revenue and spur up its growth trajectory, while also generating ~$1 bill. in operating and cost synergies over the next three years. It will further widen its product portfolio and deepen its pipeline of opportunities, while also diversifying its revenue base so that specialty pharmaceuticals will account for 50% of its revenue vs. 30% currently. Investors bid up the price of both companies in days following the acquisition news, with Actavis shares rising 20% and Forest Labs shares rising 40% to their peaks in early March. Analysts almost universally expressed enthusiasm over this acquisition and a slew of brokers including Goldman, Bank of America Merrill, Buckingham, UBS, Barclays and others upgraded and raised their price targets on Actavis shares in the $240 to $250 range, about 25% to 30% above current prices.
What makes Actavis particularly attractive is that it has the allure of both growth and value. The table below compares Actavis's, and its proposed acquisition Forest Labs', valuation multiples to its four closest large-cap peers in the industry, namely:
Mylan Inc. (NASDAQ:MYL), that develops generic and branded drugs for the treatment of central nervous system, cardiovascular and other diseases;
Israeli drug company Teva Pharmaceuticals Ltd. (NYSE:TEVA), that develops, manufactures and markets generic pharmaceuticals and pharmaceutical ingredients, targeting anti-infective, central nervous system, cardiovascular, dermatological and anti-inflammatory indications; and
Irish drug company Perrigo Co. plc. (NASDAQ:PRGO), that develops OTC and generic pharmaceuticals and pharmaceutical ingredients, and also diagnostic and nutrition products.
We compared the five peers using the following three financial ratios that we consider to be among the most important in conducting a top-down broad industry analysis:
Forward price-to-earnings (P/E) ratio that is the price divided by the earnings two years out. So, for the current time frame, for example, we took the year 2015 consensus estimates.
Forward Enterprise Value over EBITDA (EV/ EBITDA), that is the enterprise value divided by the EBITDA projection for two years out.
Forward Price-to-Sales (NYSEARCA:PSR) ratio that is the market-cap divided by the analyst consensus estimates for revenue projections two years out.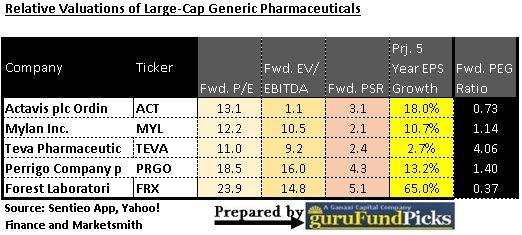 As you can see from the table, Actavis and its proposed acquisition Forest Labs, by far are the most attractive from a valuation and growth perspective. Actavis's fwd. P/E over EPS growth or fwd. PEG ratio is the lowest compared to its three peers. It should be noted that Forest Labs' growth is a bit inflated since earnings are currently in a slump. However, adjusting for that its PEG ratio is still well below 1.0, and thus the combined Actavis-Forest company would also have the fastest growth and the lowest PEG ratio among all its large-cap peers.
We believe that Actavis post-acquisition could easily trade at least at its projected 5-year earnings growth rate of 18.0%, and more likely at a slight premium of say 20 given that growth will pick up following the acquisition, both due to Forest Labs' faster growth rate as well as any revenue synergies that result from combining the two companies. Applying an 18 to 20 multiple to Actavis's current analyst estimate of $14.60 for FY 2015 earnings, we come up with a price target of at least $260 over the next 12 months, and as high as $290, representing an upside of 35% to 50% above current prices.
Besides a valuation and detailed fundamental analysis, we also consider an analysis of the moves of leading institutional money managers as imperative before pulling the trigger on a stock. On our site, GuruFundPicks.com, we track the collective or consensus buying and selling of over 330 of our hand-picked leading Wall Street fund managers, based on their latest 13-F and SC 13D/G 5% ownership filings. Their ownership change over multiple quarters, and net buying and selling, both in shares and in number of funds, and the percent outstanding shares held by these leading funds, especially when compared to similar sized peers in the same industry, is like reading tea leaves. It gives us the extra edge, increasing the probability of making the right decision, and in many cases saving us from making a wrong decision on a stock.
In our research, we have observed strong correlation between leading fund manager ownership, including their buying and selling activities every quarter, and the stock's immediate and long-term performance. We have documented many such cases on our website and in our archive of articles on Seeking Alpha, including five cases we discussed in just the last two weeks on Gilead, Facebook, BlackBerry, MannKind and Micron.
The collective or consensus buying and selling activity of these leading fund managers in Actavis in the latest 4Q/2013 is shown in the Table below.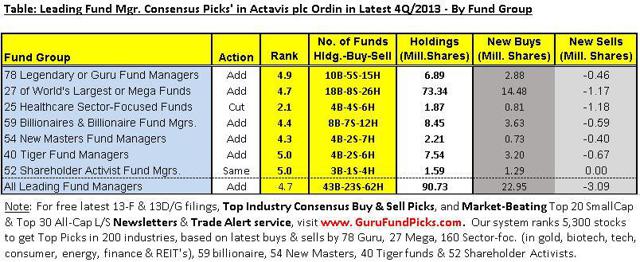 Our hand-picked 330+ leading fund managers collectively own 90.73 million or 52.1% of the outstanding shares, adding a massive 19.86 million shares or 28.0% to their 70.87 million shares held at the end of the prior 3Q/2013. While this by itself is a significant statement, leading fund managers have been collectively or in consensus adding Actavis shares for each of the last four quarters, with their combined holding going up from 61.79 million shares at the end of 4Q/2012 to 90.73 million shares at the end of 4Q/2013.
With an overall GuruRankTM of 4.7, Actavis ranked in the top 2% among its large-cap peers, in terms of its attractiveness to leading fund managers, and almost made the cut as a top 5 large-pick in the current 4Q/2013 issue of our Consensus Picks' Consensus Picks' newsletter. Among leading funds, six of the seven leading fund groups, namely guru, mega, billionaires, new masters, tigers and shareholder activist fund managers significantly added to their holdings in the latest 4Q/2013,. Also, almost twice as many funds bought and sold during the most recent quarter.
The largest leading fund manager holders of Actavis shares at the end of 4Q'13 were:
You can view complete summarized 13-Fs of all of these funds, and over 330 more for free on our website, GuruFundPicks.com.
In summary, we believe that for the healthcare investor, Actavis offers a unique opportunity as a value and growth play that is trading at a discount to its projected growth and compared to its peers. The current market correction, especially in biotech and pharmaceutical stocks has brought the stock price down (adjusted for new acquisition news, as explained earlier) to levels at which leading fund managers would find it an attractive buy based on their purchases in the most recent quarter. However, the trend is down on the stock and it is probable that weakness could continue for the next few weeks, so we would carefully scale-in our buys, buying maybe a fourth right now, and accumulate more fourths for every $10 drop in price, thereby averaging down to a lower buy price if the market gifted the stock at even more discount prices near the 200-day moving average that is currently near $165.
Disclosure: I have no positions in any stocks mentioned, but may initiate a long position in ACT, FRX over the next 72 hours.
Business relationship disclosure: The article has been written by the Hedge and Mutual Fund Analyst at GuruFundPicks.com. GuruFundPicks.com is not receiving compensation for it (other than from Seeking Alpha). GuruFundPicks.com has no business relationship with any company whose stock is mentioned in this article.
Additional disclosure: Use of GuruFundPicks' research is at your own risk. You should do your own research and due diligence before making any investment decision with respect to securities covered herein. You should assume that as of the publication date of any report or letter, GuruFundPicks, LLC, has a position in all stocks (and/or options of the stock) covered herein that is consistent with the position set forth in our research report. Following publication of any report or letter, GuruFundPicks intends to continue transacting in the securities covered herein, and we may be long, short, or neutral at any time hereafter regardless of our initial recommendation. To the best of our knowledge and belief, all information contained herein is accurate and reliable, and has been obtained from public sources we believe to be accurate and reliable, and not from company or persons who have a relationship with company insiders. Also, in our preparation of this article, we referred investor resources such as Zacks.com, Marketsmith and Sentieo.