I'm sure you have all heard the golf adage, "drive for show, and putt for dough". In this year's Master's Golf Tournament in Augusta, the skills of 91 professionals and six amateurs (represented in 21 countries) will be attested to, and the outcome is likely to come down to one missed putt - or a lot of dough (a total purse of $8 million, the Masters payout is one of the largest in golf. The top three finishers will walk away with at least $500,000, while the top 20 finishers will receive a check for $100,000 or more).
One of my favorite holes at Augusta is number 12, "Golden Bell", a deceptively crafty Par 3 hole that's in the heart of "Amen Corner". Although it's the shortest hole on the course, at only 155 yards, the green is deceptively protected. There's a creek ("Rae's creek") in the front of the hole and a swath of azaleas in the back. Immediately hugging the green on both front and back are bunkers.
In order to score at Golden Bell, a player must catapult his tee shot high in the air, pray that winds are down, and ski-dittle the ball within inches of the pin. (I made up the word ski-dittle. Message me if you don't know what that means). Historically, Golden Bell has played over par at 3.30 strokes.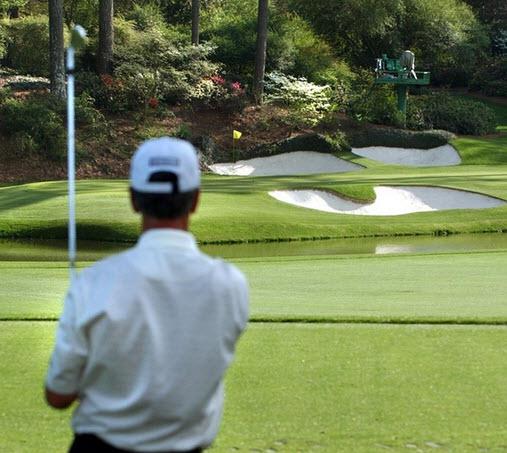 What Really Wins Is Repeatability
I'll admit. I'm not a good golfer. I'm starting to practice more now, since I have been fortunate enough to visit some world-class golf courses recently (like Trump National Doral in Miami and Trump International Golf Club in Palm Beach). I'm too embarrassed to discuss my handicap, so let's just agree that it's below my grandmother's age (she turns 99 in a few weeks).
Although I can't attest to having a terrific scorecard, most pro golfers believe that distance is a much better indicator than accuracy, since the long game comes down to around two-thirds of scoring. However, in the business of golf, the formula appears to be simpler than weighting the odds of having a better long game versus short game. The key, as the legendary golfer Gary Player explains, comes down to one thing:
Greatness is talent applied consistently.
After playing a series of eighteen golf holes, the best golfers will have spectacular drives, incredible chips, and gut-wrenching putts. Conclusively, the winning combination is almost always the deemed the victor, because the scorecard reflects consistency and determination that is evident that the winner took the fewest number of shots with the least exposure to risk. That's also the secret for a winning REIT portfolio.
Building a Best-in-Class REIT Portfolio
The Great Recession reshaped the roster of dividend champions, especially in the financial sector. Hundreds of banks, industrial companies and REITs that had been reliable dividend payers sliced or eliminated their cash distributions during the economic downturn. But now, more than four years after the recession ended, the economy is slowly recovering, corporate profits are strong, and some of the worst offenders are assiduously moving to repair the damage.
In my monthly newsletter, The Intelligent REIT Investor, I look for REITs that have managed to restore their dividend payouts, and by focusing on owning shares in a growing REIT, you win in two ways: First, the higher payouts increase your yield and, second, the dividend increase usually drives the share price higher.
As Gary Player explained, the winners will be the ones that are the most consistent. When you see the history of "repeatability" forming, you must then look at the dividend growth prospects and pinpoint this with the fastest expected Funds from Operations (or FFO) growth.
What's FFO? Because property owners must deduct non-cash depreciation expenses when calculating earnings, even if the property is, in fact, appreciating in value, reported income is unrealistically reduced by those charges, and doesn't measure the actual cash flow generated by the properties. For that reason, the REIT trade association created a measure called "Funds from Operations" (or FFO), which reflects the actual cash profits generated by a REIT's operations.
Although property REITs typically report both net income and FFO, the analysts' earnings estimates that you see on financial sites for REITs are typically FFO per share estimates, rather than earnings per share.
REITs Offered Superior Yields Before the Great Recession, What Now?
REITs are slower growers than regular growth stocks. Typically, about 5% to 10% annual FFO growth is about all that you can expect. However, some REITs have bounced back more quickly from the Great Recession, as evidenced by the recovery metrics and increased cash flows. Let's take a few of the REITs and determine how they have performed since the Great Recession.
Simon Property Group (NYSE:SPG), the $84.6 billion (Total Capitalization) Regional Mall REIT, is trading at $167.43, with a P/FFO multiple of 17.4. The company has a dividend yield of 2.99%, and saw its dividend cut 87% between 2008 and 2009 and, in 2010, the REIT began clawing back the dividend, and it's now paying a $5.00 (annualized) dividend payout in 2014 (estimated).

Retail Opportunity Investments Corporation (NASDAQ:ROIC) has also begun to muscle in on its dividend record. Although ROIC is a new REIT (since transforming from a SPAC in late 2008), the San Diego-based company increased its dividend by 117 percent last year (2011), and the west coast-focused REIT has already pumped the yield about another 20% in 2014.
ROIC's significant increase in revenues and operating income reflects the growth in the overall portfolio from acquisitions during the past three years. That growth, along with the balance sheet initiatives (now rated BBB- by S&P) has generated eye-popping results. ROIC shares are trading at $15.35, with a P/FFO multiple of 18.5. The Total Capitalization is $1.78 billion, and the dividend yield is 4.17%.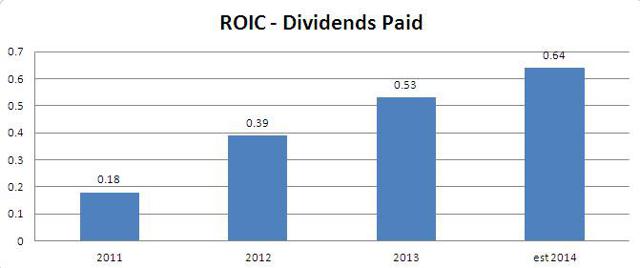 Extra Space Storage (NYSE:EXR). In the April issue of my newsletter, I plan to include an article on Extra Space's impressive growth pipeline. As one of my favorite REIT picks, the Salt Lake City-based self storage REIT owns or operates 1,050 properties in 34 states, Washington, D.C. and Puerto Rico.
The company is the second-largest owner and/or operator of self-storage properties in the United States, and is the largest self-storage management company in the United States.
Extra Space, with a total cap of $7.824 billion, saw a 62% cut to its dividend in 2009; however, the razor-focused REIT has navigated through the economic recovery by rewarding investors with increased dividends of over 50% in 2012 and over 80% in 2014. Extra Space has a P/FFO multiple of 20.1x, and the dividend yield is 3.32%.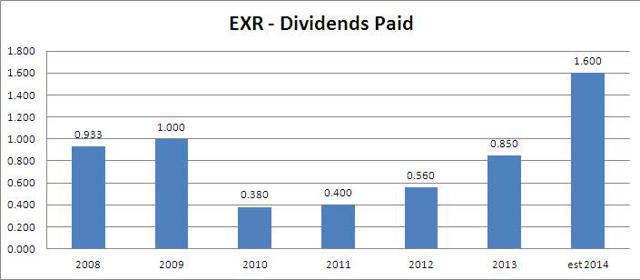 What About Greatness?
There are just a few athletes, including a few golfers, who I consider great. Some would argue that greatness can be a relative word used to mean that a gifted athlete scores a record number of points in a basketball game. Or maybe, he (or she) is called great because he records a record number of touchdowns.
But that's clearly not the meaning of "great". In terms of investing, Howard Marks defined a great investment model as one that is "distinguished at least as much for the ability to control risk as for generating return". He went on to say (in his book, The Most Important Thing):
Outstanding investors are distinguished for remarkable record based on decades of consistency and absence of disasters, not just high returns.
Ben Graham who also knew a thing or two about "great investments" wrote (in The Intelligent Investor):
One of the most persuasive tests if high-quality is an uninterrupted record if dividend payments going back over many years. We think that a record if continuous dividend payments for the last 20 years or more is an important plus factor in the company's quality rating.
So, now I will provide you with my list of "great" REITs - the ones that have managed to make it through the Great Recession and NEVER cut the dividend. These REITs are considered some of the most dependable forms of income, and for many investors, the dividend is the primary reason that they buy the stock.
Although I analyze many other metrics before I purchase a stock, I always pay special attention to the dividend history, since it represents a commitment by management to its shareholders. There is a lot of "intel" that can be discovered by examining a company's dividend history, and that one metric can provide the best evidence of dividend safety. As Josh Peters wrote (in the The Ultimate Dividend Playbook):
The safest dividend is the one's that's just been raised.

A few months ago, I introduced the Three-D portfolio for my newsletter subscribers. This REIT portfolio only includes REITs that have NEVER cut a dividend; hence the name (Disciplined and Durable Dividends). For more information, check it out HERE.
Good luck and hit'em straight!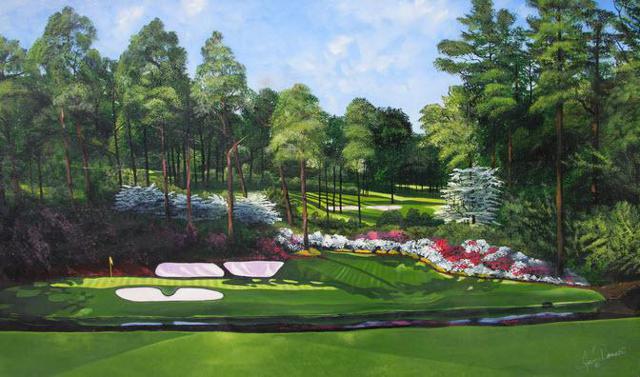 Source: SNL Financial.
REITs mentioned: (NYSE:O), (NYSE:NNN), (NYSE:WPC), (NYSE:FRT), and (NYSE:SKT).
Disclaimer: This article is intended to provide information to interested parties. As I have no knowledge of individual investor circumstances, goals, and/or portfolio concentration or diversification, readers are expected to complete their own due diligence before purchasing any stocks mentioned or recommended.
Disclosure: I am long O, DLR, VTR, HTA, STAG, UMH, CSG, GPT, ARCP, ROIC, MPW, HCN, OHI, LXP, KIM. I wrote this article myself, and it expresses my own opinions. I am not receiving compensation for it (other than from Seeking Alpha). I have no business relationship with any company whose stock is mentioned in this article.