Shares in The Walt Disney Company (NYSE:DIS) have been outstanding performers in recent quarters, even when you consider how strong this five year bull market has been. The stock price of this bluest of the blue chips have been red hot, outperforming the S&P500 by nearly thirty percentage points since January 1, 2013.
I first recommended buying Disney in October of 2012 when the shares traded for about $55. Last autumn, with the stock pushing against overhead resistance at $68, I argued the company was much closer to a fair value, but
The market is strong, and leaders like Disney may well take charge on the breakout. I encourage long-term Disney shareholders to wait for this situation to resolve itself. You can always place a stop loss order a bit below the current price to protect yourself.
Investors who followed this largely technical analysis based advice (although trailing stops are an important tool for fundamental, and long term investors, as well) have benefited handsomely. The market did indeed break through, and Disney most certainly lead the way: since their October breakout, the shares have smoked the S&P500 tracking ETF (NYSEARCA:SPY).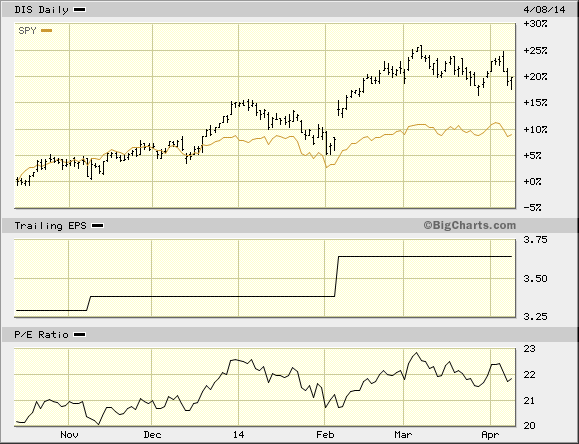 source: www.bigcharts.com
Their most recent earnings report was so strong that the trailing PE is actually a bit below recent peaks, though multiples in the low 20s have been an upper extreme in recent years: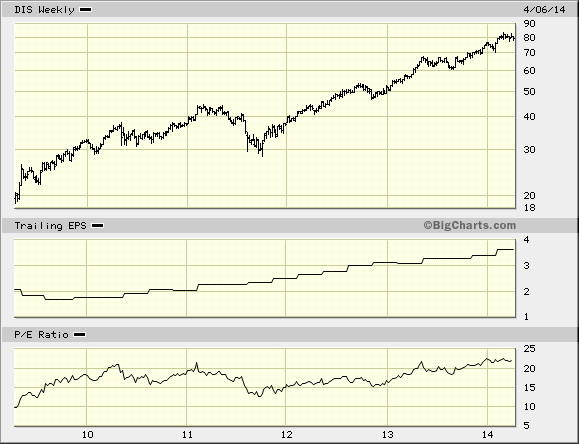 So for the third time in the last couple of quarters we can ask (pleasantly)...what is an investor to do?
Selling because a stock appears "overvalued" (at the upper end of its cash flow, earnings, or sales multiple) has been a sure way to leave a lot of money on the table over the last few years. I believe this is because we are in a secular bull market, characterized by expanding multiples investors are willing to pay for quality companies. This is a great contrast to the previous decade, when PE compression savaged shares, even companies such as Wal-Mart Stores (NYSE:WMT) which boasted steady earnings growth.
Thus I suggest investors continue to pursue the strategy I suggest last fall: monitor the shares, with a trailing stop placed enough below the price so that a brief market kerfuffle doesn't wash you out, but still provides protection from a shakeout which would cause recent buyers (which my readers are not) to dump the stock. In addition a market correction could take these shares down to multiples in the mid teens, and if you keep your financial powder dry with a stop order, you pick the shares back up at these lower prices.
Right now the stop-loss is best placed around $77, the January high which has already provided recent support in late March. As we move forward, adjust your stop order to follow the lower Bollinger band, an indicator which is designed to show the normal amount of volatility an investor should expect.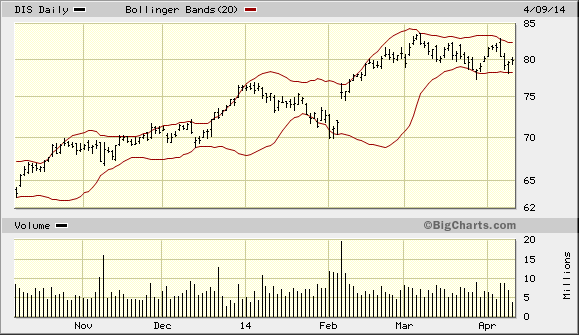 You can continue to update bigcharts.com for each day of trading. Long term investors can use these short term trading tools to protect the substantial profits that they have accrued in the last year and a half.
Options savvy investors might consider buying protective puts instead. If selling the shares would still give you a short term rather than long term gain, this may be a superior strategy. However, do not overpay for the put protection. Unfortunately at the moment this appears to be the case, as the implied volatility of Disney options is near record highs: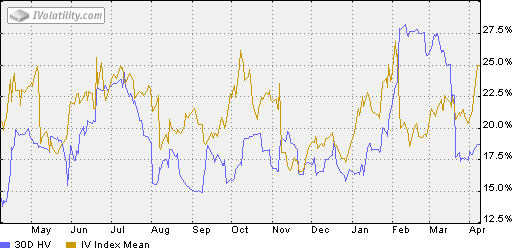 source: ivolalitility.com
So for now, the stop loss may be the better of the two choices.
Hang in there with these shares if you can. Yahoo Finance has been raising estimates and Value Line bumped their timeliness ratings up based on 1st quarter earnings and recent economic strength. The party is not over for Disney shareholders.
Disclosure: I am long XLY, XLK, XLE, IHI, IYT. I wrote this article myself, and it expresses my own opinions. I am not receiving compensation for it (other than from Seeking Alpha). I have no business relationship with any company whose stock is mentioned in this article.
Additional disclosure: I am long Disney through ETF holdings.