The market need for Cologuard
Only 0.3% of the population currently suffers from colon cancer, but the lifetime risk is higher at 5%, which benefits the colon cancer screening market. According to the American Cancer Society: "96,830 new cases of colon cancer and 40,000 new cases of rectal cancer are expected in 2014. Colorectal cancer is expected to cause about 50,310 deaths during 2014." Here are the cancer survival rates by stage and we can see that there is a clear market need for accurate early detection of colorectal cancers.
The death rate from colorectal cancer has decreased in both men and women in the past two decades most likely due to a higher likelihood of polyps being found by screening and removed before they can develop into cancers.
Colonoscopy, the Gold Standard in colon cancer detection is one of the most accurate screening methods available. Standard screening methods are invasive colonoscopy and sigmoidoscopy. Fecal occult blood test (FOBT) is a non-invasive test, which checks for hidden blood in fecal material by detecting hemoglobin protein stool samples and will be one of the main direct competitors of Cologuard.
The product
However, Cologuard, the current key product from Exact Sciences (NASDAQ:EXAS), demonstrated a 92% sensitivity (true positive rate) for the detection of colorectal cancer and 42% for the detection of pre-cancerous polyps of >1cm (66% for polyps 2cm or larger). The test demonstrated a specificity (true negative rate) of 87% in the 10,000-patient trial. The company's patent position is well-defined and defended into the 2020s. If Cologuard is commercialized, it will be protected for an extended period. The high probability of Cologuard approval has been covered extensively in previous SA articles by Beacon and CBOE Trader.
The market and future sales
With a promising market and product, one must wonder why over 25% of the share float has been shorted in the past year. I will show that the market and future sales might have been overestimated. In estimating the market and future sales, I am assuming that Cologuard will be approved for marketing, which is another big assumption that appear to be baked into the share price.
I noticed that every analyst report and SA article on EXAS appears to take pricing of Cologuard and future market traction for granted. We have seen how damaging a low CMS pricing release can be for a company based on Myriad Genetics' (NASDAQ:MYGN) wild roller coaster ride in the past year. Even with a premium pricing, there is limited price elasticity of demand in the market which has not been accounted for in all the analysis I have read on Cologuard's future sales.
To find the value of the market opportunity, I assume $300 per test for the Cologuard as the 2007 study in the link gave a range of between $200 and $300 for a 3 year interval test. I could not find a more recent study of that and I am keeping an eye out for any similar documents that are published which can be applied directly to Cologuard. According to Exact Sciences, there are 10 million annual testing opportunities a year, translating to a market opportunity of about $3B annually. However, this market opportunity is subject to the $300 price being supported by CMS.
EXAS recently acquired a 30,000 square foot facility which is scalable to 1M tests a year, with IT infrastructure to support Cologuard testing and its patient compliance engine. This limits EXAS's ability to tap on all the full market and caps peak revenue at $300M. According to past conference calls, management assumes compliance from 70% of kits shipped out; hence, peak revenue is $280M based on current infrastructure.
Exact is planning to target physicians and commercial payors from the 400 largest hospitals and networks that generate 60% of FIT orders. This network, as Exact claims, consists of up to 2000 physicians that account for 1.2M tests annually, which ties in with the logistical limit their current infrastructure can handle.
Based on current information, I show a graph below with revenue of EXAS vs compliance % and the price of Cologuard. As seen here, a 70% compliance of the initial market with a price of $300 would bring peak revenue. Most analyst predictions for 2015 revenue seem to hover around $100M; hence the popular opinion is about a 25% compliance rate in the second year that Cologuard goes into the market. This graph also illustrates how critical premium pricing is for EXAS (assuming no price elasticity of demand in this stool sDNA testing market). Most analysts project a current fair value price of EXAS of around $15 by assuming 10x 2015 revenue discounted about 15%.
However, this appears to be a value that has been priced for perfection. The discount rate could be even higher than 15% to account for both of the biggest risks to revenue, namely the certainty of premium pricing and high assumed compliance rate of 70%. I added in 20% to 80% compliance in my graph to reflect the possible ranges of compliances when EXAS is starting initial marketing of Cologuard. The downside risk to market traction is still huge due to EXAS' limited prior success in marketing diagnostic products, the novel value proposition of Cologuard and a potential premium product pricing strategy. The biggest challenge to successful commercialization is to convey the message to potential users (physician, patients and payer) via successful marketing and sales campaign by the company. Therefore, I propose a discount value of up to 50% to adjust for the high risk. Therefore, the present fair value of EXAS will be about $8-$9 on a risk adjusted basis.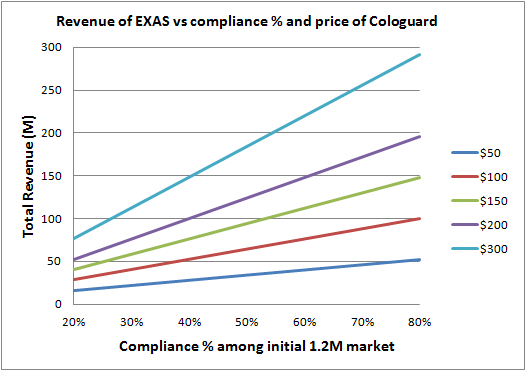 The total projected R&D and other SG&A expenses are predicted to be much higher than $300M according to most models by analysts. None of them have predicted profitability in the next 3 years for EXAS.
EXAS recently priced a recent 10M share offering to raise ~$127.5M at $12.75 a share. With $133M in net cash in 4Q2013 on top of the recent offering, Exact can last another 2 years as their run rate has been about $50M in 2013. Sales traction will be key to EXAS being able to raise more money in 2015 as sales efforts for Cologuard heat up and more money is required for R&D for the upcoming products in the pipeline.
Overall, the near term finances seem sound but the future revenue and profitability are not a certainty for investors who wish to get in on the company at the current market price. I would not recommend against a long term short but a near term bet against EXAS appears to be an attractive move.
Further opportunities in the pipeline and risks against long term shorting
EXAS has been working on new markets for applications in Barrett's esophagus, pancreatic and esophageal cancer. EXAS has 21 ongoing studies and expects 12 publications in 2014 by working with Mayo Clinic (expect potential volatility in the stock price as these publications are released). They have also reached out to the top 500 IBD specialists who screen 50% of the 1.4M patients with Crohn's and ulcerative colitis, tapping into another large market with unmet need. However, considering the time and money the company required to bring Cologuard for FDA approval, we should not be expecting the new products in the near term. The other indications are speculative at this point but in the longer term (1-5 years), one can never be certain about the outcomes of the other indications. Cautious investing to all.
Disclosure: I am short EXAS. I wrote this article myself, and it expresses my own opinions. I am not receiving compensation for it (other than from Seeking Alpha). I have no business relationship with any company whose stock is mentioned in this article.