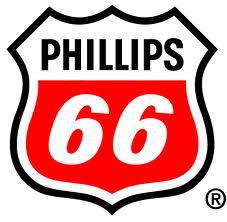 Last month Phillips 66 (NYSE:PSX) signed a long-term contract to sell propane to Chinese company Sinopec (NYSE:SHI). While Washington restricts crude exports, there are no limits on exporting liquefied petroleum gas ("LPG"). According to a recent Reuters article, the size of the supply deal was estimated to be 34,000 bpd. At current prices, that equates to ~$850 million. While that figure is only about 0.5% of Phillips 66's 2013 full-year revenues, it is a big deal nonetheless. Here's why.
Propane is one of the byproducts of producing crude oil, processing natural gas and refining petroleum. It is typically a gas that is compressed and liquefied (i.e. LPG) for easy transportation. There has been a substantial increase of propane supply in the US due to the rapid increase in shale production. As a result, the price of propane is more competitive in the United States than in other markets. According to the Reuters' article, traders estimate U.S. LPG costs roughly $850 per ton, $50-100 per ton lower than Middle East supplies for May delivery to China. Advantage: "Shale USA".
To go one step further, propane produced from gas fractionation is of a higher purity than that produced from refining, and is a better chemical feedstock. And this is what Sinopec is likely after.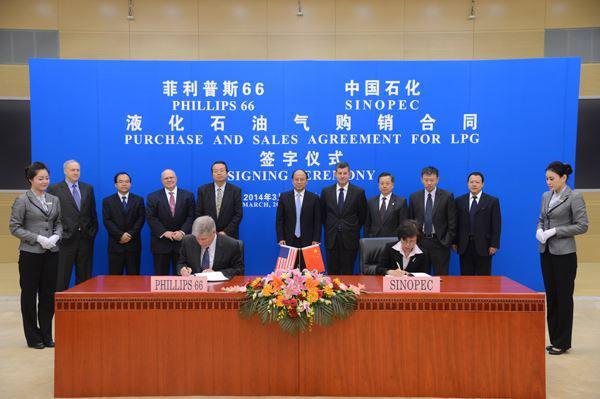 In Sinopec's press release announcing the deal, Dai Houliang, Senior VP of Sinopec, had this to say of the long-term agreement:
This is a mutually beneficial cooperation for Sinopec and Phillips 66. We are able to explore more business and cooperation opportunities by signing this contract, and it has further diversified the chemical feedstock supply channels for Sinopec, which will be critical to adjust our chemical feedstock structure.
From Phillips 66's perspective, the deal is perfect. PSX has made no secret of its intent to grow its Midstream operations. But as I explained in last year's article Phillips 66's Midstream Business Is Poised For Impressive Growth, PSX already has a huge Midstream business via its 50% ownership of DCP Midstream - a 50/50 joint venture between PSX and Spectra Energy (NYSE:SE). Here is an updated profile of DCP Midstream from a recent DCP Midstream Partners (DPM) presentation at the Tudor Pickering & Holt Midstream/Chemical/NGL Mini Conference last month: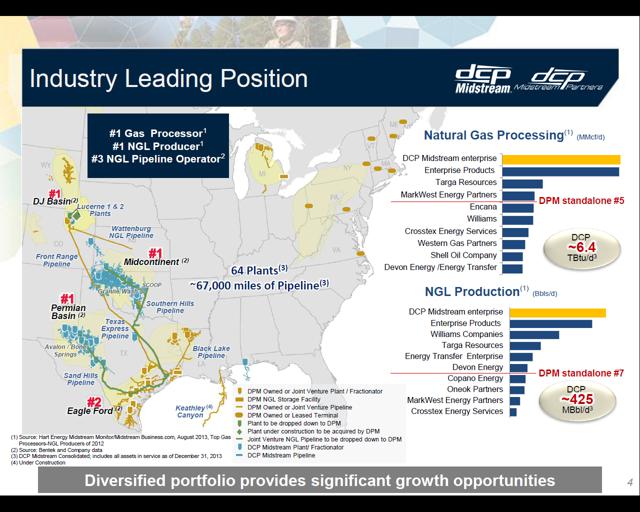 Just in case you missed it, key takeaways from this slide are that DCP Midstream is:
The #1 gas processor in the US.
The #1 NGL producer in the US.
The #3 pipeline operator in the US.
And of course PSX has additional transportation and NGL assets outside of its 50% ownership of DCP Midstream. As previously announced, PSX is developing a 100,000 bpd natural gas liquids ("NGL") fractionator at Old Ocean, Texas. The company is also to building an LPG export terminal in Freeport, Texas, to help meet growing global demand. Both these projects were given final investment approval from the Board last month. The new fractionator is expected to start-up in Q3 2015, and the LPG export facility in mid-2016. This means LPG exports to Sinopec will begin in mid-2016.
The reason this is such a big deal for PSX is because it is truly a game-changer. Exporting LPG to Sinopec may well open the door to other large Asian petrochemical companys like CNOOC (NYSE:CEO) and PetroChina (NYSE:PTR). In addition, the production of propane is very synergistic with the company's other operations and infrastructure. As Clayton Reasor, Phillips 66 Senior Vice President Investor Relations, Strategy and Corporate Affairs said at the BofA 2014 Refining conference:
We're making sure that we do have the ability to export the outputs in condensate. The light end of condensate is going to be LPG. So whether that's propane, butane, pentane, we would expect to be able to export those products. The heavier end of the condensate would be the question. But then you have the option to run that through our refinery, if you had co-located the splitter next to an existing facility, but the intent would be to export the lighter end from the condensate.
Summary & Conclusion
Phillips 66's long-term contract to export LPG to China is a game-changer. The original agreement announcement was short on details and sort of went under the radar. Phillips 66's website did not even have a press release on the deal. I am guessing that might be because of the huge increase in propane prices in parts of the US during the hard winter. However, folks should realize those price increases were not due to a lack of propane supply - it was due to a lack of infrastructure to get the propane to where it was needed. Regardless, this deal opens up other large scale opportunities for PSX in supplying very big Asian petrochemicals with LPG. While the Sinopec contract was estimated to be 34,000 bpd, it should be noted that PSX's Freeport Terminal will have an initial export capacity of 4.4 million barrels per month, the equivalent of eight very large gas carriers ("VLGCs"), with a ship loading rate of 36,000 barrels per hour.
Despite the very bullish outlook across all three of PSX's primary businesses: refining, chemicals, and midstream, the company is trading at a 30% discount to the S&P500 (P/E=18.7) on a price-to-earnings basis. PSX even has a slightly higher yield than does the S&P500 (1.94%) Expect PSX's to catch up as the market realizes that Phillips 66 is much more than a refiner.
Once again, I keep finding reasons why Phillips 66 may well be the best single investment in "Shale USA". PSX is a STRONG BUY and a long-term hold. It is a great combination of capital appreciation and dividend growth. This should lead to superior total returns for long-term investors.
| | |
| --- | --- |
| P/E (TTM): | 13.01 |
| EPS : | 6.02 |
| Div & Yield: | 1.56 (2.00%) |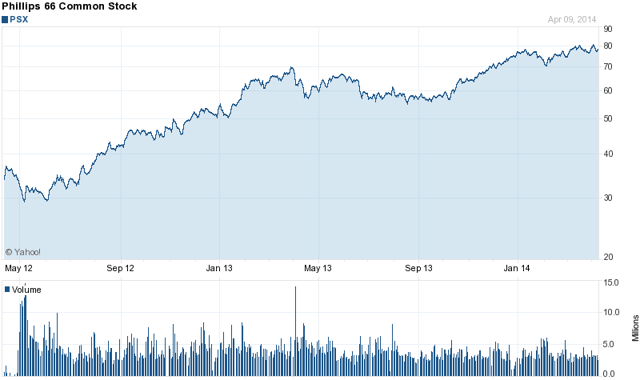 Disclosure: I am long PSX. I wrote this article myself, and it expresses my own opinions. I am not receiving compensation for it (other than from Seeking Alpha). I have no business relationship with any company whose stock is mentioned in this article.
Additional disclosure: I am an engineer, not a CFA. The information and data presented in this article was obtained from company documents and/or sources believed to be reliable, but has not been independently verified. Therefore, the author cannot guarantee its accuracy. Please do your own research and contact a qualified investment advisor. I am not responsible for investment decisions you make. Thanks for reading and good luck!