The following is an excerpt from our most recent premium research report (available for a fee on our website) on our Top 10 Resources Companies to Watch in Q2. Probe Mines (OTCQB:PROBF) is not a surprising addition to our list as we have also covered them as a potential takeover target here.
Probe Mines Overview
Probe Mines is a development company in Ontario that is proving up a significant gold deposit at Borden Lake. Probe is exploring an area in Ontario near the small town of Chapleau which geologists previously overlooked. Geologists had always believed the metamorphic Kapuskasing geological structure would have destroyed any significant gold deposit.
The project has a NI 43-101 resource of 4.3 million ounces of gold at 1.03 g/t which was published in January 2013. An exciting part of the story is that Probe is now hitting higher grade gold as they extend the deposit strike length. The team has done a fantastic job finding gold at a discovery cost of less than $4 per ounce. Probe is a well-rounded company and is a legitimate takeover candidate.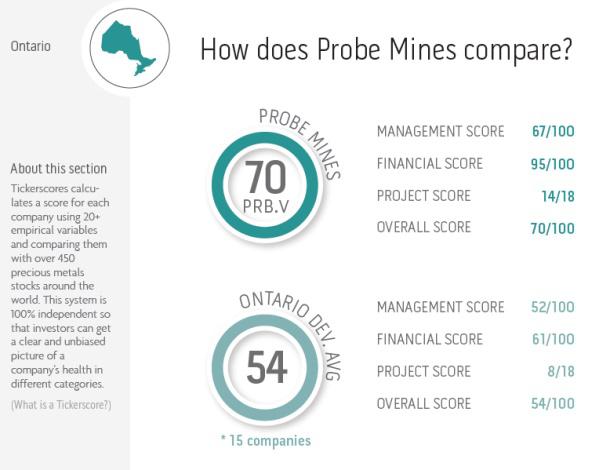 Financial
Probe is the envy of many junior mining companies with a very strong balance sheet. Financials filed at the end of January 2014 show a cash position of $29.3 million. Probe also has a royalty on the Goldex deposit which pays out depending on Agnico Eagle (NYSE:AEM) reaching certain production levels. This royalty is expected to pay them $4 million later this year and then it will be complete. Probe management has stated in their MD&A the budget for Borden is $14 million this year. Probe will have plenty of cash to fund operations well into 2015.

Management
Probe is led by CEO David Palmer, who has 25 years experience in the mining industry. David has been at helm of Probe since 2003 after spending 15 years working all around the world on different mineral deposits. David has a B.Sc in Geology and a Ph.D in economic geology. David has some skin in the game owning 1.12 million shares. The team at Probe won the 2013 Ontario Prospector Award for the Borden Lake discovery. COO Michael Petrina has 25 years experience in a wide variety of mining positions. He was previously the COO for MAG Silver (MVG) and has a engineering degree from UBC and a MBA from the University of Athabasca.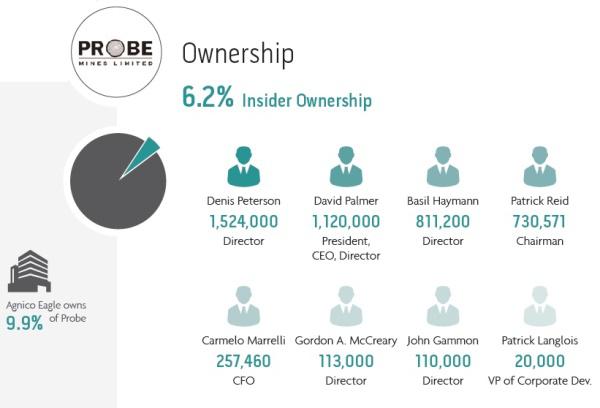 The Borden Lake Project
The Borden Lake project adds to the long list of multi million ounce gold discoveries made in Ontario. Infrastructure near the project is excellent with a paved highway nearby and the small town of Chapleau only 9km away. A small airport is located in Chapleau and power is fairly easy access. The project continues to expand in size as Probe continues to drill along strike. The strike length now has been extended from 2km to over 3km out onto the lake. A game changer for Probe is the project is now hitting high-grade drill intercepts.
The high grade zone has been tested for a ~1km strike length. 2013 was a monumental year at Probe Mines with the highest drilling year on record (meters) and lower unit costs.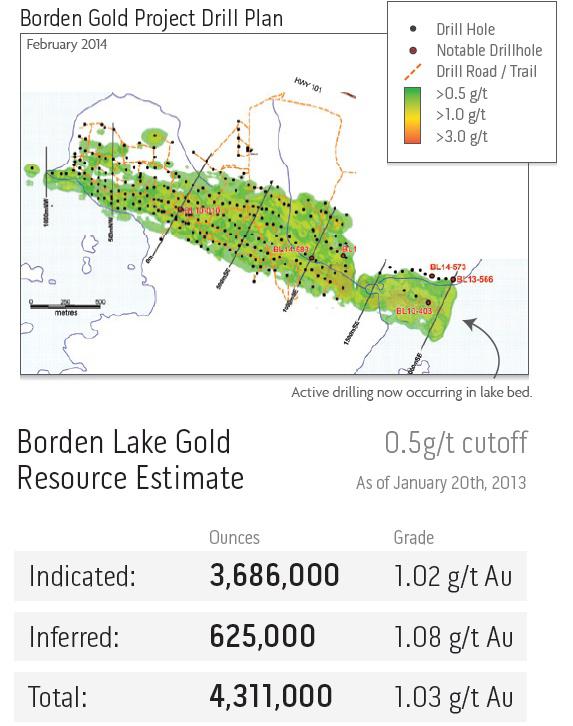 This resource estimate includes drilling till the end of Nov 2012 and comprises of 313 diamond drill holes or approximately 94,000m along 2100m of strike length. Probe was busy in 2013 drilling 218 holes for ~84,000 meters. In total the Borden Lake now has over 586 holes drilled with over 200,000m of core. An updated resource estimate is expected late in Q2 of this year.
Other Assets: Black Creek Chromite
This chromite deposit is located in the James Bay lowlands area known as the 'Ring of Fire'. Black Creek was discovered in 2009 and a NI 43-101 was published in 2010 confirming an open pit deposit of 10 million tonnes of high-grade chromite. This was Probe's original asset before making the discovery at Borden Lake.
Outlook
Probe Mines has to be on the shortlist of takeover candidates for any major. As soon as the PEA is published, we expect this one to be taken over shortly after. In the past couple years, several Ontario companies have been taken over including Brigus Gold, Prodigy Gold, Rainy River, and Trelawney. Probe is currently drilling with eight rigs on the project so expect a steady flow of assay results. Drilling is expected to continue into early April, or until weather conditions allow. Any step out hole that hits high-grade over a decent length should move the share price higher. An updated 43-101 is in the works (late Q2) which will then be followed by a PEA. Another potential catalyst would be a new discovery elsewhere on the property. Probe owns a district scale size land position 400km of land in the Borden belt. (Currently, there is no drilling taking place except for Borden Lake.)
Disclosure: I have no positions in any stocks mentioned, and no plans to initiate any positions within the next 72 hours.
Business relationship disclosure: Tickerscores.com is a team of analysts and researchers. This article was written by Jeff Desjardins, the company's President. We did not receive compensation for this article (other than from Seeking Alpha), and we have no business relationship with any company whose stock is mentioned in this article.