At the end of the 2013 fiscal year, (NYSE:IBM) pretty much gave shareholders one promise: $18 in EPS by the end of 2014. While, this might sound unrealistic, fool-hardy, or perhaps flat out deceptive, there hasn't been a year in the past five-years that IBM hasn't grown its EPS figure. The way they do it, is quite simple, they boost their margins every year, and return a lot of cash to shareholders through share buy-backs.
The stock continues to recover from $170 per share, and it makes for an attractive alternative to pure cloud plays like Amazon (NASDAQ:AMZN), VMWare (NYSE:VMW). Also, IBM's business segments are better diversified when compared to direct competitors like Oracle (NYSE:ORCL), and Hewlett Packard (NYSE:HPQ).
I think there's a ton of untapped potential within IBM. While revenue is likely to remain flat in the short-term, revenue growth is likely to accelerate in future years as IBM identifies ways to monetize its mounting pile of technology patents, or identify ways to meet unsatisfied needs in the business-to-business marketplace.
IBM jumps for the low hanging fruit
Between fiscal year 2012 and 2013, revenue contraction reduced EPS by $0.69, but margin expansion, and share repurchases boosted EPS by $1.72. After netting the results, you'll find that IBM grew EPS by around 6.75% between fiscal year 2012 and 2013.

Source: IBM
Admittedly, I'd like higher growth rates, but at least IBM adheres to the golden rule of not losing money.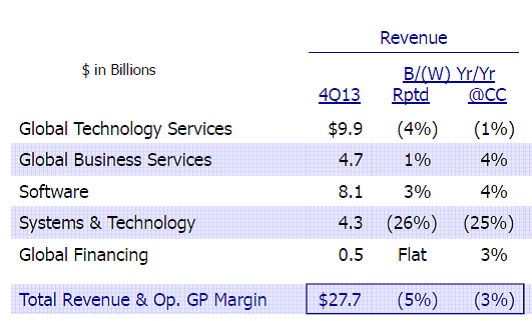 Source: IBM
In the previous quarter IBM was able to report growth in its business services, and software segments. Admittedly, the systems & technology segment reported awful performance (26% year-over-year contraction). The company has to cannibalize the hardware business in favor of offering cloud services (infrastructure-as-a-service). Overall, IBM has been able to report growth in cloud (69% year-over-year), smarter planet (20% year-over-year), and business analytics (9% year-over-year). Furthermore, analysts on a consensus basis anticipate IBM's sales to stabilize, and remain flat between fiscal year 2014 and 2015.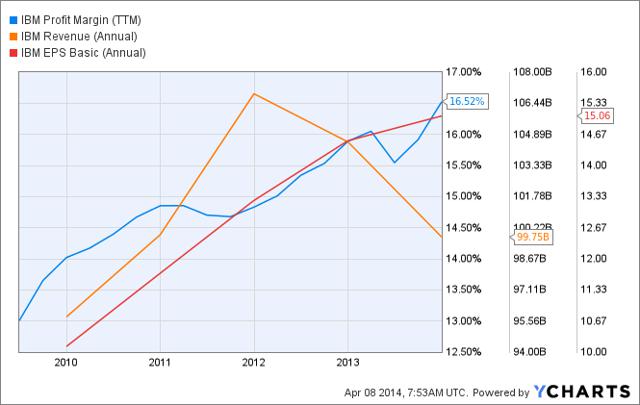 Source: YCharts
If revenue stabilizes, EPS can grow assuming profit margins continue to trend higher. Furthermore, the continued use of cash flow to pay for share buy-backs should result in upward pressure on the stock as IBM has bought and retired a little over $5.5 billion in shares in the most recent quarter, and $14 billion for all of fiscal year 2013. While, investors may not believe in the momentum story, the share buybacks will at some point grease the wheels of the stock, and lift the price higher.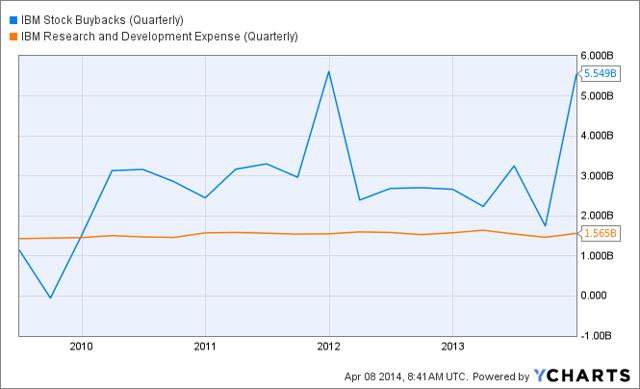 Source: YCharts
Furthermore, IBM has kept R&D spending and other expense categories in check. The transition to higher margin services over hardware is the primary reason for better margins, which is why investors shouldn't worry over whether IBM is cutting back on strategic spending categories. It turns out that IBM is extremely productive with R&D even though it hasn't increased R&D spend by much over the past five years.
IBM spent $6 billion in R&D in the 2013 fiscal year, and generated 6,809 patents with that amount of money. It costs IBM a little less than a million dollars to earn each patent.

Source: IFI Claims Patent Services
When I looked over IBM's patent Tumblr page, I found that IBM has developed a lot of unique technology. IBM has perfected everything from better GPS navigation, in-store theft recognition, data-center cooling, trend/fad detection, globalized databases for patient records, and 8.151 million other things.
IBM's software portfolio is well positioned
IDC forecasts that business technology will trend higher:
Business funded technology is expected to reach $275.2 billion in 2014, accounting for 55% of total technology spending. Industry specific operation is the largest business line, capturing approximately 45% of total business funded technology in 2014. The business technology spending market will grow at 6.9% 5 year CAGR from $236.6 billion in 2012 to $330.7 billion by 2017, while enterprise IT grows slowly at a 1.9% 5 year CAGR from $213.0 billion to 233.5 billion over the same forecast period.
To address this changing shift in business funded technology IBM has released some unique initiatives such as Mobile First (mobility as a service). IBM believes that some of its future is in mobile security software. IBM has developed a way to send encrypted messages using a unique message identifier for cloud-based applications. This comes extremely handy as it encrypts data when you access bank information, use your smart phone as a proxy for a debit-card transaction, or want to purchase something online from Amazon.com. IBM has developed back-end software to secure mobile data, which reduces the overall systematic risk of using a mobile device. IBM will be able to monetize this security technology by selling the service directly to financial institutions, e-commerce websites, or to the actual software platforms (Android, Windows, or iOS).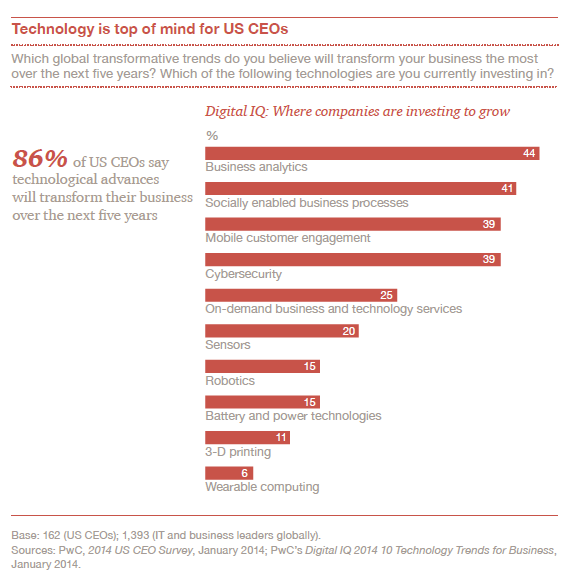 Source: PricewaterhouseCoopers
IBM has been able to turn the trajectory of its core business from hardware to business services, analytics, data security, and socially enabled marketing. As indicated by the PwC annual U.S. CEO survey, technology is one of the most important trends to their business, especially analytics. Thankfully, IBM is the leader in analytics software, and because it's a fast growing segment, IBM has become further diversified in its suite of products than many of its well-known competitors like Hewlett Packard and Oracle.
According to a research report co-authored by IBM, the ROI for data-analytics tends to fluctuate. But in many cases, government agencies were able to justify the added spending on better analytics programs as it can save money through additional productivity. There's much debate on how to calculate ROI, but in some case studies like the one involving the Center for Disease Control, a $10 million program developed by IBM to identify an outbreak of disease resulted in approximately $291 million in cost savings per year. This type of gain in productivity is the type that global CEOs and U.S. based CEOs are anticipating in order to meet or exceed long-term business goals.
Gartner goes onto predict that this category has a lot of untapped potential:
Despite the strong interest in BI and analytics, confusion around big data is inhibiting spending on BI and analytics software. Until 2016, service providers will garner business by closing the gap between available big data technology and business cases. As big data matures and more packaged intellectual property is available, big data analytics will become more relevant, mainstream and, ultimately, hugely disruptive.

Recent Gartner surveys show that only 30 percent of organizations have invested in big data, of which only a quarter (eight percent of the total) have made it into production. This leaves room for substantial future growth. Analytics plays squarely into the big data trend, where the growing volume, velocity and variety of data create opportunities outside of the traditional, established BI domains and buying centers. However, that also makes the sourcing of analytics bigger and more technically complex than what has been done before.
Conclusion
IBM's long-term guidance indicates that the EPS figure will grow as a result of improving margins and share buy-backs. Since this is something that management can predict with a little more certainty and clarity, there's a very high probability that IBM will sustain earnings growth.
IBM's data-analytics business hasn't reached its full potential, and there are plenty of ways to unlock that potential from buyers that are already interested in the technology. IBM simply needs to innovate in order to take itself to the next level, and as indicated by the sheer number of patent filings and commitment to R&D, I believe IBM's core product portfolio of business analytics, data security, cloud, and consulting will return IBM to respectable revenue growth in the foreseeable future.
In summary, I wasn't able to cover every product that IBM markets, but I hope that with this information investors will be able to see the potential of IBM when compared to peers in the space.
Disclosure: I have no positions in any stocks mentioned, and no plans to initiate any positions within the next 72 hours. I wrote this article myself, and it expresses my own opinions. I am not receiving compensation for it (other than from Seeking Alpha). I have no business relationship with any company whose stock is mentioned in this article.