Global demand for oil and gas continues to increase as emerging nations, such as China and India, move to consumer-based economies characterized by increased demand for electricity, improved housing, automobiles, and other forms of energy consumption. At the same time, major energy producers are experiencing declining production from traditional or "conventional" oil and gas reserves. To close this gap between dwindling production and increased global demand, companies are using advanced production technologies to exploit other "unconventional" fuels. For example, to extract oil and natural gas from once inaccessible shale reserves, horizontal drilling and hydraulic fracturing, or "fracking," is being used. Companies also are utilizing new techniques to exploit bitumen from Canada's oil sands.
As the production of unconventional continues to ramp aggressively, especially in North America (see Figure 1), the International Energy Agency's (IEA) 2012 World Energy Outlook projects that the long-anticipated peak of world oil production could be pushed out decades into the future. Similarly, the U.S. Energy Information Agency (EIA) forecasts that world energy use will grow by over 50 percent between 2010 and 2040, with fossil fuels continuing to meet almost 80 percent of world energy demand through 2040. EIA also confirms that oil and gas production from new, unconventional sources, largely shale oil and gas and oil sands, are stepping up to fill in the demand gap. In fact, shale gas from the United States is the fastest-growing fossil fuel in the EIA outlook. (See Figure 2.)
Figure 1: Historical and Projected U.S. Oil and Gas Production
Source:
 IEA World Energy Outlook 2012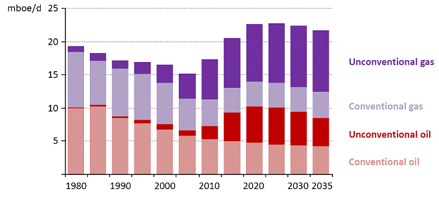 The drivers for the recent U.S. boom in unconventional gas and oil production are 1) a supportive pricing environment and 2) advanced drilling technologies, specifically the cost-effective combination of horizontal drilling and hydraulic fracturing, or "fracking." Fracking is a drilling technique in which wells are drilled by boring horizontally through an underground rock layer, and then injected with a high-pressure mixture of water, chemicals, and sand to create micro-fissures in the rock to break it apart and allow oil and natural gas to flow from the shale into the well. This technique is employed in the hydraulic fracturing of shale oil reserves, such as the Bakken in North Dakota, or to get to shale gas, such as in the Marcellus region in the eastern U.S. Fracking has brought economic revival to areas with the largest shale formations, including the Barnett in central Texas, the Eagle Ford in southern Texas, the Bakken in North Dakota, and the Marcellus in Pennsylvania and several neighboring states.
Figure 2: U.S. Natural Gas Production Outlook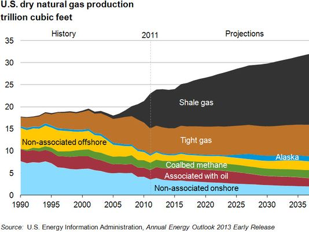 But There's a Catch
My recent article, "The Growing Threat to Canada's Oil Sands Boom," discussed water consumption and contamination issues facing the Alberta Oil Sands energy complex. Just south of the border, fracking is facing the same concerns. Shale oil and gas production requires massive amounts of energy and water, and generates large quantities of wastewater. Such as in Canada, this U.S. shale energy boom has sparked concerns that new production technologies may hurt local water quality and strain water supplies. These concerns have been roundly debated in public forums.
To open shale rocks and to release trapped oil and gas, large amounts of water, fine sand, and chemical substances must be injected under high pressure into the ground. In fact, hydraulic fracturing requires as much as five million gallons of water per well; in 2012 alone, fracking consumed some 50 billion gallons of water. Although the sheer volume of water consumed may not present a problem in water-rich regions, such as Pennsylvania, it may become a major obstacle in water-parched states, such as Texas; overall, 55 percent of the wells fracked since 2011 are in drought areas. In those areas, energy producers will need to compete for water with other users, including farms, manufacturing plants, and households. According to a recent UN World Water Development Report on water and energy, "There is an increasing potential for serious conflict between power generation, other water users and environmental considerations."
Furthermore, shale gas and oil production poses risks to local water supplies if contaminated water enters the water table and impacts sources of drinking water, or if it finds its way into surface waters. Some communities are so concerned about this risk, that they are simply refusing to issue drilling permits, and, in so doing, effectively shutting down drilling activity in the region.
Documenting The Dangers of Fracking
Instances of water contamination allegedly tied to oil and gas fracking prompted the EPA and state agencies to begin examining the relationship between fracking and drinking water quality. Some notable examples are listed below:
The EPA has struggled to keep up with the fracking boom in recent years, and has not yet directly regulated fracking in the continental U.S. In response to public concern, the US Congress directed the EPA in 2010 to begin conducting a study to better understand the potential impacts of fracking on drinking water resources. Environmentalists and the energy industry are now awaiting the results of the EPA's research, due late this year, as well as final rules on the disposal of fracking wastewater.
In the absence of the EPA, state and local communities have grown increasingly concerned about the threat fracking poses to public health and are taking matters into their own hands:
In Colorado, four towns - Broomfield, Fort Collins, Lafayette, and Boulder - voted to place bans or moratoria on fracking in November, 2013.
In September, 2013, California Gov. Jerry Brown signed the first fracking law, SB 4, which paved the way for rules requiring companies to disclose chemicals they use in the fracking process, to provide notice to neighbors before operations begin, and to conduct certain testing on water wells.
In New York state, where fracking remains at a standstill due to a state-wide moratorium pending the results from that state's environmental agency's review, many New York towns have, nonetheless, banded together to limit or ban drilling operations completely.
New York Attorney General, Eric T. Schneiderman sued the federal government to force an environmental impact study of proposed natural gas drilling and fracking in the Delaware River Basin, which includes the New York City watershed.
Local bans are also popping up in traditionally fracking-friendly areas, such as Texas and Ohio. Dallas, which sits on the edge of the Barnett Shale, passed restrictions in December, 2013, banning fracking within 1,500 feet of a "home, school, church" and other areas, effectively banning the practice within the city. In Ohio, which sits on top of the Marcellus Shale, over two dozen bans or moratoria have been passed.
Until guidance is provided from the federal level, the trend to regulate and ban fracking at the state and local level is likely to continue.
So Where Are the Solutions?
One way to minimize fracking's drain on fresh water is to substitute, as much as possible, water that is already has been used to frack other wells. After fracking, 10 percent to 50 percent of the water flows back up through the oil or gas well, and is typically disposed of through injection into deep wells. If this wastewater were, instead, cleaned of chemical additives and underground metals and minerals, it could be reused, thus reducing the demand for new water.
While there are many promising technologies, none has yet demonstrated to be economically viable on the commercial scale required at typical oil sands and fracking operations. Major players, including General Electric (NYSE:GE), Veolia (VE), Siemens (NYSE:S), and Cameron (NYSE:CAM), and smaller firms, including Aqua Pure, GreenHunter (NYSEMKT:GRH), and Trojan, a subsidiary of Danaher (NYSE:DHR) supply equipment/technology to the energy industry. At the same time, major oilfield service providers, including Schlumberger (NYSE:SLB) and Baker Hughes (BHI) seek technology solutions for their oilfield service operations. However, Bloomberg reported in November, 2013, that "no one has devised a cheap, one-size-fits-all technology to convince producers to recycle. Furthermore, picking a winner in water treatment has eluded Schlumberger, the world's largest oilfield services provider." Schlumberger also entered into water recycling years ago, envisioning a fast-growing, vibrant new specialty. According to Mark Kidder, who runs Schlumberger's oilfield water management unit: "We've spent millions and millions of dollars evaluating virtually every available and reasonable-looking technology out there, always hoping we'd find the silver bullet. At this point, we found nothing." In North Dakota's Bakken shale, Nuverra Environmental Solutions (OTC:NES) is partnering with Halliburton (NYSE:HAL), the world's largest fracking service provider, to use recycled water for fracking, CEO Mark Johnsrud said in an interview.
All Eyes on Alberta
Because the Alberta Oil Sands tailing ponds are such a visible problem, and because the Canadian governments have ponied up billions of dollars to improve water use efficiencies in production operations and to clean up tailing ponds and processes, Alberta itself has become the center of gravity for wastewater research. All eyes are on the University of Alberta and a consortium of players seeking to demonstrate technologies that can be successful on a commercial scale.
The Natural Sciences and Engineering Research Council of Canada (NSERC), as well as a number of related researchers and industry stakeholders, including leading producers Suncor (NYSE:SU), Canadian Natural Resources (NYSE:CNQ), and Shell Oil, and the regional water district for the Province of Alberta sponsor a Research Chair to solve the contaminated water and tailings ponds problems associated with the oil sands industry. Led by University of Alberta Professor Mohamed Gamal-El Din, a leading expert in the area of water treatment and advanced oxidation, the primary area of focus of the "NSERC Industrial Research Chair in Oil Sands Tailings Water Treatment" is to develop proactive water management strategies to dramatically reduce the footprint of tailing operations and solve oil sands water contamination issues.
This research initiative is currently focused on the further development, scale-up, and commercialization of a novel water treatment technology that utilizes an electrochemically-assisted adsorption process for the advanced treatment of oil sands tailings water. The technology has demonstrated feasibility at the bench-scale level; test results indicate higher throughput, lower energy consumption, and faster clean times than competing technologies. BioLargo Inc. (OTCQB:BLGO) of California owns this technology, and has just secured patent protection for its platform. BioLargo's solution, if proven commercially scalable, is anticipated to solve wastewater contamination problems for shale oil and gas fracking processes as well.
Conclusion
Hydraulic fracturing and oil sands recovery require immense amounts of water; thus, water will have a significant impact on the long-term development of the vast North American oil sands and shale oil and gas reserves. There are dangers of process chemicals finding their way into ground water aquifers and contaminating drinking water sources. These issues may ultimately be a constraint on unconventional energy production, which may never be fully exploited without meeting water supply and environmental concerns. This creates a new and significant business opportunity for companies that provide water technology solutions to oil sand and shale oil and gas producers and energy service providers throughout the U.S., Canada, and beyond.
Disclosure: I have no positions in any stocks mentioned, and no plans to initiate any positions within the next 72 hours. I wrote this article myself, and it expresses my own opinions. I am not receiving compensation for it. I have no business relationship with any company whose stock is mentioned in this article.