Every Intel (NASDAQ:INTC) article that I've penned has had a strong focus on when the PC market was going to eventually stop falling.
The PC market has been waning for years now, as a result of the popularity of tablets and mobile. It's affected companies from Hewlett-Packard (NYSE:HPQ), to AMD - even being mentioned on Apple's (NASDAQ:AAPL) conference calls - and definitely having a material impact on Intel's business.
2013 showed little to no help for computer makers and chip manufacturers, as Gartner cited a 10% decline in the market as the worst year in history for the consumer computer market. Intel scrambled to accommodate all operating systems for phones and tablets, Microsoft (NASDAQ:MSFT) crapped out Windows 8, Google (GOOG, GOOGL) rushed to try and get their operating system on more than just phones, and the computer market was in general disarray heading into this year.
Much of my thesis on Intel was that the PC market was eventually going to rebound - something that up until yesterday, we were only seeing small signs of. It was one of the reasons that I sold off my Intel position for the short-term recently.
And the decline continues - don't get me wrong. But, we're seeing some signs of things slowing down a bit and potentially working in Intel's favor.
Seeking Alpha reported this morning:
IDC estimates global PC shipments fell 4.4% Y/Y (less than a 5.3% forecast) in Q1 to 73.4M, after having declined 5.6% in Q4 and 7.6% in Q3. Gartner thinks shipments only fell 1.7%, and totaled 76.6M.
IDC chalks up the narrower decline to healthy commercial demand, as buyers purchased Windows 7 systems ahead of Microsoft's termination of Windows XP support. The firm also thinks slowing tablet growth helped out.
IDC thinks Japanese shipments rose 7%, and U.S. shipments only fell 0.6% thanks to 3.5% desktop growth. Emerging Asia-Pac and Latin American markets, where tablet cannibalization is at an earlier stage, remained weak.
A mix shift towards developed markets benefits both Microsoft (higher ASPs, less piracy) and Intel ( - higher ASPs).
IDC estimates market leader Lenovo (OTCPK:LNVGY) had a 17.7% share, +220 bps Y/Y. #2 H-P's share rose 150 bps to 17.1%, and #3 Dell's 170 bps to 13.4%. #4 Acer's (OTC:ASIYF) share fell 130 bps to 6.8%, and #5 Asus' 20 bps to 5.9%.
The Q1 numbers suggest IDC's prior full-year forecast for a 6% shipment drop might prove too pessimistic.
As the decline in the market slows, now is Intel's time to continue the growth in PCs that they had in Q4 2013 and catalyze that for growth. The strides the company has been taking to assure that it's in every mobile and tablet device, combined with an (eventual) bottom in the PC market could be what continues to drive Intel's stock upward.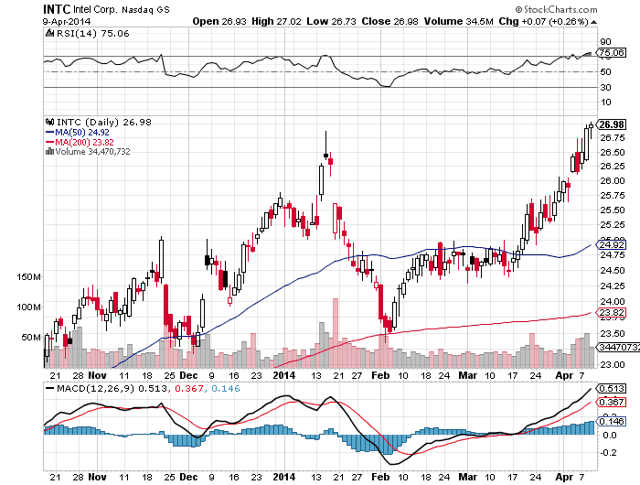 The company hasn't show tangible strength in the number, nor in its vision, of late - but investors are starting to smell that things might be waking up for Intel at some point soon and - catalyzed by a couple of analyst upgrades - are piling into the stock.
Intel has started a new technical uptrend, handily plowing through it's resistance at $26.50 and looking for the first time in months to have some serious momentum behind it. Intel's technical picture is telegraphing a small overbought pullback to $26.75 before easily handling $27 and moving upward from there - pending any macro market pullbacks that are out of the company's hands.
Investment Thesis: As an Intel shareholder, you would hope that this is the start of some good news, and that potential other good news will follow on the company's upcoming earnings call. You can read my short preview of Intel's upcoming earnings report here.
As I concluded yesterday, it's unlikely that we're going to see Intel boost their dividend anytime soon. Their dividend is taking up a lot of their free cash right now and we need to wait for the company to get on better footing first. But, with a yield still over 3% and the long-term prospects continuing to (somewhat) line up, Intel likely remains a strong vehicle for long-term growth.
Best of luck to all investors.
Disclosure: I have no positions in any stocks mentioned, and no plans to initiate any positions within the next 72 hours. I wrote this article myself, and it expresses my own opinions. I am not receiving compensation for it (other than from Seeking Alpha). I have no business relationship with any company whose stock is mentioned in this article.