India's central elections have begun on April 7, 2014. The new federal government is expected to take charge by June 1, 2014. India has been facing many economic challenges in the last few years as follows:
1) Fiscal deficit
India's fiscal deficit in the first eleven months of the 2013/14 (April 2013 to March 2014) touched $100.03 billion (Indian Rupee (or INR) 5.99 trillion), or 114.3% of 2013/14 target. In February 2014, the Indian government had revised fiscal deficit to 4.6% of gross domestic product (or GDP) from 4.8% earlier.

Source: Business Standard
India's subsidy bill primarily includes subsidy provided for oil, food, and fertilizer. The government has rolled over subsidies to 2014/15 (April 2014 to March 2015) to contain its fiscal deficit for 2013/14. The new government will have to provide a subsidy expenditure of $20.5 billion (INR 1.23 trillion) for 2014/15 due to this rollover. The subsidy bill will limit the new government's expenditure on infrastructure, and development projects. If the new government cuts subsidies on oil, food, and fertilizer drastically then it will contribute to inflation.
2) Industrial production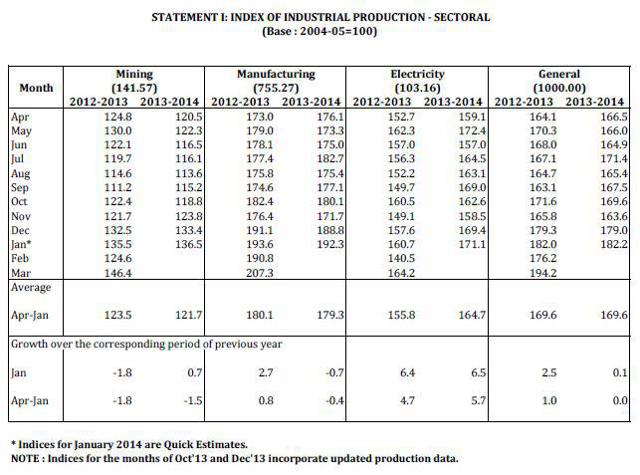 Source: Ministry of Statistics, India
The Index of Industrial Production (or IIP) for January 2014 was 182.2, about 0.1% higher year-over-year (or yoy). There was no change in the cumulative growth for the period April 2013 to January 2014 yoy.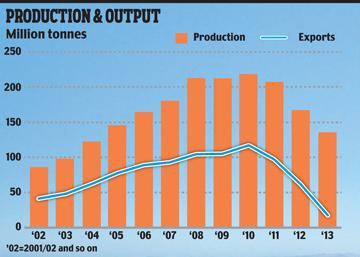 Source: Business Today
Prior to the iron ore mining and export ban in states of Karnataka and Goa, India was the world's third largest exporter of iron ore. India's iron ore exports have fallen from 117 million tonnes (or Mt) in 2008/09 (April 2008 to March 2009) to 18 Mt in 2012/13 (April 2012 to March 2013). The iron ore exports are expected to further reduce to 14-15 Mt in 2013/14. The iron ore export ban from Goa has led to a loss of over $6 billion which was one of the factors that led to depreciation of INR in 2013. This ban affected mining operations of Vedanta Resources (OTCPK:VDNRF) as the company owns iron ore mines in Goa and Karnataka.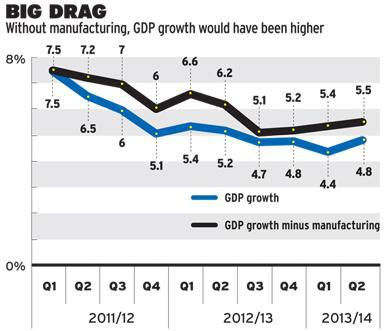 Source: Business Today
High interest rates led to decline in Indian consumer spending. Land acquisition issues stalled projects, while slow decision making by the government held back investments in this sector. The Indian manufacturing sector has witnessed 70% decline in new projects in 2012/2013 compared to 2008/2009.
3) Volatile currency

Source: Yahoo Finance
In August 2013, the INR had touched all time low of 68.85 against the U.S. dollar or USD due to weak economic conditions in India, and volatility in global markets. Although INR has reached around 60 per USD in March 2014, but a volatile currency is not good for an economy. If the INR depreciates against the USD, then it will lead to inflation as India imports over 80% of its crude oil, and 25% of its natural gas requirements. On the other hand, sharp appreciation of the INR against the USD can affect the profit margins of Indian exporters especially outsourcing companies like Infosys Limited (NASDAQ:INFY), Cognizant Technology Solutions (NASDAQ:CTSH), and Accenture Plc (NYSE:ACN). The RBI governor Raghuram Rajan has warned of a turmoil in the equity, bond, and forex markets if the 2014 central elections don't deliver a stable government.
4) Project delays and exits
There are a number of investment projects in India, where companies have exited due to land acquisition, government clearances etc. The major projects among them include:-
a) In July 2013, Posco (NYSE:PKX) exited its $5.3 billion steel mill project in Karnataka. Posco plans to construct a steel plant at Paradeep, Orissa with annual production capacity of 10 Mt. The $10 billion project has been delayed by over a decade due to poor co-ordination between the federal and state governments. Further delay is expected due to the allocation of captive iron ore reserves.
b) In July 2013, ArcelorMittal (NYSE:MT) exited $12 billion steel plant project in Orissa due to delays, problems in securing iron ore linkages, and land acquisition issues. The company had invested its resources over seven years in this project.
c) In October 2013, BHP Billiton (NYSE:BHP) exited its nine oil and gas exploration blocks in India. This includes six blocks in which the company held 26% interest, and three blocks in which it held 100% interest. The company faced delays in receiving permits from India's defence ministry to conduct exploration activities in these blocks.
5) Rising unemployment
Unemployment rate in India has risen from 3.5% in 2011 to 3.7% in 2013, and is expected to be 3.8% in 2014. The unemployment rate is 8% and 13% for urban males and females, while it is 5% for rural males and females. The informal employment accounts for 94% of the workforce in India, and is growing faster than formal employment, which is worrisome.
6) Ailing banking sector
According to Indian Ministry of Finance, the bad loans of Indian public sector (or PSU) banks increased 41% in 2013 to $36 billion. PSU banks constitute more than 70% of the Indian banking sector. The non performing asset (or NPA) ratios of public sector banks have risen from 2.09% four years back to 5.17% by 2013 end. During the interim budget for 2014/15 (April 2014 to March 2015), the Indian government had allocated $1.8 billion (INR 112 billion) for capital infusion in PSU banks. Moody's considers this to be insufficient as it had estimated capital infusion of $4.1 to $5.8 billion (INR 250 to 360 billion) for maintaining a minimum tier 1 ratio of 8% for 2014/15.
In May 2013, the Reserve Bank of India (or RBI) tightened norms for loan restructuring which could increase NPA's of Indian Banks in the coming years. The statement from the RBI is as follows:
"It is clarified that no such incentive would be available on withdrawal of regulatory forbearance on restructuring with effect from April 1, 2015, except in cases of restructuring by change of DCCO (date of commencement of commercial operation) of infrastructure and non-infrastructure project loans as specified in this circular."
The RBI has tightened norms for Indian banks, while capital infusion in PSU banks could be a challenge for the government due to its limited resources. The government has recommended PSU banks to sell non-core assets for generating the required capital.
Conclusion
According to Central Statistics Office (or CSO), the growth in India's Gross Domestic Product (or GDP) during 2013/14 is estimated to be around 4.9%, compared to 4.5% in 2012/13. Some of the above factors were primarily responsible for the country's low GDP growth rate.
I would conclude by saying that it is going to be a challenging task for the next government to repair India's economy, and put it back on track.
Disclosure: I have no positions in any stocks mentioned, and no plans to initiate any positions within the next 72 hours. I wrote this article myself, and it expresses my own opinions. I am not receiving compensation for it (other than from Seeking Alpha). I have no business relationship with any company whose stock is mentioned in this article.