Sporting goods, athletic apparel, and athletic footwear are some of my favorite categories to write about. The sector isn't necessarily full of great investments at the moment; however, there are several changing dynamics that makes the industry so fascinating.
In previous features, I've dug into Big 5 (NASDAQ:BGFV), Finish Line (NASDAQ:FINL), and Dick's Sporting Goods (NYSE:DKS). Now, let's take a look at a fairly reasonably priced cannibal by the name of Hibbett Sports (NASDAQ:HIBB).
Background of Hibbett
Bricks & Mortar
Similar to Big 5, Hibbett Sports is a regional chain, mostly located in the Southeastern part of the United States. The company has a very strong presence in its home state of Alabama, as well as Georgia, Texas, Mississippi, North Carolina, and Louisiana, as well as a solid presence in southern Illinois, Arkansas, Kansas, and South Carolina.

Image source: HIBB 10-K FY14
Hibbett engages in an interesting strategy for its core 5,000 square foot stores-it follows Wal-Mart (NYSE:WMT) around. The majority of Hibbett's 927 locations are located in strip malls near Wal-Mart stores. Locating near Wal-Marts gives Hibbett's a built-in customer base and nearby store traffic. Regardless of how stiff online competition becomes, I do not foresee Wal-Mart's core business materially deteriorating any time soon. 180 shops are located within enclosed mall space. In this respect, Hibbett is very similar to Big 5 as the firm targets areas where it can be the only player in town. Mall-based Hibbett stores tend to be located in the only malls in their respective counties, which also means that Hibbett often lacks robust competition. The 25,000-75,000 populations also prevent the likes of Dick's Sporting Goods and The Sports Authority from targeting Hibbett's markets.
Ecommerce
In another eerily similarity to Big 5, Hibbett lacks a strong online presence. While it does engage in some e-commerce and continues to invest in its online platform, the company is a few years away from a full rollout. This is unfortunate for Hibbett shareholders, and it leaves the firm miles behind the likes of Foot Locker (NYSE:FL), Finish Line, and Dick's Sporting Goods-all of which have developed fantastic online presences over the past several years.
Rolling out an ecommerce strategy seems like a path to another powerful growth avenue. However, I think Hibbett being so late to the game could impair its ecommerce growth. Eastbay (a Foot Locker brand) and Finish Line have been serving customers for a decade+ and have developed strong customer relationships. Why would someone outside of Hibbett's core markets order something from a retailer they have never heard of rather than ordering from a reliable, longtime provider?
Additionally, the online business brings a greater deal of price transparency than in-store shopping. This can reduce gross margins, though operating margins can remain fairly stable if the company is able to keep other costs down. Some sales will also migrate from the store to the e-commerce channel, potentially lowering store productivity and profitability. Combined with possibly lower ASPs could result in an overall margin headwind-but at least Hibbett will have helped retain the top-line.
Growth Strategy
As outlined above, ecommerce will be a tenant of Hibbett's growth strategy over the next few years. However, the company still believes it has a ways to go in terms of expanding its store count. By the end of FY19, Hibbett believes it can have 1,300 total locations-nearly 400 more than it has today. New stores will be located in counties that already have a Hibbett to save on distribution and product selection costs.
Needless to say, this will result in some cannibalization. One might say the impact is already being borne out in Hibbett's same-store sales numbers. Comps grew only 1.8% in FY14, with a paltry 1.7% comp store growth in the fourth quarter. In Hibbett's defense, comps were up 4.9% in Q4 of FY13, so the two-year stacked comp trend remains healthy.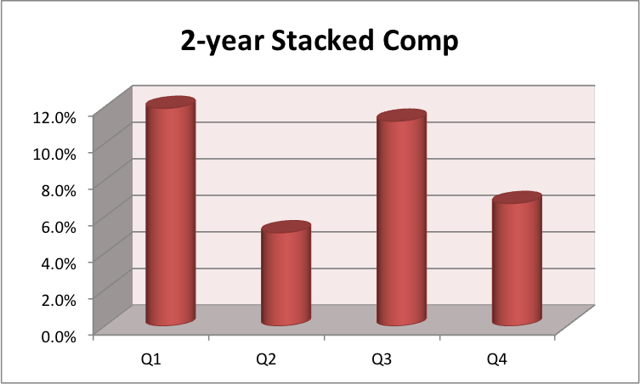 Source: Company filings, Detroit Bear
Going forward, I do not see many ways to drastically improve comps, though I think the company's new logistics and distribution network will help improve store efficiency.
Another prong of Hibbett's growth strategy is exposure to powerful tailwinds in athletic apparel and footwear. Nike (NYSE:NKE) is about as popular as any brand on earth at the moment, and Hibbett receives some of its premium product allocation. Under Armour (NYSE:UA) is also selling extremely well, and it remains a key partner for Hibbett. Simply having these products that are in high demand will drive customers into Hibbett stores and to the Hibbett website.
As I have mentioned previously, this is a problem for the whole product distribution cohort. Formerly Nike was thought as fashion forward rather than a technical brand, but innovations like Lunar, Free, and Flyknit have helped the company capture 60%+ market share. In fact, Nike has about 60% of the total athletic footwear market.
Why is this so important Hibbett? Because Nike is creating value, not the distributors. This is an incredibly important notion, central to investing in any footwear retailer. The cohort is almost entirely reliant on Nike for driving sales and innovation. Plus, Nike owns the negotiating leverage meaning it can dump low selling product on the likes of Hibbett, Finish Line, and Foot Locker, or it can demand more for its marquee products.
Because the brands, particularly Nike, own the value, I think operating margin expansion will be tough to come by going forward-aside from SG&A cost reductions.
Capital Allocation Strategy
From the above description, it is reasonable to think that Hibbett is only a decent business-that's correct. Yet, the company is also what Charlie Munger likes to call a cannibal, in the sense that it aggressively repurchases shares. Over the past ten years, 26% of the company has been repurchased. Going forward, the company thinks it can allocate at least 4% of its free cash flow to share repurchases. That figure can grow concurrent with free cash flow expansion.
Capex will remain fairly elevated thanks to the ecommerce and logistics investments. The payoff on these investments is unknown, but many of the expenses will be one-time in nature. Thus, the firm's capex budget will return to a more normalized figure in the $25-$30m range in FY15, and I think the range will be lower after that. The result: more free cash flow for shareholders.
Valuation
At 16x FY15 earnings, Hibbett is trading roughly in-line with Dick's Sporting Goods, but it trades at a large premium to Foot Locker, Finish Line, and Big 5. Hibbett has a superior outlook for top-line expansion relative to its peers, though none has a particularly compelling case for margin expansion.
Hibbett and Big 5 have similar strategies, but I think the southwest has a more favorable population outlook that the southeast and mid-Atlantic region. Hibbett also has a more valuable customer base that warrants more competition. Given the current valuation and dividend yield, I think Big 5 looks like a stronger buy.
Disclosure: I have no positions in any stocks mentioned, and no plans to initiate any positions within the next 72 hours. I wrote this article myself, and it expresses my own opinions. I am not receiving compensation for it (other than from Seeking Alpha). I have no business relationship with any company whose stock is mentioned in this article.