In July of last year, we offered a comprehensive outlook for the coal and railroad industries. Since that time, Union Pacific (NYSE:UNP), our favorite railroad idea, has surged to $185 per share from $155 per share, while some of our biggest concerns regarding the coal miners have come to fruition. James River Coal (JRCC), one of the most indebted miners in the industry, filed for Chapter 11 bankruptcy Tuesday, a process that will likely result in the complete eradication of shareholder equity as the firm restructures:
James River Coal intends to use the Chapter 11 process to continue implementing a comprehensive turnaround plan aimed at addressing its challenges in the changing coal mining industry. James River expects its mining operations and customer shipments to continue in the ordinary course throughout the restructuring process. In conjunction with its restructuring, James River will enter into a $110 million debtor-in-possession (DIP) financing facility with several large financial funds. Upon approval by the Bankruptcy Court, the new financing and cash generated from James River's ongoing operations will be used to support the business during the restructuring process.

Peter T. Socha, Chairman and Chief Executive Officer commented: The coal markets in the U.S. have changed dramatically during the past several years. Some of these changes are cyclical due to continued weakness in the real economy. Other of the changes are more permanent like changes in government environmental regulations, improved methods to produce natural gas, and switching between coal basins by domestic power utilities. We have made a number of large and significant changes to our mine operations and administrative overhead in response to the changes in the coal markets. Now we need to adjust our balance sheet and debt structure to align ourselves to the new industry.
Though James River Coal has entered the bankruptcy process to deal with industry challenges, significant financial risk at Arch Coal (ACI) and Walter Energy (NYSE:WLT) remain. Walter's recent debt raise, for example, may not be enough to sustain it for much longer, if metallurgical coal prices do not recover. We think Arch Coal and Walter may be next in line to file for Chapter 11 if industry weakness persists.
As James River's CEO Socha highlighted, economic and political pressures are making coal a less-viable thermal (electricity) option in the US, while heightening competition and myriad risks are making the US export market for metallurgical coal (steel) less attractive. US coal exports account for only about 10% of US coal production, so thermal coal consumption trends in the US remain paramount to the coal industry's broad success. We don't think the industry is conducive to large economic profit creation for participants, and we think investors seeking coal exposure will be better off via exposure to the railroads, which operate much better business models. Coal is the single most important commodity to the railroads, accounting for more than 20% of class I railroad freight revenue.
In the face of James River's demise, Consol (NYSE:CNX) still raised its annual coal production guidance, perhaps in part to keep spirits up across the industry. The firm noted that thermal coal demand has been strong, but metallurgical coal demand, especially in Asia, has been weak. The firm indicated that it may soon have to exert some additional production discipline at its Buchanan Mine, but still raised its annual coal production guidance range from 30.1-32.1 million tons to 31-33 million tons. Consol Energy's operations are far more flexible than James River's, and its outlook has buoyed coal equities across the industry. However, we're not taking the bait, and even long-term bull on coal BHP Billiton (NYSE:BHP) sees no near-term relief on coal prices. Coal miners will have to survive the near term to have any value over the long term, as James River shareholders are finding out.
Recent Performance of Coal ETF Market (NYSEARCA:KOL)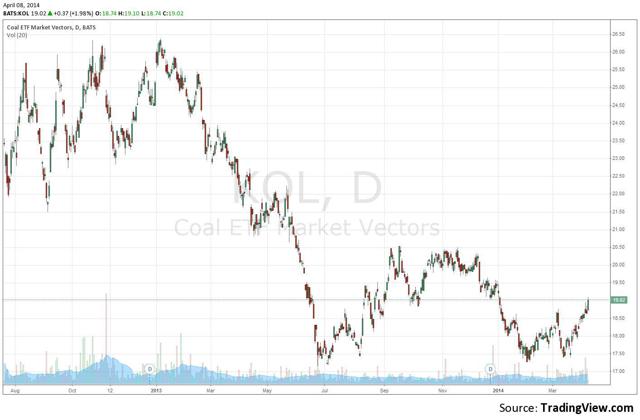 If investors need exposure to coal directly (which we do not prefer), Cloud Peak (NYSE:CLD) offers the least-risky proposition given its capital structure and pure-play position in the Powder River Basin. We prefer indirect exposure to the coal industry via our favorite railroad idea Union Pacific. Each railroad has its own unique strengths and weaknesses, but Union Pacific seems to have the most things going for it. We expect the firm's operating ratio to be among the best in the group by the end of this decade, and we like its exposure to growth in Mexico as well as future export expansion on the West Coast. The firm is levered to coal, though we note its mix is more of the PRB variety, which should continue to take share from CAPP coal in the domestic market. The firm also boasts a strong Valuentum Dividend Cushion score and a decent annual yield. We think shares are worth approximately $190 each at the time of this writing, and is the best risk-adjusted, income idea across the coal and railroad industries.
Disclosure: I have no positions in any stocks mentioned, and no plans to initiate any positions within the next 72 hours. I wrote this article myself, and it expresses my own opinions. I am not receiving compensation for it (other than from Seeking Alpha). I have no business relationship with any company whose stock is mentioned in this article.
Additional disclosure: Union Pacific is a holding in Valuentum's Best Ideas portfolio.
Editor's Note: This article covers a stock trading at less than $1 per share and/or with less than a $100 million market cap. Please be aware of the risks associated with these stocks.
Editor's Note: This article covers one or more stocks trading at less than $1 per share and/or with less than a $100 million market cap. Please be aware of the risks associated with these stocks.