More disappointing news from China has some worried, but with the Fed's dovish comments yesterday there is little fallout. We have been proponents of buying the retail sector as a whole since becoming less bullish on many of our winners a few months back and the move minimized losses that would have otherwise occurred. It is not as if the trade was wildly successful, it was a loser too but less than what would have been experienced owning individual names.
At this time we are gravitating back to the thinking that owning the individual names might be the proper trade. With the best names having seen their shares trade somewhat lower or roughly within the same range we think buying into this relative strength could be worth it over the next year. One must be very picky with their buys though, and we stress that only the top tier retailers or those with special situations should be purchased at this time.
Chart of the Day:
It might be time to rotate out of the general retail sector and back into individual names for those who have large enough portfolios to add 3-4 of those names for diversification purposes.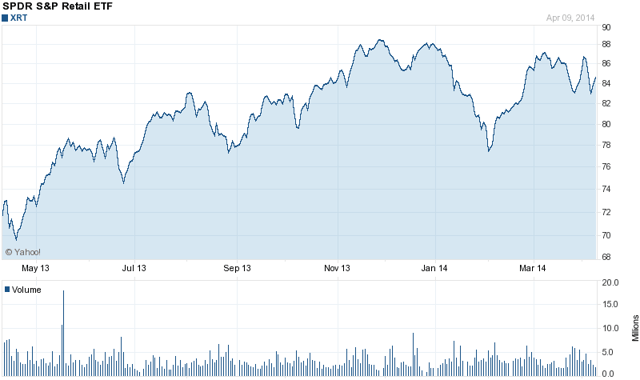 Source: Yahoo Finance
We have economic news today, and it is as follows:
Initial Claims (8:30 a.m. EST): Est: 325k Act: 300k
Continuing Claims (8:30 a.m. EST): Est: 2843k Act: 2776k
Export Prices - Ex Ag (8:30 a.m. EST): Est: N/A Act: 0.5%
Import Prices - Ex Oil (8:30 a.m. EST): Est: N/A Act: 0.3%
Natural Gas Inventories (10:30 a.m. EST): Est: N/A Act: 4 bcf
Treasury Budget (2:00 p.m. EST): Est: -$36.0 B
Asian markets finished higher today:
All Ordinaries -- up 0.31%
Shanghai Composite -- up 1.38%
Nikkei 225 -- up 0.00%
NZSE 50 -- up 0.95%
Seoul Composite -- up 0.48%
In Europe, markets are trading lower this morning:
CAC 40 -- down 0.19%
DAX -- down 0.01%
FTSE 100 -- up 0.28%
OSE -- down 0.35%
The Right Medicine At Rite-Aid
The drugstores have been big winners over the last few years, even when factoring in some of their missteps. Walgreen (WAG) and CVS (NYSE:CVS) have looked to strengthen their retail operations by adding services to their locations while also using their considerable scale and purchasing power to lower their pharmacy costs. Those are two names which we have viewed as solid plays for nearly any portfolio as they are relatively safe and have solid cash flows and earnings.
Rite-Aid has been a big winner over the past year, and we are now in the camp that believes in the story and think that the latest growth plan could be a game changer for shareholders.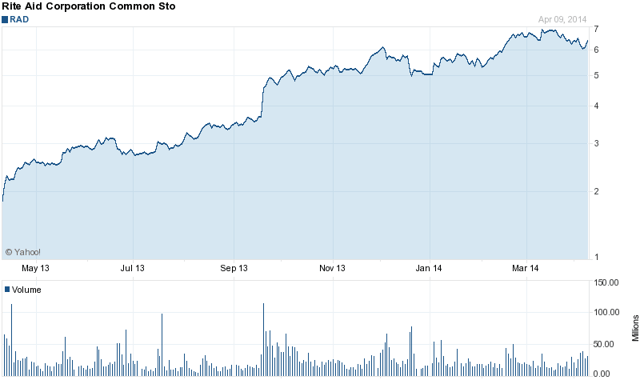 Source: Yahoo Finance
The name we have not been on board with whole-heartedly has been Rite-Aid (NYSE:RAD) which has been plagued by poor management, underperforming stores and a large debt load during the past decade. In the last couple of years that has all changed as the management team seems to have gotten a better grasp on the business and the company added scale via mergers. With the latest quarter that the company just reported (see AP article here), it would appear to us that this stock is no longer just for the riskiest portions of portfolios but one of those growth and deleveraging plays which fits in the moderate risk portions of portfolios.
The latest acquisition by the company seems like it will be a winner as we already know that the format works; both CVS and Walgreen already have clinics in a number of their stores so we see the idea as somewhat de-risked at this time. Implementation and rollout of the RediClinic brand will be key to whether this is a success or not, but with six profitable quarters in a row we think that the company's management deserves the benefit of the doubt here.
Taking A Bath In Losses
Bed Bath & Beyond (NASDAQ:BBBY) is approaching its 52-week low in trading today after very disappointing results. Yes, everyone knew that results would be impacted by the weather, but the company reported a drop in sales and earnings which fell 11% for the quarter. Adding to losses this morning is the downgrade from Bank of America Merrill Lynch, which lowered their rating on the stock to 'Neutral' from 'Buy'. This has been a volatile stock for quite a while now with management trying to solve the retailer's issues but struggling to put two good quarters together. Consistency is lacking here and that is troubling.
This two year chart highlights just how tough it has been over the past few years for Bed Bath & Beyond shareholders. With today's drop to the low $60/share level it does appear the stock has found some support for the time being.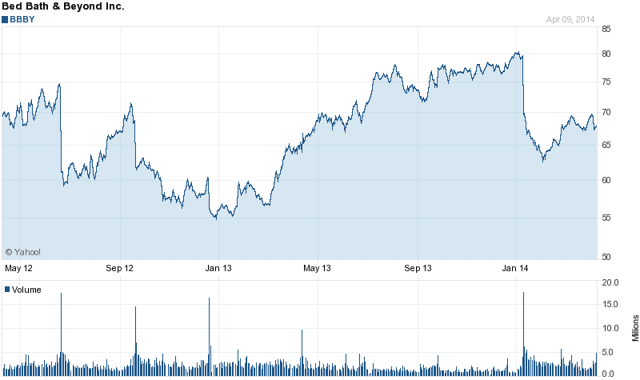 Source: Yahoo Finance
We are looking at once again recommending buying near the lows as a trading opportunity because we are nearing the time of year when home sales pick up and families spend money on their homes; both inside and out. With Lowe's (NYSE:LOW) seeing a rise in their business recently we are curious as to whether that is indicating that families are beginning to focus more on projects they can do. Lowe's has a larger individual DIY business on a percentage of sales than its competitors, and if they are seeing an uptick in DIY projects one would think that this trend might show up in future quarters for Bed Bath & Beyond. We are not making a call this morning, but we are watching this closely to see if a trade does exist.
Disclosure: I have no positions in any stocks mentioned, and no plans to initiate any positions within the next 72 hours. I wrote this article myself, and it expresses my own opinions. I am not receiving compensation for it (other than from Seeking Alpha). I have no business relationship with any company whose stock is mentioned in this article.