Tax Day is approaching. For some, that means a rush to get taxes figured out and submitted. If you are contributing to an IRA, it is also the deadline to make your 2013 IRA contribution.
Unless you are 50 or older, the maximum contribution you can make to an IRA is $5,500 this year. You might remember the maximum as $5,000, but a $500 increase went into effect during the 2013 tax year.
As such, I have made a $5,500 contribution to my IRA for tax year 2013 and you can too if you do so before April 15th.
Here's some background:
I am 26, so my investment horizon is long. I prefer a Roth IRA over a Traditional IRA. Click here if you're not sure what that means. I keep my IRA in a Sharebuilder account that is set up as a DRiP - Dividend Reinvestment Plan. That means that my dividends are automatically reinvested without incurring fees, harnessing compound interest. It also means that I like dividend stocks, especially for someone my age.
My IRA currently includes Apple (NASDAQ:AAPL), Wal-Mart (NYSE:WMT), Seadrill (NYSE:SDRL) and Collector's Universe (NASDAQ:CLCT).
Investing at my age is about balance. Of course it is tempting to invest in companies that I think will rocket higher. But I also understand the power of compound interest and what a good dividend growth stock can do for my retirement account.
Compound interest is the logic behind my owning Wal-Mart, Seadrill and even Apple, as I figure the sleeping giant will eventually pay out its cash horde. The investment in Collector's Universe was born out of my interest in U.S. coin and paper currency, plus its 6% dividend yield isn't terrible either. That said, it was much higher when I bought the stock in 2012.
I purchased five stocks with my 2013 IRA contribution, and my strategy largely centered around betting on companies that I expect to be industry titans when I am older. Below I will list each one and give some brief rationale for the investment.
Amazon (AMZN)
Amazon has forever changed the way we shop. At 26, I'm old enough to remember life before Amazon and life after Amazon. First it was books. Then it was CDs. Then it was just about everything. Now I subscribe to Amazon Prime, with its free 2-day shipping and unlimited streaming. I use Amazon for just about every kind of purchase besides groceries. Soon comes delivery via drone, same-day delivery and grocery services.
Most importantly, Amazon Web Services and Amazon Fulfillment Services is increasingly becoming the backbone of eCommerce and the cloud.
The company has its hands in just about every kind of business it seems, and its stock has shot higher and higher until a recent pullback. Even now, after bouncing off of lows, the stock trades at a discount to its 52-week high. In fact, the stock is currently trading roughly 20% below its 52-week high.
LinkedIn (LNKD)
The first time a potential employer told me they didn't even need my resume because they'd checked me out on LinkedIn, I realized a major shift had occurred. LinkedIn has brought the power of the internet and social networks to the business and HR community. Though LinkedIn hasn't done anything that another company couldn't, it was the first to do so and has established such a dominant position that I highly doubt it will lose it.
With the ability to look at the professional background of a job applicant, view references, view endorsements and view an applicants professional connections, LinkedIn has given businesses valuable insights that will make hiring cheaper and better.
For this, LinkedIn will be able to sell premium services to both employers and job-seekers. It also possesses valuable user data that advertisers can't get enough of.
And when you consider that shares of LinkedIn trade at a discount of more than 30% to its 52-week high, I feel good about getting in where I did.
Tesla (TSLA)
As a kid I hated when my rechargeable remote-controlled car took 6-hours to recharge for only 20 or 30 minutes of play time. Elon Musk seems to have solved this issue with Tesla's supercharger stations and efficient lithium batteries.
According to Tesla, 20 minutes on its proprietary Supercharger can charge the battery half-full. On top of the cool battery technology, Tesla has done what no other car company has managed to do. When Consumer Reports reviewed Tesla's Model S last year, it rated it the "best performing car ever tested."
Tesla has made the eco-friendly car cool, enviable and fun to drive. Tesla has shown us how sustainability can be cool and highly profitable. Now the company plans a lithium battery "gigafactory."
Tesla will soon be more than just another car company, and I want to own a piece of it. Like Amazon and LinkedIn, shares are trading at a discount right now, roughly a 20% discount to the company's 52-week high.
Though the company pays no dividend, and I am only able to own a tiny piece of it, I'm confident that my investment in Tesla will continue to grow as the company becomes a greater part of how we power our lives.
InterActive Corp (IACI)
Ask.com, About.com, Dictionary.com, Vimeo, CollegeHumor, OkCupid, Match.com, UrbanSpoon. The list of brands continues but these are the IAC companies that I either use personally or know as name brands. But there is one name that is conspicuously absent from this list. That name is "Tinder."
If you're not familiar with Tinder, do yourself a favor and read about how the app works or download it yourself. Warning, it's probably not the best idea if you're in a relationship, but a pretty good one if you're not and want to be.
I have read some analysis of IAC, analysis I generally agree with, that argues the company is fairly valued without including Tinder. The analysis then goes on to consider what the value of Tinder might be.
IAC is the majority owner of Tinder and reports suggest the company owns as much as 80% of Tinder. With the location-based dating/casual encounter site logging almost one billion daily views and zero current monetization, the potential is great.
Though there are plenty of apps that won't ever effectively monetize, don't write Tinder off as one of them. With the massive amount of daily page views, the opportunity for impression-based advertising is significant. Additionally, users are matched based on mutual attraction and location. Imagine if users were presented with a coupon to a nearby bar or restaurant when the app announced that they'd received a match? This kind of location-targeted advertising could be highly effective and highly lucrative.
Parent company IAC has a track record for spinning off companies successfully. In 2008, it spun off Home Shopping Network (HSNI), Interval Leisure Group (IILG), Live Nation's (NYSE:LYV) Ticketmaster and Tree.com (NASDAQ:TREE). There is also great potential for Match.com to spin off from IAC in the near future.
Tinder alone is a reason to own this stock. But with a dividend yield of almost 1.5% and solid brands underneath it, I'm happy to own this stock in my retirement fund and wait for Tinder to become hugely profitable and a spin-off.
Lorillard (NYSE:LO)
Lorillard stands out significantly from the other four companies mentioned above. For starters, it's just not that exciting.
As a 254-year-old company best known for selling the #1 brand of menthol cigarettes in the U.S., it doesn't fit in with the hottest new car company, the social network for professionals, North America's largest eCommerce platform and the owner of a rapidly growing dating app.
The company first popped onto my radar when a co-worker wrote an article featuring the company. Despite being founded in the mid-1700s, the company seems to have stumbled upon a tremendous growth opportunity.
There isn't a lot of exciting news out of the tobacco industry besides e-cigarettes, which have taken the market by storm.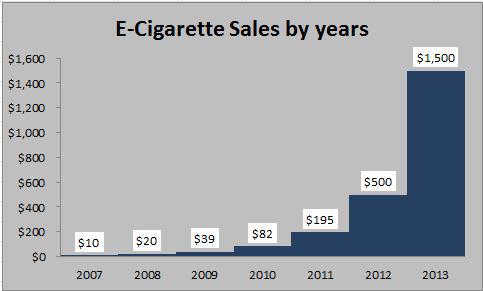 In addition to its market-leading menthol cigarette brands, Lorillard owns the e-cigarette company Blu. As you can see from the chart below, Blu enjoys a dominant position in the e-cigarette market.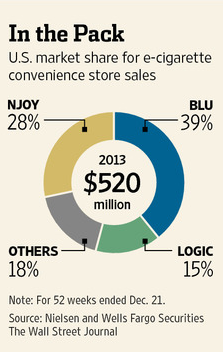 It's not every day that you get to own a company yielding over 4.5% with a terrific growth opportunity. With Lorillard, you get both.
In Conclusion…
With the exception of Lorillard, each of the companies I bought shares of this year is somewhat new and definitely exciting. As you probably noticed, I decided to use my 2013 IRA contribution to buy shares of companies that I think will be dominating the marketplace in 30 or 40 years. With my broad time horizon and some income investments to balance my retirement portfolio, I feel good about these riskier investments.
What do you think about my IRA picks?
Disclosure: I am long AAPL, SDRL, WMT, CLCT, AMZN, LNKD, TSLA, LO, IACI. I wrote this article myself, and it expresses my own opinions. I am not receiving compensation for it (other than from Seeking Alpha). I have no business relationship with any company whose stock is mentioned in this article.