With the Federal Reserve having had dovish commentary in their minutes which were released yesterday commodities saw increased interest during the session. A number of those names which rose sharply are giving back some of their gains today, but we would point to the 10-year Treasury as a bullish sign moving forward as well as the US Dollar Index, both which are in areas that are bullish for commodity investors.
With an accommodative Fed still in place it seems as though the rate on the 10-year shall remain below 3% through the end of the year, even if there are no flights to safety in the next 8 months. Although we are bullish of commodities as a whole with news like this, it does make us wonder whether we should be even more bullish of copper at these levels.
Chart of the Day:
The yield on the 10-year Treasury has flattened out and in recent months has settled into the 2.6-2.8% range. The market can live with that and although it might not be ideal for the financials they should continue to do well in the current environment too. Cheap money is always bullish for commodities, so our thinking is that through the end of the year the Fed will be our friend and investors can look to those companies actually growing production as the best area to put capital to work.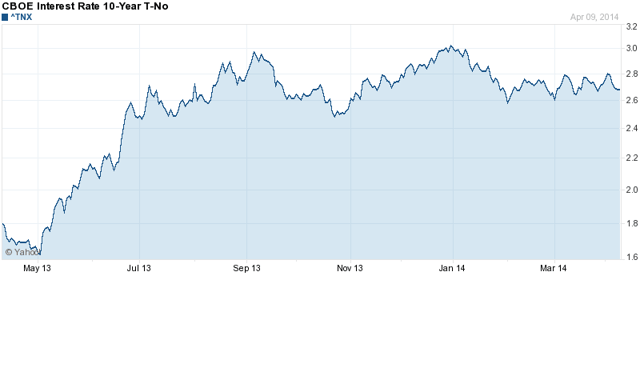 Source: Yahoo Finance
Commodity prices this morning are as follows:
Gold: $1,318.40/ounce, up by $12.50/ounce
Silver: $20.085/ounce, up by $0.315/ounce
Oil: $103.42/barrel, down by $0.18/barrel
RBOB Gas: $2.9964/gallon, down by $0.012/gallon
Natural Gas: $4.674/MMbtu, up by $0.088/MMbtu
Copper: $3.045/pound, up by $0.008/pound
Platinum: $1,457.60/ounce, up by $18.70/ounce
Coal Stocks
We find it quite interesting that every time we write about the coal industry our inbox is littered with hate mail and arguments for reasons why we are incorrect in our thinking. We get that negative comments regarding one's portfolio holdings can be frustrating, but no other sector we comment on negatively gets such a large reaction. Looking back at this week our comments about the gains being short lived in names such as Alpha Natural Resources (ANR) and Arch Coal (ACI) appear to have been spot on. It is a frustrating sector to have invested in at any time over the past two years, but truth be told we still do not see a V-shaped recovery for the industry as a whole or even the best in class names such as Peabody Energy (NYSE:BTU).
Taking Profits In Big Oil
For those who were once again buyers of ExxonMobil (NYSE:XOM) on the most recent dip we think that at the current price it is probably worth taking profits. The entire oil and gas industry has crept higher, but when we look at both value and momentum we do see better names out there at this time. In fact, we think that from now until the end of the year investors might find better returns in some of the independent E&P names that are just now ramping up production. There is admittedly more risk in this type of investing, but with oil prices appearing to have hit a high in our opinion it would only seem logical to rotate into those companies which are going to be increasing production.
Deere Watching
Deere & Company (NYSE:DE) has in fact run up to its two year highs and we are closely watching this name to see if there is a breakout or not. If this name can break through the $100/share level and management can avoid negative comments (which is asking a lot!) then we could see this being a $120/share stock in the next 6-12 months due to the winds at the company's back; most notably the rise in agriculture prices that should lead to another great year for American farmers and continued improvement in Europe that should prop up that underperforming geographic region.
A move through $95/share is what we are watching for. A breakout through the low $90s would indicate to us that the stock is set to run higher, and much higher if certain key events play out accordingly.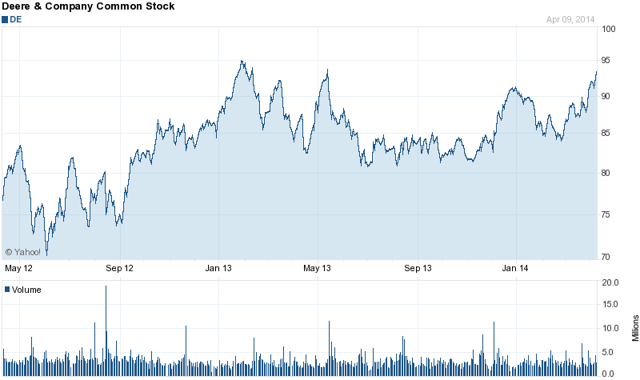 Source: Yahoo Finance
We highlighted the fact that we thought the stock could move up to these levels to test the highs recently (article located here). The facts remain the same and right now this is not an event or fundamentals driven story but simply a momentum and technical story.
Disclosure: I have no positions in any stocks mentioned, and no plans to initiate any positions within the next 72 hours. I wrote this article myself, and it expresses my own opinions. I am not receiving compensation for it (other than from Seeking Alpha). I have no business relationship with any company whose stock is mentioned in this article.