There is a popularly held notion in the gold market that negative real interest rates result in higher gold prices and when real interest rates turn positive the price of gold declines. Numerous research reports being released in recent months point toward the forecast increase in real interest rates as the number one reason for weaker gold prices now and in the future. The relation between these two metrics is not that straightforward, however.
Studying the two metrics over the long term shows that there is virtually no relation between them. Gold prices have risen strongly in periods of both negative real interest rates and positive real interest rates. They also have declined just as strongly when real interest rates were negative and when they were positive. The data on which these statements are based is shown in the chart titled "Returns on Gold and Real Interest Rates."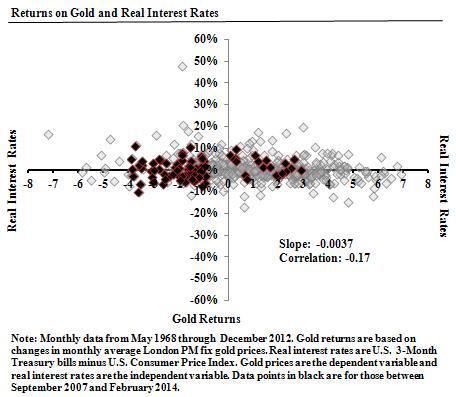 In the chart above, the black data points are those between January 2007 and February 2014. This period was selected to encompass the months prior to the U.S. Fed's decision to begin reducing interest rates in September 2007 and also include the impact on gold prices after interest rates were bought down to and kept at 0.25% since January 2009. Real interest rates have been negative for three-fourths of the period between January 2007 and February 2014. Based on the premise that gold provides positive returns in a negative real interest rate environment, three fourths of the black data points should be in the top left corner (-,+) of the chart. That is not the case however, with several data points showing up in the bottom left corner (-,-) of the chart. A more extreme example to illustrate the lack of statistical relationship between gold prices and real interest rates is the period between January 1975 and December 1976. During this period real interest rates were negative for the entire time and the returns on gold were positive on only five separate occasions during that period.
The reasons behind any interest rate increases, and the levels in real terms, are critical variables in whether or not any given change in interest rates has a measurable effect on gold price levels, directions and changes. Sometimes rate changes are important, and sometimes they are not.
Advocates of this relation between gold prices and real interest rates believe that gold prices rise in a negative real interest rate environment because there is reduced opportunity cost to holding the non-interest bearing metal in such a rate environment. As there is no income stream from gold, investors in the metal make their money from capital appreciation. This is a simplified explanation, however, with the actual relation being more nuanced.
If interest rates in fact start rising, in late 2014, 2015, or whenever, the initial moves will be from basically zero short-term nominal rates and negative real rates. A rise to nominal interest rates of 1.5% - 2.0% over the next two or three years would take real rates close to zero. Such a move seems hardly strong enough to cause investors to rush out of gold and into interest bearing assets. The same is true for longer term rates. It will take much higher rates to stimulate such an exodus, and much higher rates seem years and years away.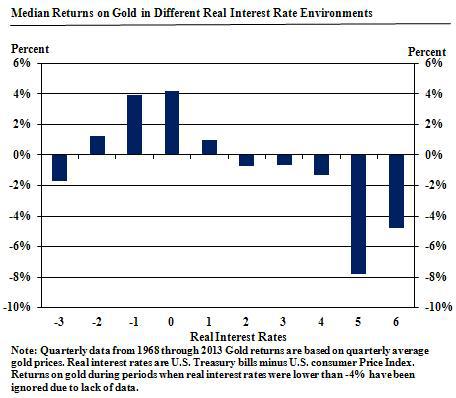 Furthermore, the economic environment in which interest rates start to rise will heavily flavor how investors and other financial market participants interpret the rise in rates. If rates are seen rising because inflation is becoming problematic, investors could become buyers of gold in spite of an increase in real interest rates.
Another possible explanation of the lack of any strong statistical relationship between changes in real interest rates and gold prices is that the real interest rate environment has a temporary impact on the price of gold, not a lasting one. As a result, when the interest rate environment turns one way or the other it influences gold prices but eventually gold prices will stop responding to the interest rates and be influenced by other market factors.
Interest rates may not rise significantly for at least another 15 months, and possibly much longer. Real economic conditions remain weak compared to where they need to be to justify higher interest rates, and frankly are not likely to be strong enough to compel sharply higher interest rates even by the middle of 2015, as the worried crowd seems to now believe is likely.
There are several reasons to buy gold (NYSEARCA:GLD) (NYSEARCA:IAU) and the present weak price environment provides a good opportunity to do so. The global economy still is plagued with many of long-term structural issues such as government deficits, trade imbalances and currency market volatility, which are expected to take several years to be resolved. It makes sense for investors to add gold to their portfolio, with a long-term objective, following the correction in prices during 2013. There is limited downside for gold prices from present levels. We believe that gold prices bottomed out in 2013 and would consolidate over the next couple of quarters before heading higher. Investors should not refrain from investing in gold based on the expectation that higher rates will push gold prices lower.
Disclosure: I have no positions in any stocks mentioned, and no plans to initiate any positions within the next 72 hours. I wrote this article myself, and it expresses my own opinions. I am not receiving compensation for it (other than from Seeking Alpha). I have no business relationship with any company whose stock is mentioned in this article.