The deep sea oil drillers are back in focus as a slew of analysts have recently come out with pessimistic views on the sector as a whole. As we can see from the comments below, analysts are less than enthused with the industry's prospects for the next couple of years. In light of the recent negative analyst's comments, I have decided to review my holding in Ensco (NYSE:ESV) to determine if it is appropriate to continue to hold the shares.
Societe Generale raises its rating on Seadrill (SDRL -1.7%) to Hold from Sell but the firm still isn't a fan of the offshore driller, and sees better investment opportunities in Noble Corp. (NE -1.2%), Rowan (RDC -1.5%) and Ensco (ESV-0.9%).
The firm believes 2014, 2015 and 2016 consensus might now be a bit too low and that the current $3.92 annual dividend (11% yield) might be secure, but in the event of an unexpected harsher scenario of declining oil prices and/or higher interest rates, it finds little reassurance in SDRL, whose net debt could rise to $17.5B by the end of 2015.
NE, RDC and ESV are the firm's preferred options because they offer only slightly less expected financial rewards for a much lower degree of financial risk.
Barclays cuts targets for offshore drillers, sees potential 40% downside
Offshore drillers Atwood Oceanics (ATW +0.5%), Diamond Offshore (DO +2.4%), Rowan (RDC +0.9%), Ensco (ESV +0.8%) and Transocean (RIG +1.5%) are higher today even as Barclays cuts its price targets on the stocks.
The firm thinks near-term risk is skewed to the downside following a series of negative fleet status reports from the offshore drillers recently and concern for dayrate pressure in most offshore markets; if conditions deteriorate further, the firm would expect underlying asset values to decline further (NAVs declined 16%-plus following the financial crisis and 8% after Macondo), suggesting potential 40% downside before ultimate NAV support takes hold.
Offshore drillers in for rough seas, Morgan Stanley says as it cuts Rowan
Things could get worse before they get better for offshore drillers, and even market favorite Rowan (RDC -3.6%) could get hit, Morgan Stanley says as it cuts its rating on the stock to Underweight.
RDC has fallen less than companies with exposure to the floater market thanks to its greater exposure to jackups, but Stanley sees a surge in jackup orders, driven largely by speculative drillers at Chinese shipyards; the jackup orderbook now stands at a record 140 units, of which only ~20 have been contracted.
In the sector, the firm recommends yield plays such as Seadrill (NYSE:SDRL), Seadrill Partners (NYSE:SDLP) and North Atlantic Drilling (NYSE:NADL), and prefers premium asset exposure through Atwood Oceanics (NYSE:ATW), Ensco (ESV) and Pacific Drilling (PACD]) over lower-end fleets via Diamond Offshore (NYSE:DO), Noble (NYSE:NE) and Transocean (NYSE:RIG).
Commodity Risk
The offshore oil drillers offer a convenient way for the oil majors along with exploration companies to exploit the vast amounts of oil located beneath the oceans throughout the world. By simply contracting out to a company such as ESV, a company would avoid having to maintain a fleet of expensive jackups and drill ships thus freeing up capital that can be spent in a different manner. With the above definition in mind, the largest threat facing this particular industry is a sustained drop in the price of oil. On March 31st, the well read Barron's front page article detailed their view that $75 per barrel oil is imminent.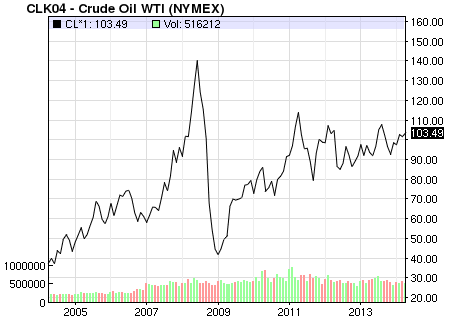 I respectfully disagree with this view for the following two reasons that I will detail below. The primary reason revolves around worldwide economic growth. As we can see from the chart above, the price of oil tends to rise in times of economic growth and wane, sometimes considerably as was the case in 2008 when the world went into a recession. With worldwide interest rates at or near historic lows, I do not foresee a recession in the cards for the next two years which should allow oil to remain at minimum in the $90 per barrel range.
The second reason revolves around supply risk, especially in light of oil's worldwide demand. The commodity is produced in some of the most volatile regions in the world where any sort of disruption can have a negative impact on the total overall amount of oil available in the market. The "fear uncertainty" in my view will allow the price of oil to remain elevated over the next two years, providing a favorable backdrop for the oil drillers as the cost of developing an offshore well is higher than what it would cost for a more conventional well.
Interest Rate Risk
The second major risk involved in holding shares in ESV revolves around interest rate risk. In my opinion one of the main attractions of the offshore drilling companies is their high dividend rates. Due to the recent retreat in the share price, ESV currently yields roughly 6% which is more than double what an investor would receive from a 10 yr US treasury bond. The high dividend rate was one of the main attractions that led me to purchase shares in ESV as I previously detailed here.
As we have seen from the chart on the price of crude oil, the price of the commodity is a bit cyclical which extends to the contract offshore drilling contractors. As we can see from the table below, as the price of oil collapsed the earnings power of ESV did as well. The effect wasn't immediate as the rigs were under contract during the spike down in price. Customers simply allowed the contracts to expire without renewing which led to downward pressure on day rates in general. Revenue picked up as the price of oil climbed which made many offshore projects profitable again, hence the recovery in revenue and earnings.
| | | |
| --- | --- | --- |
| Calendar Year | Revenue in millions | Earnings per share |
| 2008 | 2,450 | $8.17 |
| 2009 | 1,946 | $5.45 |
| 2010 | 1,697 | $3.80 |
| 2011 | 2,843 | $3.08 |
| 2012 | 4,301 | $5.23 |
| 2013 | 4,920 | $6.09 |
Role of Management
As we can see from the table above, the dividend is covered based on earnings even in a depressed environment. I suspect management will take steps to combat the cyclicality of the industry and maintain a steadier level of earnings. One of the steps they have taken is selling of their older jack up rigs for more than their carried book value. The older jack-up rigs have been depreciated down and are being carried on the books at a far lower level than the company can attain by divesting them. By selling these assets, ESV will attain two benefits. The first would naturally be the cash attained for the asset such as what was recently realized with the sale of two 1976 built jack up rigs for $33 million dollars. The rigs were held on the books for $9 million dollars, generating a gain of $24 million dollars. Both of these rigs were "cold stacked" which means they were not contracted thus eliminating the need to further maintain them while they await deployment.
The second benefit attained by ESV is the modernization of the fleet by selling off the older assets. The older assets have higher maintenance needs along with older technology which make them less desirable to the end user. The less desirability leads to lower day rates in good times and the lack of work in harsher times. I applaud the move by management, as I deem it an excellent way of freeing up capital that can be more effectively used elsewhere.
The ability of management to grow the business in a shareholder friendly manner is in my opinion one of the best indicators of a well run company that is suitable for investing in. ESV is committed to growing the business in an intelligent manner by investing in new equipment that will greatly benefit their customer base. ESV is building six new rigs that will be delivered at various intervals over through 2016. The following statement neatly sums up management's belief in not only purchasing these rigs; it provides an excellent insight on their plans for maintaining them as well:
All 6 of our rigs under construction are on track for their delivery dates and are on budget. We have divested several older rigs and reinvested the proceeds back into our fleet as part of our continuous high-grading strategy. Over the past 4 years, we've sold 13 rigs for a total gain of $80 million. In total, we invested $1.8 billion in our fleet last year, funding these investments out of operating cash flows and available cash and showed once again our ability to invest in our fleet while returning additional capital to our shareholders.

We plan to invest another $2.3 billion in our fleet this year and we believe our fleet growth and high-grading strategy position us for continued success. This strategy has been a key component of earning the #1 customer satisfaction rating for the fourth year in a row. And finally, we ended the year with a strong financial position, including $11 billion in contracted revenue backlog, which provides significant visibility into our revenue outlook for 2014 and 2015, a 27% leverage ratio, $216 million of cash and short-term investments and $2 billion of fully available revolving credit facilities.
In my view, the market fails to value ESV as a growing company; instead it is being valued as if the business is in a cyclical downswing and will remain there for a number of years. I am content to simply reinvest the dividend and hold the shares while allowing the story to play out. I don't envision any plausible scenario where offshore oil assets will not be developed especially with the price of oil where it is today. I suspect the supply glut that analysts fear will be overblown, as some of the older rigs will be mothballed. I suspect most of the older rigs have exceeded their estimated lifespan and will become too costly to maintain in the very near future thus eliminating the supply glut. I would like to thank you for reading and I look forward to your comments.
Disclosure: I am long ESV. I wrote this article myself, and it expresses my own opinions. I am not receiving compensation for it (other than from Seeking Alpha). I have no business relationship with any company whose stock is mentioned in this article. Investors are always reminded that before making any investment, you should do your own proper due diligence on any name directly or indirectly mentioned in this article. Investors should also consider seeking advice from a broker or financial adviser before making any investment decisions. Any material in this article should be considered general information, and not relied on as a formal investment recommendation.