Google (NASDAQ:GOOG) has set its sights on the hotel listing industry. Google announced earlier this week that it will be adding more pictures and reviews to its hotel listings. What exactly does this mean?
Google has become a sort of tech ETF. Over the past decade Google has expanded out from their search business into a variety of other verticals including email, cloud data storage, maps, web analytics, wearable technology, driverless cars, and a zillion other secret projects they are working on in unmarked warehouses out in Silicon Valley.
The company's latest announcement to get into the hotel listings industry takes them back to what they do best, data and search.
Some of the biggest advertisers on Google might be uneasy about the announcement. Online travel agencies like Expedia (NASDAQ:EXPE) and Priceline.com (PCLN) represent a major chunk of Google's advertisement revenues. Mark Mahaney, an analyst from RBC Capital Markets, claims that despite over having 1 million ad customers Priceline and Expedia are expected to pay for over 5% of Google's ad sales this year. By convincing travelers to start their hotel search on Google Search rather than TripAdvisor (NASDAQ:TRIP), Priceline, or Expedia Google is making a powerplay against two of its biggest customers. If Google becomes the new king of hotel search, advertisements on Google Hotels will become that much more critical and online travel agencies will hand over mounds of cash for premium advertising spots.
Some suspect that Google will use its search platform to encourage hotels to advertise direct listings to potential lodgers if there is a sufficient data match, cutting out the online travel agencies completely. Everyone knows that Google has boatloads of user data. Targeted advertisements could be a compelling proposition for hotels which seek to avoid the fees from Expedia and Priceline which can be as high as 25%.
The company that is most directly targeted by Google's move into hotels however is TripAdvisor. Like Google Hotels, TripAdvisor is a search platform for travelers where they can find hotel listings they can book through the online travel agencies.
Just like everything else happening in tech right now, there is strong reason to believe that Google Hotels will be focused on mobile engagement. One successful and emerging mobile hotel booking app that Google may be taking a look at is Hotel Tonight. Hotel Tonight is an Android and iOS app that launched in 2010 and has now been downloaded over 8 million times. The app is perfect for travelers on the go because it specializes in matching buyers and sellers for last minute hotel bookings. Adding this type of service on top of Google Hotel's mobile app which launched in November 2013 would put even more emphasis on Google's mobile engagement which is already quite entrenched.
So how will Google's expansion of Google Hotels effect the fundamentals of the relevant players? Off the bat it's important to note that travel and tourism within the United States is a $450 billion industry that is expected to continue expanding. The World Travel and Tourism Council suggests that the industry will grow 3.5% this year. Over the past two years earnings and revenue charts from both Priceline and Expedia look fairly attractive.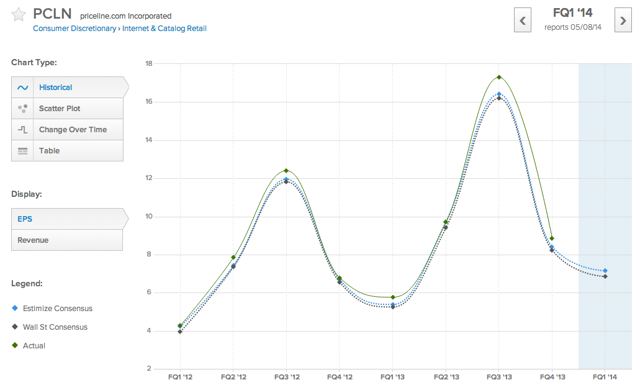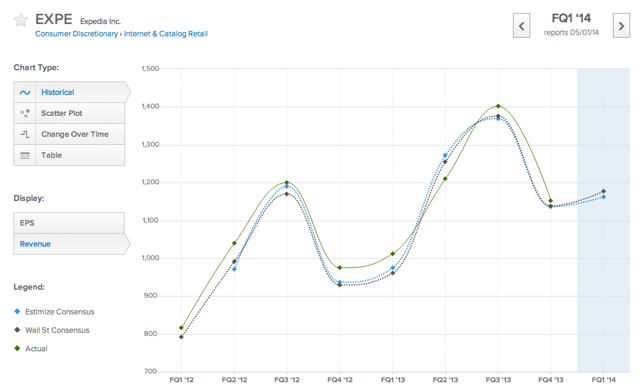 But if Google can begin to attract direct hotel advertisements or increases its position of leverage against the online travel agencies, they could be hurting. If Google can become the king of hotel search, it will increase the priority of advertising with Google which may enable Google to extract higher prices for hotel search advertisements, pressuring margins at Expedia and Priceline. The reverse point of view is that even though advertisements might become more expensive, they could also become more efficient and actually boost the business of the booking agencies. If Google's search and data team can improve the matching between travelers and targeted advertisements from the travel agencies, advertisements might become more cost effective despite becoming pricier.
The third lurking possibility, which should have the online travel agencies uneasy, is that Google may just start selling hotel advertisements directly.
Disclosure: None