[Editor's Note, April 10: This article has been revised since original publication, as the author has made changes and added extra content]
If you own Crew Energy (OTCPK:CWEGF) as I have recommended, you are having a good day, with the stock up 18.6% to $11.84 at 11:30am. All figures in this article refer to Canadian dollars.
Volume is heavy at 4.4 million shares and the stock day high is $11.96. Several Canadian brokerage analysts have upgraded price targets on Crew.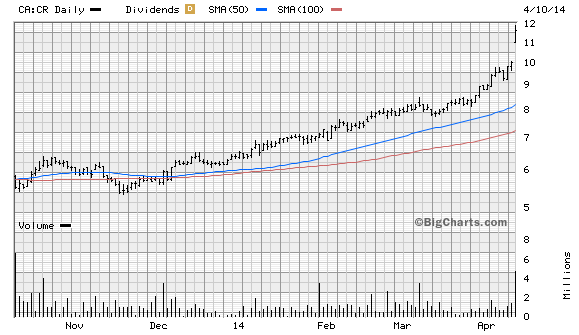 Last night Crew disclosed it had bought $105 million in property in the Northeastern B.C. Montney oil and natural gas play (vendor unnamed) in late March to add to its Groundbirch and Septimus properties.
I recommended Crew Energy on Seeking Alpha in late January. The stock is up 74% since the buy recommendation at $6.82. At the time, I suggested Crew could be worth $11.52 due to the higher natural gas and crude oil prices I expected for 2014.
This has all come true, and I recommend you take some money off the table in spite of significant analyst-driven enthusiasm today. At least four brokerages have raised their ratings and target prices for Crew to the $13 to $15 range.
Just a month ago analyst targets were in the $6.50 to $9.00 range.
True, Crew Energy still has significant longer term upside in my view.
Crew's Montney acreage of 377 sections (226,200 acres) has an estimated 91 trillion cubic feet of original gas equivalent originally in the ground.
With the announced 75 section Montney purchase, Crew says it will have 452 sections and add 600 drilling sites to over 2,100.
So this is a smart move by Crew to accelerate development of this prodigious resource.
To finance the deal, Crew announced they would be selling $222 million of natural gas and liquids weighted production in Central Alberta to Long Run Exploration (OTCPK:WFREF). The deal will close on May 30.
Long Run also threw in 400 boe/day of heavy oil production it owned at Lloydminster.
This is a strategic move by Crew to capitalize on the great drilling economics in the Montney play and the upside from LNG plants to be built on the B.C. West Coast which will need copious amounts of natural gas.
I had also recommended Long Run to my newsletter readers this year, at $5.05. The stock hit $5.60 before the announcement. Long Run is financing the deal with a $120 million share issue at $5.10 and a $100 million increase in its credit facility.
The purchased properties have production of 1,400 boe/day weighted 98% natural gas. This is much less than the 7,000 boe/day being sold, so Crew will take a short term hit on production.
The proven and probable reserves being sold in Alberta of 60.4 million boe ($3.725/boe) are being replaced with 8.5 million boe ($12.35/boe excluding a separate price for the 75 sections and associated infrastructure). 54 of the sections are joint venture lands with Crew and would increase Crew's position to 100%, raising operating efficiencies.
With the sale, Crew is basically "white-mapping" Alberta except for its Princess and Lloydminster heavy oil assets.
Crew says drilling just 12.8 wells on 1.5 sections of the 75 they acquired would pay for the acquisition price, at $8.2 million NPV return per well.
I am somewhat skeptical. Why did the seller dump this land if the economics were so great? Did the joint venture partner have no ability to buy Crew out? I always look at a transaction from both sides of the deal.
Because of the net lost 5,600 boe/day production and associated cash flow, Crew Energy is guiding 2014 cash flow at $200 million ($1.65 per share) exactly the same as in the January presentation shown in my article which was based on lower commodity prices.
This is 15% lower than my expectation of $233 million ($1.92 per share) before the deals.
Crew's year end 2013 net debt of $383 million will drop to a guided $280 million when the Long Run deal closes. The company will use the extra credit room to fund a 2014 CAPEX program of $285 million drilling 30 wells in the Montney, up from a budgeted 20. The expected gas production is going to help fill Crew's 60 mmcf/day processing plant expected to be on-line in the third quarter of 2015.
With all this good growth planned, I suppose I am taking a short-term view on the transactions announced last night. But I have always believed a bird in the hand is better than two in the bush, especially when it relates to commodity equities.
At $11.84 Crew is trading at 7.2 times prospective 2014 CFPS. I think 8 times is the most I would pay for an energy junior.
An 8 times multiple would raise my target price to $13.20, but due to the huge momentum in the stock and the disclosed warning on Q1, I would take some profits off the table now and buy back in later.
Crew has been hedging its gas and liquids so the reduction in natural gas production will increase the proportion hedged at sub $4 prices.
Crew expects 2014 average production ex the deals to come in at 25,500-26,500 boed versus 29,500-30,500 beforehand.
Crew is also indicating longer term production will rise to 38,000-40,000 at the end of 2015.
Although Crew drilled 19 net wells in Q1 2014, they announced they experienced operational issues due to the cold weather which will delay bringing these on line until Q2 or Q3. Q1 production is guided at 28,000 barrels and current production is 30,400 with the Montney acquisition. A compressor fire in B.C eliminated 350 boe/day of production but the company will receive an insurance settlement.
You know I tend to zig when others are zagging and vice versa.
And I usually sell a little too early. That's just my style and you have to make your own trading decision.
I think the bull market in Canadian energy stocks is getting so recognized, it is more likely we'll have some bad news next rather than more good.
Analyst recommendations for Crew Energy now range from $13 at Canaccord Genuity (we used to call them Can o' Worms) to $15 at RBC.
RBC had Crew at $10 barely two weeks ago and raised its target on Crew to $12 on March 31.
It seems to me a raise in target price of 50% in two weeks is a tad too aggressive from our largest bank owned brokerage firm. I have learned the hard way that big banks can move stocks up in a hurry, and the move is not always indicative of true broader demand.
I suggest you take some profits on Crew Energy at $11.84 and buy it back when the enthusiasm tires.
A good entry point is in the low $10's but I am not sure it will get there with the brokerages piling in.
Disclosure: I have no positions in any stocks mentioned, and no plans to initiate any positions within the next 72 hours. I wrote this article myself, and it expresses my own opinions. I am not receiving compensation for it (other than from Seeking Alpha). I have no business relationship with any company whose stock is mentioned in this article.