We all have our opinions about the value and prospects of individual stocks. But, of course, other opinions should help us make better decisions; especially if the opinions come from those with a lot at stake in the company we're considering. I'm speaking of insiders, institutional investors, and shorts.
Insiders have, well, insider knowledge about companies we're analyzing. That does not mean insider knowledge in the criminal sense, but rather, extensive knowledge about the company and the environment within which it operates and competes.
Institutional investors buy and sell on a relatively large scale, whether directly or through investment managers. This allows them to hire staff who can professionally analyze and assess, to generally receive direct access to senior decision makers in companies of interest, and to afford analytical products and services beyond the reach of retail investors.
Shorts occupy a unique place in the investment world. While the rest of us look for strength, they search for weakness, and sell stocks before buying them (by borrowing from their brokers). If they're right, they do very well. But, if their analysis fails, they pay a heavy price for being wrong.
Knowing what these three types of investors have done recently can help retail investors better understand and better manage their trades and holdings. Of course, these groups make mistakes too, but we can still appreciate the different perspective they bring to understanding a company. With that perspective, let's look at what they've done with the big retailer Target (NYSE:TGT) recently. First, though, a bit of background.
About the Company
George D. Dayton founded the Dayton Dry Goods Company in 1902, in Minneapolis, Minnesota (unless otherwise noted, information and quotes in this section come from the company's website). The company entered the discount retail market in 1962 with a new brand, Target. As the company's publicity at the time noted, "Target differentiates itself from other retail stores by combining many of the best department store features - fashion, quality and service - with the low prices of a discounter."
Success came quickly, rapid growth ensued, and the company went public in 1967. Thirty-three years later, in 2000, it became known as the Target Corporation, the name by which it's known today. It went international in 2011, after buying 189 Canadian discount stores under the Zellers banner; after extensive renovations, it opened 124 Canadian Target stores in 2013.
As of closing on April 4, 2014, Target had 633 million shares outstanding and a float of 630 million. With shares closing the day at $61.14, it had a capitalization of $38.7 billion. Over the past 52 weeks, its shares have spanned a range of $54.66 to $73.50. It pays an annual dividend of $1.72, which represents an annual yield of 2.8%, and with a long history of increasing dividends annually (data above from Yahoo! Finance), it enjoys S&P 500 Dividend Aristocrat status. A share buyback program came to a halt in the fourth quarter of 2013, as the company dealt with a damaging security breach.
Insiders
With that data breach, one of the most damaging events in the company's history, we have added interest in the views of insiders. Not only because we can see what the people closest to the core of the company are doing, but because insider trading reports come out more quickly than financial reports.
As the following table shows, insiders have been net sellers over the past three months and 12 months:

Reviewing insider purchases over the past three months (data from Nasdaq's Insider Trading web pages, which in turn, is based on Form 3s and Form 4s submitted to the SEC), we see strictly executions, as officers and directors exercise their stock options. The biggest recipient of stock options was Gregg W Steinhafel, the chairman and CEO of Target; he received 261,038 shares on March 25, 2013.
On the sell side, the biggest seller was also Steinhafel. He sold 301,638 shares on March 25th, 2014, for more than $20.6 million (based on the last price received for his shares). According to the (Minneapolis) StarTribune, Steinhafel is a career employee, who started as a merchandise trainee in 1979. During those decades, we will assume he has received significant numbers of shares. The paper also reports his total compensation for the year ended January 31, 2013 was $23,472,082. We should also note on the insider transactions list that he sold nearly 276,000 shares in 2012.
Summarizing our look at insider trading, I'm left with a neutral impression; true, the chairman and CEO has sold the equivalent of about a year's worth of stock options since the data breach. But, he also sold a large number of shares before it as well. Overall, it seems insiders are neither rushing for the exits, nor rushing to take advantage of the dip that began in November.
Institutional Investors
Turning to our next group, Nasdaq.com reports 86.05% of Target's outstanding shares were owned by institutional investors as of March 31, 2014. That's a high level, and at first glance, would indicate professional money managers have a high degree of confidence in the company.
Still, let's take a look at buying and selling over the past four quarters to learn more. We can see this activity in the following table:

Given an increase in an already high proportion of institutional ownership, I take this to mean members of this group see no immediate or long-term threats to the well being of their capital in this company.
Shorts
The third group we'll check sits, as noted, on the other side of the fence. According to GuruFocus, the current short interest represents 3.69% of the float. That's in the middle range of high and low short interest over the past eight years. As the following chart from GuruFocus shows, short interest has risen above 6% and fallen below 2% through this time period: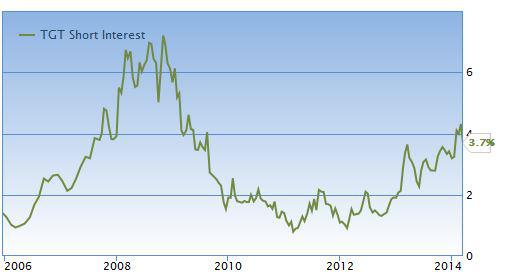 Again, we see general market confidence in Target's future. While short interest may have risen above its level in 2011 and 2012, it remains well below the levels of 2008 and 2009.
Conclusion
In this analysis, we've examined Target from three ownership perspectives: insiders, institutional investors, and short interests.
Insiders do not appear shaken by the data breach incident, nor by other factors that might significantly affect the company's share price. We've seen a net decrease of insider holdings over the previous 3 and 12 months, but as noted, we need not interpret those declines as ominous.
Institutional investors have shown at least modest confidence in the past four quarters, increasing their holdings overall by 1.2%.
And, current short interests are in a middle range, between the highs and lows reached between 2006 and the first quarter of 2014.
Overall, then, I would put Target on my list of companies that deserve a closer look. While an ownership analysis does not give decisive buy or sell opinions, it can provide an initial go/no go for further consideration.
Disclosure: I have no positions in any stocks mentioned, and no plans to initiate any positions within the next 72 hours. I wrote this article myself, and it expresses my own opinions. I am not receiving compensation for it (other than from Seeking Alpha). I have no business relationship with any company whose stock is mentioned in this article.