By: Sridharan Raman, Thomson Reuters Senior Analyst
Facebook (NASDAQ:FB) has seen the major margin measures increase over the last four quarters. That's a good sign as the company seeks new ways to engage end-users. Operating margin increased to its highest level in the two years since the IPO. Those margins are likely to continue to rise as a larger portion of advertising flows through Facebook. Already, companies are seeing a unique way to reach out to potential customers using Facebook.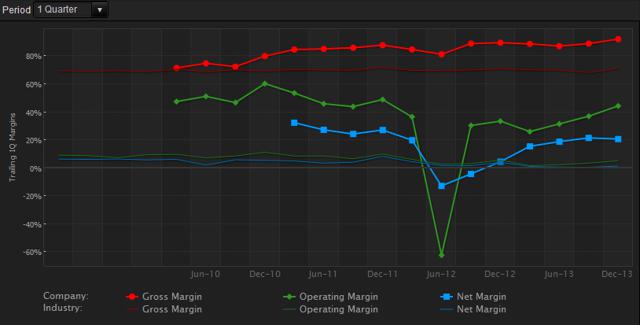 Source: Thomson Reuters Eikon/StarMine
Cash flow timeline
Facebook has been generating strong cash flows. Over the last five quarters, the company has seen net income increase in each period. Encouragingly, free cash flow has been positive in each of the quarters, and has exceeded net income, a sign that earnings are sustainable. The free cash flow from the last three quarters would be more than enough for the Oculus acquisition. Not surprisingly, Facebook earns a high 99 on the StarMine Earnings Quality model because of its strong performance on the operating efficiency and cash flow components of the model.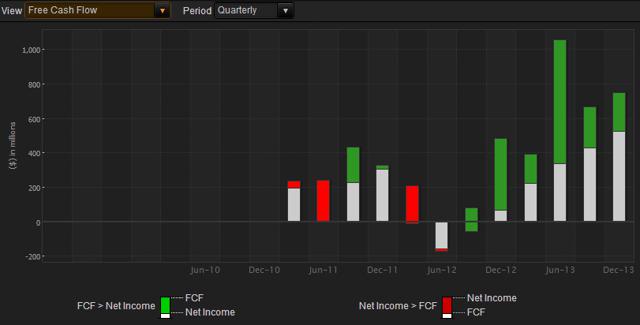 Source: Thomson Reuters Eikon/StarMine
Earnings estimate snapshots
Analysts have taken note of these trends, and remain bullish about Facebook earnings, raising estimates in the past 60 days. The Thomson Reuters I/B/E/S consensus estimate is at 24 cents per share, while the SmartEstimate is one cent higher, at 25 cents per share. Analysts point to improved performance on the mobile front as one of the drivers of earnings. Even though the stock has been on a tear since the IPO, analysts don't seem to be pessimistic about the company's prospects. There are currently 15 strong buy, 21 buy and only eight hold recommendations. There are no sell recommendations for Facebook.

Source:Thomson Reuters Eikon/StarMine
Status update
Mark Zuckerberg is seen as a revolutionary CEO, and his acquisition of Oculus may not bring rich dividends right away. But if his vision for the company comes to fruition, Oculus will be a key part of how users interact with each other on Facebook. Already, gaming is big on Facebook, so Oculus will have some benefits immediately. Whatever the outcome of the acquisition, in the near term, Facebook is likely to exceed expectations, according to StarMine models, and that will likely keep analysts and investors pacified while it incorporates its acquisitions to boost earnings.
Disclosure: I have no positions in any stocks mentioned, and no plans to initiate any positions within the next 72 hours.
Business relationship disclosure: Alpha Now at Thomson Reuters is a team of expert analysts that are constantly looking at the financial landscape in order to keep you up to date on the latest movements. This article was written by Sri Raman, senior research analyst at Thomson Reuters. We did not receive compensation for this article, and we have no business relationship with any company whose stock is mentioned in this article.