By Steven Carroll, Independent Commentator
It is always difficult to evaluate an industry leader, as some kind of premium is embedded in the valuation to reflect its market share and industry-leading product. MSCI Inc. (NYSE:MSCI) is a classic example of such a challenge. How do you fairly account for the intangible value of its brand and assets and evaluate the likelihood of it retaining its flagship standards, particularly in an industry not overly enthusiastic about the commercial model it has historically employed?
In one of the more interesting recent changes in the index business, Vanguard in 2012 made a change involving a large number of its funds that had been benchmarked against MSCI products. They moved to FTSE as well as to the University of Chicago's Center for Research in Security Prices (NASDAQ:CRSP). At the time, there were many commentators who heralded the end for MSCI and the stock fell 27% on the day of the announcement, assuming there would be a wave of benchmark changes as the large ETF players (Vanguard, State Street, BlackRock) started a broad trend of reducing their benchmark costs, at least in the equities space.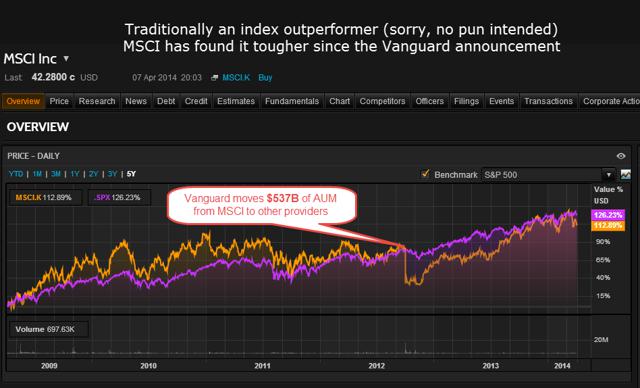 Hedging the brand
Fast forward to the present and the move has been, so far, more of a novelty with no other comparable changes to the benchmark landscape. The challenge for an ETF vendor is ensuring that their brand is the draw for the investor, not the benchmark. Normally that is the case, but when a retail investor is thinking about large cap U.S. exposure, you can bet they're going to look for an S&P 500 product, with the issuer as more of an afterthought.
MSCI has done well in adding other businesses that can capitalize on the use of its benchmarks, with a broad array of portfolio and risk analytics and dominance in ESG (Environmental, Social and Governance) evaluation. That's an increasingly popular focus with developed market institutional investors, even if research on the investment performance of such an approach is mixed at best.
The index landscape with a number of smaller providers is looking for a larger acquisitor. Barclays recently put its enormous (based on assets under management, or AUM) franchise on the block, the largest component of that being former Lehman Index products such as the Lehman Aggregate covering U.S. fixed income.
In such a fluid environment, it's inevitably difficult to discern the appropriate valuation but at around $42 the market is still implying 10% EPS growth every year for the next 10. That seems pretty bullish to me. The U.S. markets continue to make all time highs and MSCI makes a large percentage of its revenue based on AUM. So we're assuming continued happy days for global equity markets as well as no significant margin compression or, heaven forbid, loss of market share.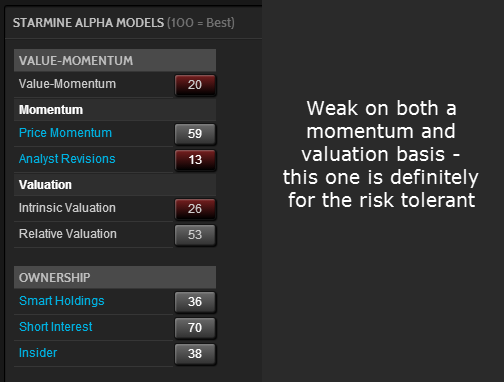 Nothing but blue skies?
I can believe that thesis; but for the market, that's the baseline - i.e. that's not optimism, that's what's expected to happen based on the current stock price. So let's look at the bull case. Equity markets continue their bull market for years to come; ETF issuers and active investment managers continue to pay out to MSCI at current prices, with no significant change in margins, and MSCI's portfolio and risk analytics for active managers continue to win market share. Again - not farfetched but certainly not assumptions I'd naturally make when planning an investment - essentially an expectation that everything goes fantastically.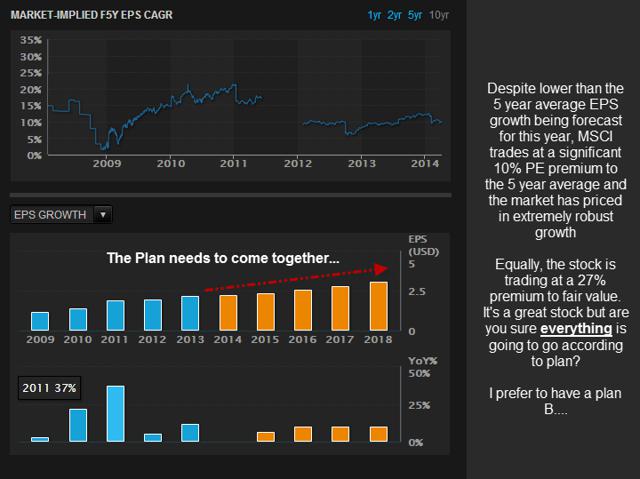 Taking the market's temperature
MSCI is a well-run collection of businesses with premium positions - however it's a leveraged bet on the continued health of the equity markets as well as both the active and passive investment management industries. For those looking for safe positions that will perform well in the event of market volatility, or where Mr. Market has become overly pessimistic, I'd look elsewhere.
Disclosure: I have no positions in any stocks mentioned, and no plans to initiate any positions within the next 72 hours.
Business relationship disclosure: Alpha Now at Thomson Reuters is a team of expert analysts that are constantly looking at the financial landscape in order to keep you up to date on the latest movements. This article was written by Steven Carroll, independent commentator and analyst. We did not receive compensation for this article, and we have no business relationship with any company whose stock is mentioned in this article.