Exxon Mobil (NYSE:XOM) is the world's largest integrated oil and gas corporation and the second largest corporation in the world based on market cap, behind only Apple (NASDAQ:AAPL). Exxon Mobil holds the record for highest profits in one year by a corporation. In fact, it has the top 5 highest years of profit ever for a corporation.
Source: Largest Corporate Annual Earnings
Exxon Mobil operates in 3 divisions: upstream, downstream and chemical. The bulk of Exxon's profits come from the company's upstream division.


Source: 2013 Exxon Mobil Financial and Operating Review
Growth
Exxon Mobil has grown revenue by about 4.5% per year over the last 10 years. Energy use is expanding globally, with the biggest gains coming from Asia. Energy demand will grow slowly for the foreseeable future.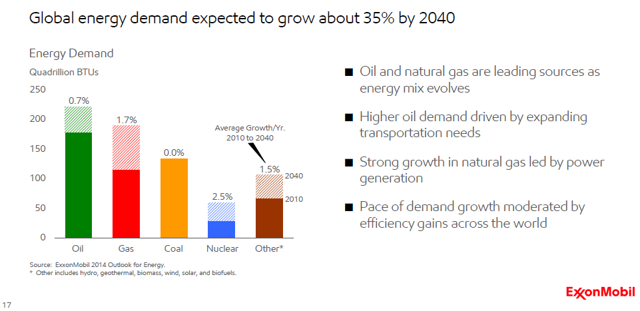 Source: Exxon 2014 Analyst Presentation, Page 17
Valuation
Exxon is fairly valued compared to its peers:
| | | |
| --- | --- | --- |
| Company | Ticker | P/E |
| Exxon | XOM | 13.21 |
| Shell | | 15.27 |
| Chevron | | 10.75 |
| PetroChina | | 11.40 |
| Total SA | | 13.24 |
| BP | BP | 6.65 |
Exxon's historical 10-year average P/E ratio is only about 11.5. Exxon is slightly overvalued compared to its historical P/E ratio.
The S&P 500's P/E ratio is 18.64. Exxon compares very favorably to the S&P 500's P/E ratio.
I believe Exxon is fairly valued at this time based on its peer group, historical P/E ratio and P/E ratio relative to the S&P 500.
Dividend Aristocrat Comparison
Exxon Mobil compares favorably to other dividend aristocrats using the five buy rules from the Eight Rules of Dividend Investing.
Rule 1: 25-plus Years of dividend increases.
Pass: Paid increasing dividends for 31 consecutive years.
Why it Matters: The Dividend Aristocrats (stocks with 25-plus years of rising dividends) have outperformed the S&P 500 over the last 10 years by 2.88% per year.
Source: S&P 500 Dividend Aristocrats Factsheet, February 28 2014, page 2
Rule 2: Rank Stocks by Dividend Yield.
Rank: Exxon has a dividend yield of 2.59% which ranks it at 43 out of 102 stocks with increasing dividends for 25-plus years.
Why it Matters: The highest yielding quintile of stocks outperformed the lowest yielding quintile of stocks by 1.76% per year from 1928 through 2013.
Source: Dividends: A Review of Historical Returns by Heartland Funds, page 2
Rule 3: Rank stocks by payout ratio.
Rank: Exxon has a payout ratio of 34.24% which ranks it at 29 out of 102. Exxon's payout ratio is higher than the majority of other dividend aristocrats.
Why it Matters: High yield low payout ratio stocks outperformed high yield high payout ratio stocks by 8.2% per year from 1990 to 2006.
Source: High Yield, Low Payout by Barefoot, Patel, & Yao, page 3
Rule 4: Rank stocks by revenue per share growth.
Rank: Exxon has a revenue per share growth rate of 8.26% over the last 10 years, ranking it 13 out of 102.
Why it Matters: Growing dividend stocks have outperformed stocks with unchanging dividends by 2.4% per year from 1972 to 2013.
Source: Rising Dividends Fund, Oppenheimer, page 4
Rule 5: Rank stocks by their standard deviation.
Rank: Exxon's long-term standard deviation of 25.33% ranks it at 33 out of 102.
Why it Matters: The S&P Low Volatility index outperformed the S&P 500 by 2.00% per year for the 20-year period ending September 30th, 2011.
Source: S&P 500 Low Volatility Index: Low & Slow Could Win the Race, page 3
Shareholder Return
Exxon CEO Rex Tillerson said it best about Exxon's shareholder return:
Since the beginning of 2009, Exxon Mobil has distributed $131 billion to shareholders, including $47 billion of dividends and $84 billion of share repurchases to reduce shares outstanding. During this five year period, Exxon Mobil distributed to shareholders 50% of the cash flow from operations and asset sales. The payout ratio is double that of our nearest competitor over that period. In addition, we increased per share dividends by 59%. This included an 11% increase in the per share dividend in the second quarter of 2013 which marks the 31st consecutive year Exxon Mobil has increased the dividend on a per share basis.

Since the time of the Exxon and Mobil merger, share repurchases have reduced shares outstanding by nearly 38% from 7 billion shares in 2000 to 4.3 billion shares at year-end 2013.
Source: Exxon 2014 Analyst Meeting
Exxon is very shareholder friendly. The company compares favorably to its industry peers based on the percentage of cash flows it has returned to shareholders.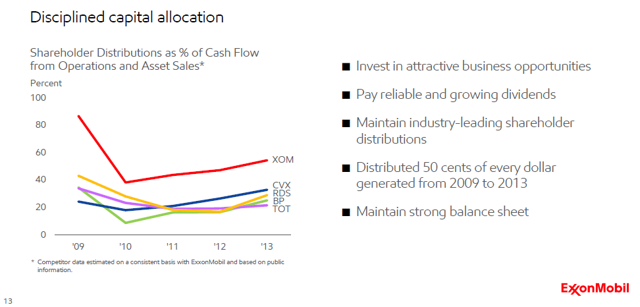 Source: Exxon 2014 Analyst Presentation, Page 13
Conclusion
Exxon is a strong dividend paying company which offers shareholders a CAGR in the range of 9% resulting from growth (~4%), dividends (2.59%), and share repurchases (~2.75%).
Exxon is a shareholder friendly corporation that has increased its dividend for 31 years consecutively. Exxon's size and position in the oil and gas industry gives it a strong competitive advantage. Exxon will remain a solid investment as long as the world runs on oil and gas.
Disclosure: I have no positions in any stocks mentioned, and no plans to initiate any positions within the next 72 hours. I wrote this article myself, and it expresses my own opinions. I am not receiving compensation for it (other than from Seeking Alpha). I have no business relationship with any company whose stock is mentioned in this article.