Since May of 2013, I have been consistently saying the following: The valuations observed in broad market indices such as the S&P 500 (NYSEARCA:SPY) and the Dow Jones Industrial Average (NYSEARCA:DIA) are not yet indicative of a systemically significant bubble. However due to a confluence of factors, including excess liquidity and declining liquidity preferences, I believe that a systemically significant stock market bubble is likely to form.
What is the dividing line between a stock market that is merely expensive by historical standards, and one that exhibits characteristics of a systemically important bubble? In the coming weeks and months, I am going to be analyzing this issue in detail in my newsletter. In the present article, I am going to preview an approach to this question that is somewhat different from the manner in which most analysts approach it.
The Problem With Historical PE Ratios
Most analysts approach the problem of valuation by looking at average historical PE ratios (or other metrics) and comparing the current trailing or forward PE to the historical average. This approach is deeply flawed.
The most important reason why such simplistic analyses are flawed is because an average PE ratio averages in a great deal of data points that are absolutely irrelevant. The "garbage" data points can often skew the averages significantly.
Let me give you just one example of how a garbage data point can skew the averages, so that you can understand the principle. In March of 2009 when the S&P 500 reached its low of 667, the trailing PE of the S&P 500 was 97.23! Taken in isolation, this extraordinarily high PE ratio would tend to indicate gross overvaluation of the stock market. But, in fact, we know that exactly the opposite was the case: The S&P made a generational low and was grossly undervalued at the time. The problem is that this particular garbage data point from March of 2009 skews the historical average valuation upward, when by any rational valuation metric, the average valuation level should be getting pulled downward by the extreme undervaluation of stock prices at the time.
While the above data point is an extreme example, it is not at all an isolated case. The fact of the matter is that in the historical data series, the trailing PE of the S&P 500 tends to be at its highest during times when the S&P 500 is in the midst of a bear market and valuations are cheap. This PE distortion happens because bear markets often occur during recessions when earnings are temporarily depressed (i.e. are not representative of the true earnings power of the S&P 500). During bear markets associated with recessions, the "E" typically falls by more than the "P" and therefore the PE ratio becomes inflated, giving the false appearance of expensive valuations.
The entire historical data series is "polluted" by enormous amounts of garbage data points like this and any estimate of "fair value" that emerges from an average of so many garbage data points is simply not reliable. And no, folks, you can't average garbage data with garbage data to get an empirically derived gem.
The data problem described above is especially true of trailing 12-month PE data. But it is true of forward 12-month PE data as well.
Shiller's PE10 represents a marginal improvement in terms of historical valuation methodology since it is based on an average of 10 years of inflation-adjusted earnings per share and is therefore less likely to be affected by earnings distortions that are short-lived. However, for reasons that I will describe more fully in a future report to be published in my newsletter, Shiller's PE10 suffers from the same type of problem described above. There is so much garbage data in some 10-year intervals of time that the resulting PE is entirely unreliable. This is exactly what is happening right now: Shiller's PE10 is based on an estimate of "E10" that most likely grossly underestimates the true earnings power of companies in the S&P 500. Amongst other reasons, this is occurring because the E10 is currently averaging in lots of garbage earnings numbers from the period during and right after the financial crisis and Great Recession. This is dramatically skewing the "E10" downward in a way that is most likely not representative of the normalized future earnings power of the S&P 500. For reference, Shiller's methodology currently estimates "normalized" S&P 500 EPS to be $74.03, while trailing 12-month GAAP earnings are at about $105 and forward 12-month GAAP earnings are probably at around $115.
I will discuss the problems with Shiller's PE10 in more detail in the future. Suffice it to say for now that any valuation method that inputs so much garbage historical data will only provide a reasonable estimate of normalized earnings by pure coincidence, or dumb statistical luck - i.e. distortions from bad data being offset by other bad data that distort the averages back to a level that by chance happens to be reasonable.
A Systematic Approach: Comparing Apples To Apples
If you want to determine at what point the trailing or forward PE ratio might peak during the current bull market, it makes sense to narrow your comparative historical analysis to PEs observed during other bull markets. It would also make sense to further narrow your search to factor in only PEs during a stage of the economic cycle that is similar to the one we are in currently - mid-cycle. By contrast, it makes little sense to compare today's forward or trailing PE to historical PEs during early or late-cycle phases. It makes even less sense to compare today's forward or trailing PEs to historical PEs during recessionary periods. Right now, based on metrics such as potential GDP, capacity utilization, unemployment and inflation, it is most likely that the US economic expansion is in "mid-cycle," and if we are trying to estimate what a peak PE might look like at the present time, it makes most sense to look at peak PEs during previous mid-cycle periods.
With this basic idea in mind, I performed a study of peak mid-cycle PEs since 1958. There have been a total of eight economic expansions since 1958. I excluded the 1975-1980 expansion due to the high inflation during that period which render the data incompatible. I also excluded the 1980-1982 expansion due to both the high inflation and the fact that there was no "mid-cycle" period during this exceedingly short economic recovery. Finally, I have excluded as anomalous, the extraordinary bubble PEs from 1998, 1999 and 2000.
Having properly selected and sorted the data, there are six mid-cycle peaks in PE ratios since 1958 that we can plausibly use to derive an estimate of a mid-cycle peak PE for the current cycle. I performed the analysis on both trailing and forward PEs, but I will only include the results of the forward PE analysis here as I believe that forward PEs yield more accurate comparable estimates for reasons that I explain in my report: "The PE Peak: Historical Analysis of Trailing Versus Forward PE Ratios."
Note that I did not say that forward PEs are necessarily more accurate measures of valuation. I said that peak forward PEs provide a more accurate basis for comparison of peak valuations across time. It is important to understand this distinction.
_______________________________________________________
Figure 1: Comparable Peak Mid-Cycle Forward PE Ratios Since 1958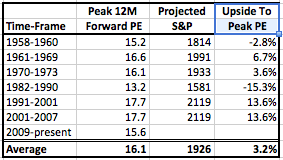 _______________________________________________________
As can be seen above, the current forward PE ratio of 15.6 is lower than the peak PE observed in four of the comparable cycles, while it is higher than in two of the historical instances. The range of historical outcomes since 1958 is reasonably narrow, which suggests that the methodology may indeed be useful in identifying a range of PE ratios which historically have signaled a valuation constraint on stock prices in mid-cycle.
Using an average of the six peaks would suggest an average mid-cycle peak forward PE valuation of 16.1. This represents potential upside of only 3.2% to be derived from prospective PE expansion. Targeting the upper end of the sample range would suggest a peak PE of around 17.7, or about 13.6% upside from current levels in terms of prospective PE expansion. PE expansion beyond that could probably only be expected in a bubble scenario.
It's Close To Bubble Time: What to Do?
The above analysis shows that since 1958, forward mid-cycle PEs have only been substantially higher than the above sample of historical peaks on only one occasion: The 1998-2000 bubble period.
What this means is that unless you are expecting a bubble to form, you probably have very relatively little to gain from further prospective PE expansion and much to lose from prospective PE contraction. Historically, it is important to note that PE ratios and/or stock prices tend to contract rather rapidly after PE ratios have peaked in a bull market.
In my case, I am expecting a systemically significant bubble to form for reasons that I have been expounding upon for almost a year.
So, what should a person do in this situation? If you are a skilled momentum trader with a high tolerance for risk you may consider riding the prospective bubble on upward. If you are an average investor, you should probably start to take profits in your equity positions. It might be painful watching the market continue to go up. But it is better to suck up that discomfort than to absorb the losses that could come quite suddenly if a bubble indeed forms and eventually explodes.
Better long-term opportunities for investment lay ahead for long-term investors, and my suggestion to most people would be to be patient and not get caught up in any bubble if, in fact, it continues to form. Indeed the greater the bubble, the more likely it is that tremendously attractive valuations will eventually present themselves.
Having said that, if you are risk-tolerant and/or you feel that you absolutely must own stocks in order to meet your professional and personal goals, I will provide some specific suggestions in my upcoming 2014 Investment Outlook.
To be absolutely clear, my thesis is that the S&P 500 will continue to make significant new highs during 2014. However, with only a few specific exceptions, I believe the reward/risk ratio of equities is not favorable at this point in time for most long-term investors.
Disclosure: I have no positions in any stocks mentioned, and no plans to initiate any positions within the next 72 hours. I wrote this article myself, and it expresses my own opinions. I am not receiving compensation for it (other than from Seeking Alpha). I have no business relationship with any company whose stock is mentioned in this article.