By Todd Shriber & Tom Lydon
Net dividend increases totaled $17.8 billion in the first quarter, up almost 23% year-over-year. Nearly 1,100 dividend increases were reported during the quarter, displacing the prior first quarter record of 1,069 set in 1979. Q1 2014 is 14.2% higher than the 944 increases in Q1 2013, according to S&P Dow Jones Indices. Says Howard Silverblatt, Senior Index Analyst at S&P Dow Jones Indices:
Dividend increases were strong in Q1, as a record number of issues increased for the period. Increases outnumbered decreases more than 10-to-1, as $17.8 billion in net increases were declared by U.S. domestic issues. Payments for the first quarter are estimated to have increased 15% over the first quarter of last year. Payout rates, which historically average 52%, continue to remain near their low at 36%.
Despite the good dividend news, three of the four largest U.S. dividend ETFs suffered outflows in the first quarter with only the Vanguard High Dividend Yield ETF (NYSEARCA:VYM) seeing inflows. The $256.4 million investors sent into VYM was not enough to stem the tide of the more than $820 million lost by the three largest U.S. dividend ETFs.
Although nearly $66 million was pulled from the iShares Select Dividend ETF (NYSEARCA:DVY) in the first quarter, those outflows belie a strong performance turned in by the second-largest dividend ETF. Helped in part by its almost 36% weight to the utilities sector, more than double any of its other sector allocations, DVY is up 4% year-to-date. The $13 billion ETF has a trailing 12-month yield of 3%.
Last year, assets allocated to dividend ETFs surpassed the cash in U.S. Treasury ETFs, as payout funds were the top asset gatherers in the smart beta/intelligent index category. Despite outflows from some noteworthy dividend ETFs this year, not all comparable funds have lost capital. Some have attracted new cash and that could be a sign of things to come with 2014 shaping up to be another good dividend year. Said Silverblatt:
The strong rate of Q1 increases, coupled with the number of issues that have a demonstrated history of annual increases, could translate into a strong year for 2014.
Some of the dividend funds that have seen inflows this year include the WisdomTree LargeCap Dividend Fund (NYSEARCA:DLN), sporting a distribution yield of 2.3%. Technology and financial services, two of the three leading sources of S&P 500 dividend growth over the past several years, combine for over 29% of DLN's weight. Those sectors are often lightly represented in dividend ETFs that focus on length dividend increase streak as a primary weighting methodology.
Speaking of tech dividends, the First Trust NASDAQ Technology Dividend Index Fund (NASDAQ:TDIV) has brought in $177 million of its almost $469 million in assets this year. TDIV, which has a 12-month distribution rate of 2.41%, has weathered the storm in Internet and social media stocks due to its exposure "old guard" tech names. TDIV is up 2.6% in the past month while higher beta tech offerings have floundered. Said Silverblatt:
Companies are being pressured to use their available cash, resulting in near record levels of total shareholder returns from public companies from both cash dividends and buybacks. The continuation of this trend indicates the potential for a strong year for dividends.
Dividend Actions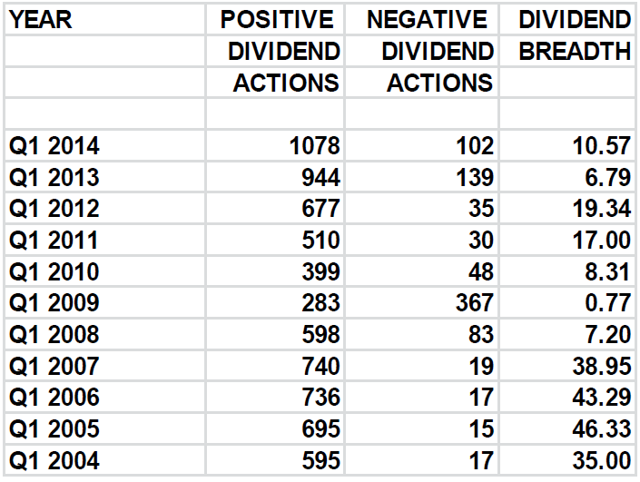 Data Courtesy: S&P Dow Jones Indices
Tom Lydon's clients own shares of DVY.
Disclosure: I am long DVY. I wrote this article myself, and it expresses my own opinions. I am not receiving compensation for it. I have no business relationship with any company whose stock is mentioned in this article.