Tax day next Tuesday is quickly approaching, and based on Thursday's action, it looks like investors are selling everything they own to pay all those 2013 capital gains taxes they owe.
Below is a look at where the S&P 500 and its ten sectors currently stand within their trading ranges after a day of carnage in US markets. For each sector, the black vertical "N" line represents its 50-day moving average, while the dot represents where it's currently trading. The tail end shows where it was one week ago, and moves into the red zone or green zones are considered overbought or oversold.
Thursday's 2% decline for the S&P 500 left it solidly below its 50-day moving average, so the bears have re-gained control of the index in the near term. Five sectors are now below their 50-days as well -- Consumer Discretionary, Financials, Health Care, Industrials and Technology. It's never good to see all cyclicals below their 50-days like this, much less the two largest sectors of the market in Technology and Financials. Four sectors remain overbought, and three are defensives -- Consumer Staples, Telecom and Utilities. Bulls want to see the cyclicals overbought and the defensives lagging, but the opposite is in place right now.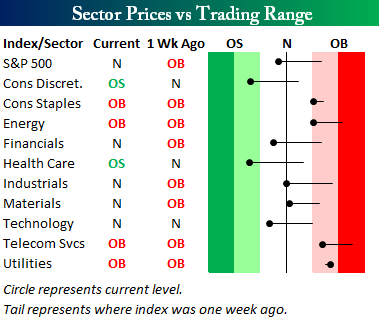 As shown below, just under 50% of the stocks in the S&P 500 are now above their 50-day moving averages. This isn't horrible breadth given that the index broke hard below its 50-day today, but it's not good to see the reading below 50%. Once again, it's the major cyclicals with the weakest breadth readings. The biotech-heavy Health Care index has the weakest breadth reading with just 28.3% of its stocks above their 50-days, while Consumer Discretionary and Technology have readings in the 30s. Industrials and Financials stand at 42.2% and 44.6%, respectively.
On the positive side, every stock in both the Telecom and Utilities sectors is above its 50-day, so investors have been moving into these defensive areas hand over fist. What does this say about the outlook for the US economy as we head into the middle of 2014?