Word right now is that the relief wells are getting closer and are ahead of schedule. I heard a report this morning that expressed high confidence that the relief wells would work to stop the Gulf oil leak. They mentioned it might take a few tries, but eventually it will succeed in executing the "bottom-kill" procedure. For the environment and the economy, we all hope that this turns out to be true. If this is the case, and the oil spill is stopped, all efforts can be doubled down into cleanup, and hopefully the doubled effort would yield positive results for the Gulf region.
If the oil leak stops, what happens to stocks? What happens to oil stocks that have taken a beating since the oil spill? Let's look at a few charts of notable stocks:
First up, BP Plc (NYSE:BP): (Click to enlarge)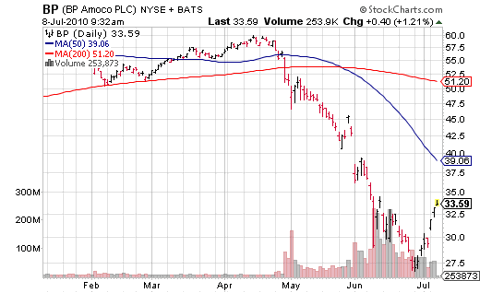 Next, let's look at Transocean (NYSE:RIG). Transocean owns the rig that collapsed in the incident.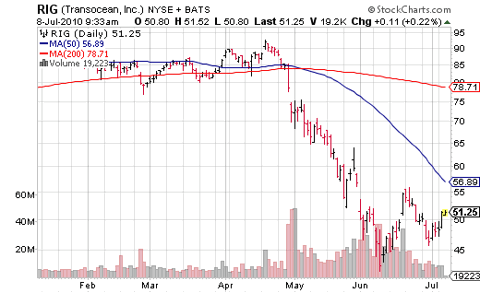 Next, the following chart is of the Vanguard Energy ETF (NYSEARCA:VDE). This ETF does not have BP as one of its top ten holdings, but it does have Transocean and Anadarko (NYSE:APC), both participants in the Gulf incident.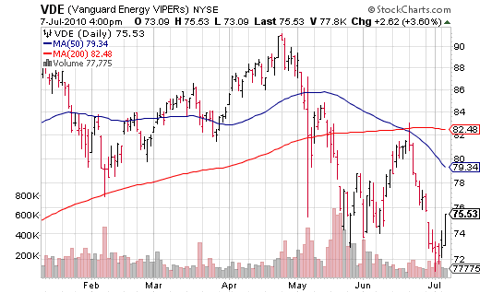 As you can see, all stocks (and ETFs) have been impacted by the incident. BP and RIG both at one point were down 50% from peak to trough. While I can't justify buying BP at any levels right now since they are the focus of the political class seeking a scapegoat, RIG and VDE are potential candidates for investors looking to play a potential "good news scenario" in the Gulf, especially since there has been zero good news there for months.
I purchased a small position in Transocean a few weeks ago at just above $50 per share. With a significant move lower already in place, I felt it was a good entry point. Yes, there is still risk with the position, especially if the oil leak does not stop in the foreseeable future. For right now, I'm betting on the fact that the primary focus of politicians and the public will still rest on BP (typically, the public focuses on a single entity versus the secondary players in these situations), and RIG will come out on the other side of this disaster intact and operating around the world. Also, I like the RIG dividend yield at current levels. The Vanguard Energy ETF might be a good way for investors to play the sector that has been pulled down with BP that could rebound should BP succeed in stopping the leak.
Disclosure: Long RIG