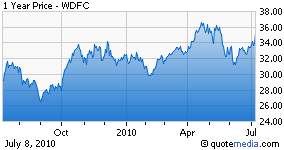 WD-40 Co. (NASDAQ:WDFC) posted fiscal 2010 third quarter results after the closing bell on Wednesday. The company's earnings grew 32.2% to $9.1 million or 54 cents per share from $6.9 million or 41 cents per share in the year-ago period. Quarterly result also surpassed the Zacks Consensus Estimate by 12 cents, or 28.6%.
San Diego-based WD-40 is a global consumer products company offering solutions for a wide variety of maintenance needs of doer and on-the-job users. The company's multi-purpose maintenance products as well as homecare and cleaning products are sold in more than 160 countries worldwide.
During the quarter, WD-40's sales grew 20.0% to $82.6 million from $68.8 million in the year ago quarter. The expansion was driven by a 29.2% year-over-year growth in sales of multi-purpose maintenance products to $67.9 million, partially offset by a 10.0% decline in sales of homecare and cleaning products to $14.6 million. Geographically, sales in Americas, Europe and Asia-Pacific regions rose by 13.1%, 24.6% and 50.2%, respectively.
Gross profit recorded a growth of 20.7% year-over-year to $42.3 million, while gross margin improved by 30 basis points (bps) to 51.2%. WD-40's operating expenses, as a percentage of sales, rose by 70 bps year-over-year to 35.4%. Accordingly, operating margin dipped by 40 bps to 15.8%, while operating income grew by 16.9% to $13.0 million.
At quarter-end, WD-40 had cash and cash equivalents of $59.1 million with a long-term debt-to-capitalization of 10.2%, compared to a cash balance of $68.8 million and long-term debt-to-capitalization of 16.1% in the year-ago period. During the first nine months of fiscal 2010, the company generated $38.8 million of cash from operations and utilized $12.5 million towards dividends, $10.7 million towards debt repayment and $1.3 million towards capital expenditure.
Bolstered by the better-than-expected quarterly performance, WD-40 now expects earnings of $2.05 to $2.14 per share on net sales of $313.0 million to $319.0 million, compared to the earlier prediction of earnings of $1.92 to $2.01 on net sales of $308.0 million to $321.0 million. The revised guidance remains in line with the Zacks Consensus Estimate of $2.05 per share, which moved up 2 cents over the past month. For the next fiscal, the Zacks Consensus Estimate has increased 5 cents over the past month to $2.23 per share as 1 of 4 covering analysts raised expectation.