According to the recently published Oil and Gas: Master Limited Partnership Report by the Wall Street Transcript there is great anticipation for corrections in MLP stocks in 2014. The report considers the growing demand for midstream assets and the initiatives for U.S. energy infrastructure enhancements as the reasons behind the bright prospects of the MLPs serving in the industry. Energy Transfer Partners, L.P. (NYSE:ETP) is one of the largest U.S. publicly-traded Master Limited Partnership "MLP" holding companies that operates and holds a portfolio of energy assets related to oil and gas transportation and storage. I will discuss the company as an investment opportunity considering the company's prospects in the growing industry.
Factors Creating Opportunities in the Market
Opening of Natural Gas Exports
The U.S. natural gas explorers and producers have been experiencing reductions in their natural gas profits due to declines in natural gas prices as the market became oversupplied. This was due to the U.S. shale gas boom and in order to improve the market for players the U.S. Federal Energy Regulatory Commission is approving more natural gas terminals as gates to the natural gas exports markets. The U.S. Federal Energy Regulatory Commission has to enact these initiatives so that big players in the oil and gas industry can afford slower profit growth or even a decline in margins for short term; prolonged hits on their bottom lines cannot be met. This is because profits, margins, and cash flows are crucial for oil majors in order to continue paying dividends or maintaining dividends along with supplying the market to fuel economic growth.
In addition to the internal factors that are causing more natural gas export terminals to be approved the deadlock between the U.S. and Russia over the latter's invasion of Crimea is also exerting a lot of pressure on the U.S. to export natural gas. Ex-Soviet settlements that include Slovakia, Poland, Hungary, and the Czech Republic are heavily urging Washington to eradicate bureaucratic holdups and export U.S. natural gas to Europe in order to defuse the strength of natural gas as a crucial weapon in Russia's political cache. European nations that support the United States' view on Russia's annexation of Crimea also favor this plan.
Hence the confrontational upsurge against Russia is making the appeal for the U.S. to export its natural gas to Europe in order to distort Russia's sway in the European natural gas market. For now, let us continue with the discussion on the approved terminals for natural gas export and how ETP has been regarded as capable of availing opportunities from these approvals.
ETP Regarded As Capable
As the situation regarding natural gas exports from the U.S. is improving the Federal Energy Regulatory Commission has recently issued a presidential permit to a project run by ETP. The go ahead from FERC was given as the Obama administration approved another liquefied natural gas terminal in Oregon bringing the present total number of export terminals approved to seven.
The permit will allow the company to construct a 23-mile long pipeline connecting Hidalgo County in Texas and the city of Reynosa in the Tamaulipas state of Mexico. The request for this pipeline was filed by the company by Houston Pipe Line in October 2013 in order to possess and control an intrastate gas pipeline system including over 3,900 miles of pipeline in Texas.
So, basically the newly-approved pipeline for the company will be the extension of the company's existing Edinburg Lateral that will cross the U.S. border under the Rio Grande River and will be 24-inches (61centimeters) in diameter. This will have a design capacity of around 140 million cubic feet/day according to the instruction. The pipeline will mainly supply Texas-sourced gas to provide energy to gas-fired power plants and prospective industrial customers in northern Mexico.
This is likely to turn out to be a good expansion opportunity for the company as estimates identify that Mexico's natural gas demand could represent up to 10% of U.S. natural gas output currently going south.
These growth prospects will support the company's top and bottom lines in the coming years but cash distribution by the company is still a crucial concern.
Cash Distribution and Return to Investors
The company has recorded extraordinary growth in its revenue in FY 2013 that increased by 195.12% in comparison to FY 2012. However, the capital intensive nature of company's business and huge charges for depreciation negatively affected the company's bottom line. The company recorded a -$0.23 diluted EPS for FY 2013 excluding extraordinary items and a diluted EPS of -$0.18 that included extraordinary items. Therefore, a more effective way to measure the company's financial position and strength will be to learn more about its cash flows. Also it is ultimately cash that is distributable to the company's shareholders.
The company has planned to continue increasing its distribution rate and target to maintain a distribution coverage ratio of 1.05 times for FY 2014. A distributable cash flow coverage ratio of 1:1 or above indicates that the MLP has sufficient cash to meet its cash distribution requirements. The company aims to enact initiatives regarding asset optimization and the simplification of organization in FY 2014 in order to improve its cash flows. The company paid $3.68 cash distributions per unit in FY 2013 in comparison to $3.58 paid in FY 2012.
Additionally, the company's stock price increased by 9.40% since the previous year as shown in the following chart.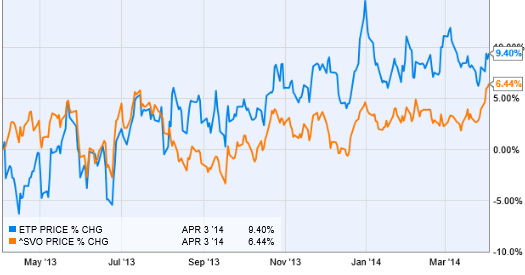 Source: YCharts
This improvement in the company's stock price performance is above the PHLX SIG Energy MLP index that rose 6.44% since the previous year. This index is an equal-dollar-weighted index composed of 27 publicly-listed Master Limited Partnerships that sell, distribute, explore, mine, store, market, and trade primary energy products. Hence, the index is comprised of component issues that include ETP along with its sector peers such as Kinder Morgan Energy LP (NYSE:KMP), Enterprise Products Partners LP (NYSE:EPD) and Regency Energy Partners LP (NYSE:RGP).
Hence, the stock has a yield of 6.76% that is higher than the industry average of 4.02% and sector average of 3.64%.
Final Take
With further prospects for growth and expansion due to the potential rise in natural gas exports from the U.S. and the company's initiative to improve its bottom line the company has turned into an attractive investment opportunity. As far as returns to shareholders are concerned, the company is endeavoring to maintain a cash distribution coverage ratio that represents an adequate level of cash along with an attractive yield for unit holders.
The company has been regarded as a great choice for investors from this sector as the company is experiencing firm earnings estimate revision activity according to Zacks. Over the past month the current quarter earnings estimates increased from 68 cents/share to 69 cents /share, while the current year earnings estimates rose from $2.60 per share to $2.62 per share.
The upward earnings estimate revisions by analysts since the previous month indicates that analysts are becoming bullish on the company's prospects both for the short and long terms.
Disclosure: I have no positions in any stocks mentioned, and no plans to initiate any positions within the next 72 hours.
Business relationship disclosure: The article has been written by a Gemstone Equity Research research analyst. Gemstone Equity Research is not receiving compensation for it (other than from Seeking Alpha). Gemstone Equity Research has no business relationship with any company whose stock is mentioned in this article.