Believe it or not, we're at the beginning of yet another earnings season. With the way some companies report late and others report early, it's like we're in a constant earnings season year round - so why even call it "earnings season?" That's a Seinfeld-esque line of questioning, but it holds water. Anyway, I digress.
Citigroup (NYSE:C) is set to report on Monday of next week, likely to kick off the feel in the banking sector coming off of Wells Fargo (NYSE:WFC) and JPMorgan's (NYSE:JPM) results which are due out this morning and are likely to be out by the time this piece is published.
Citi has traded off 15.5% in the last three months and has been down 11.3% since the start of 2014. It's been a rough ride for Citi investors this year and the bank's recent capital allocation issues haven't helped turn things around just yet.
The company currently has a market cap of $140.38 billion and has traded in the range of $44.06 to $55.28 in the last 52 weeks.
Analysts looking at Citi have already tapered their expectations for the bank's earnings this coming quarter. Analysts are going to be expecting $1.14/share on $19.37 billion in revenues, compared to $1.23/share and $20.49 billion in revenues for the year prior.
(Source - Yahoo Finance)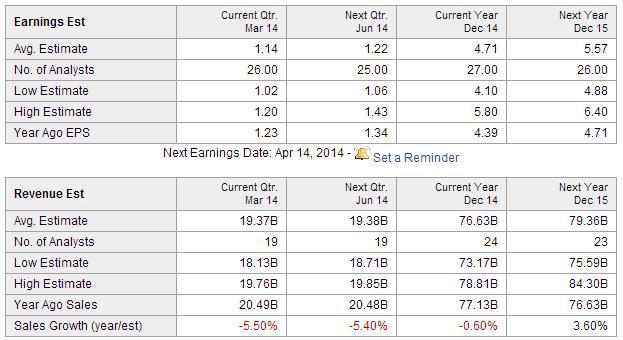 Recent news behind Citi included a recent $1.125 billion mortgage settlement that is supposed to impact the bottom line in the coming quarter to the tune of $100 million. Seeking Alpha reported:
Citigroup's (-0.1%) "legal costs will remain elevated" says KBW's Fred Cannon, noting last night's settlement covering $59.4B in residential MBS "explicitly excluded" $24.6B issued by CitiMortgage. Cannon also notes the agreement does not release investor claims related to misrepresentations in the offering documents.
Morgan Stanley's Betsy Graseck notes another $4B in paper tied to Citi's Securities and Banking division could be an issue as well, but believes any future settlements will be as cheap as last night's - 1.9 cents on the dollar, according to her. At that rate, future deals would cost Citi $542M, an amount Graseck believes the bank has already reserved for.
Additionally, it was announced just this morning that the DOJ is looking into a Citi branch in California for failing to "tell the government about suspicious banking transactions along the U.S.-Mexico border" involving suspected drug cartels. While it won't likely have a material impact on the bank, it's another less-than-stellar headline that is helping weigh down Citi's stock price.
The bearish analysts have pointed to the recent headlines surrounding Citi, especially with the banking stress tests. The bullish analysts contend that if emerging markets start to bounce, Citi could potentially benefit from its strong consumer banking presence there.
I think earnings are likely to be a non-event for Citi, honestly. I don't see too much volatility in Citi post-earnings on Monday and could advocate writing calls as a nice hedge for those that hold long. Options premiums are indicating that the market isn't expecting a ton of volatility here, as well.
Long-term, I think the fundamentals are ultimately going to tell Citi's case; the stock fundamentals, that is. If you think Citi is going to come out of recent downgrades and Fed questions without further material consequences, the stock simply looks dirt cheap right now.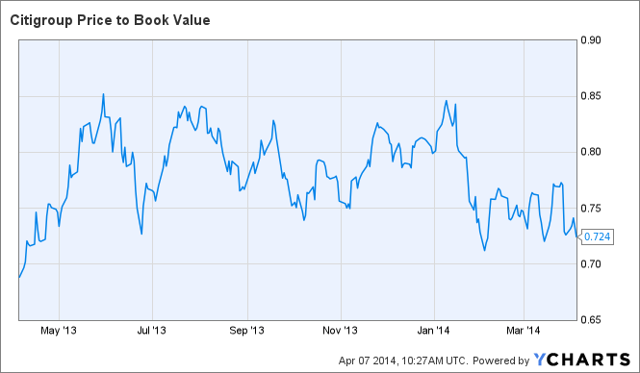 While earnings certainly have the chance of being tepid at best, you shouldn't be writing off Citi as a whole here. Citi appears to remain cheap both for the short and long term here. Long-term traders still get the discount to book here, but will likely have to hold a bit in order to get the security blanket of the dividend. However, I contend that dividend or not, Citigroup is too cheap of a stock to be overlooked on this sell off. If the stock starts to dip on earnings, I'll consider adding it.
Best of luck to all investors.
Disclosure: I have no positions in any stocks mentioned, and no plans to initiate any positions within the next 72 hours. I wrote this article myself, and it expresses my own opinions. I am not receiving compensation for it (other than from Seeking Alpha). I have no business relationship with any company whose stock is mentioned in this article.