After trending higher for much of the day, equity markets surged in the final half hour to finish up by close to 1% on the day. The Dow led the major indexes with a gain of 1.2%, followed by a 0.9% gain for the S&P 500 and a slightly smaller gain for the Nasdaq. Commodity markets were relatively flat, as gold dropped by $2.80/oz. and oil jumped higher to finish just under $76/bbl. Markets surged on abating fears regarding the health of the American economy, as the government reported that initial claims for unemployment benefits fell last week to their lowest levels since early May. Claims fell to 454,000, better than the 465,000 forecast by economists polled by Thomson Reuters.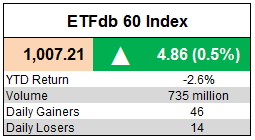 The ETFdb 60 Index, a benchmark measuring the performance of asset classes available through ETFs, climbed higher by 4.86 points, or 0.5%. Trading was relatively light, and winners outnumbered losers by more than three-to-one on the day.
Among the biggest gainers on the day was the Market Vectors Agribusiness ETF (NYSEARCA:MOO), which jumped higher by 1.9%. This jump was largely due to concerns over a variety of agricultural commodities which are likely to see lower crop yields due to drought and heat across much of the United States. However, the hot weather was not limited to the U.S. as the weather in Russia, Kazakhstan, and much of western Europe helped to send wheat higher for the eighth straight day in Paris trading. In addition to wheat, corn and soybeans also rose sharply higher as fears increased regarding adverse weather impacting crop yields. "The weather has not been conducive for optimal yield potential," said Chad Henderson, a market analyst at Prime Agricultural Consultants Inc. in Brookfield, Wisconsin. "People are starting to realize that the rains are reducing yields, and dry weather across the southern U.S. may also cut yields." These factors helped to boost the demand for many of the products supplied by companies held in MOO.
Among the biggest losers was the United States Natural Gas Fund (NYSEARCA:UNG), which tumbled by 4.5% in Thursday trading. This decline came as a result of an EIA report which showed a larger-than-expected increase in natural gas stockpiles. The report showed an increase of 78 bcf, while analysts were expecting an increase of between 70 and 74 bcf. This increase in supplies came as a shock to many traders given the high demand for natural gas as a result of the recent heat wave in much of the northeast, a fact that pushed UNG sharply lower on the day.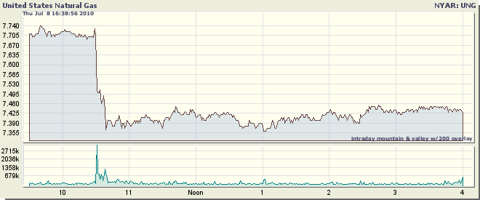 Disclosure: None
Disclaimer: ETF Database is not an investment advisor, and any content published by ETF Database does not constitute individual investment advice. The opinions offered herein are not personalized recommendations to buy, sell or hold securities. From time to time, issuers of exchange-traded products mentioned herein may place paid advertisements with ETF Database. All content on ETF Database is produced independently of any advertising relationships. Read the full disclaimer here.