Modern Portfolio Theory (MPT) teaches us that a portfolio's total risk is equal to a weighted average of the risk associated with each individual security, as measured by Beta. The market, usually represented by the S&P 500 Index, has a Beta of 1.0. A security's Beta is expressed as a ratio of the market Beta, so a stock that is 20% more risky than the market will have a Beta of 1.2. Likewise, a stock that is 20% less risky than the market will have Beta of 0.80.
In diversified portfolio of 20 to 30 individual stocks, we can use Beta to adjust the overall risk level in the face of changing market conditions or sentiment, in either direction. This is accomplished by replacing holdings with similar investments with a higher or low Beta, as desired. Additionally MPT teaches us that, within a diversified portfolio, you can safely own high-risk, high-Beta stocks, mitigating the risk with an offsetting, low-Beta position.
Being primarily a long-term value investor, I like to keep tabs on low-Beta, dividend-paying stocks selling at attractive values. I like to give myself the opportunity to reduce my overall portfolio risk, while also getting a good deal and being paid for my patience. I'm not saying that I buy everything that pops of the stock screener, but I have certainly picked up winners this way in the past. During a recent screen, I came across 2 stocks that share some basic criteria that I look for.
The 2 stocks on this list share these common characteristics:
Large Capitalization
Forward P/E (FTM) less than industry average
PEG Ratio of less than 1.0
Beta (3 Yr) less than 1.0
Dividend yield of 2% or more
Apple Inc. (AAPL)
Market Cap: 469.8 B
2.33% Dividend Yield
Computer Hardware
While Apple may not be the juggernaut of a growth stock that it once was, as a value play, there is still a whole lot to like about this company. Recent performance is not one of them however, as AAPL has under-performed so far this year, losing more than -5% YTD.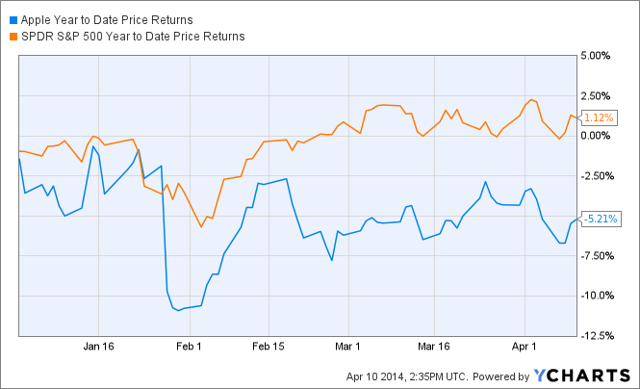 AAPL Year to Date Price Returns data by YCharts
Things to Like
Not long ago AAPL was a high-flying growth stock. Oh, how things have changed. This company now sits squarely in the value category. In my view, it represents an attractive valuation at its current price, when compared to the broader market, as well as its own sector.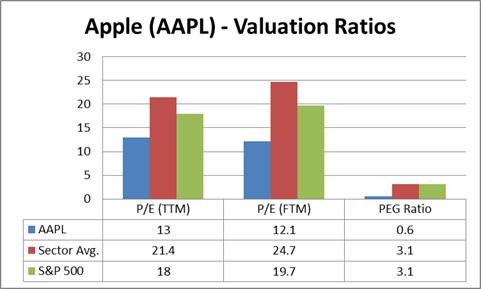 AAPL is also a cash-producing machine that can afford to do almost anything it wants to, be that acquisitions, stock buy-backs, or dividend increases. During the most recent quarter AAPL held just over $14 billion in cash and equivalents on the balance sheet and nearly $110 billion of retained earnings. The current dividend payout ratio is just 29.1, leaving plenty of room for dividend hikes.
Risks
Beyond typical economic risks, there are a lot of unanswered questions about where AAPL is going and whether or not it can continue to innovate in the future, without Steve Jobs.
ACE Limited (ACE)
Market Cap: 33.3 B
2.58% Dividend Yield
Insurance
This is not the hardware store franchiser, but a global insurer and re-insurer serving customers in more than 170 countries. The company primarily offers commercial insurance, from standard E&O coverage to more specialized products like energy and aviation. ACE also offers personal accident, supplemental health, and life insurance to individual consumers in select markets.
Like AAPL, ACE's recent price performance has not been good at all, with ACE losing almost -4% YTD. This under-performance, though, likely contributed to, or created, its current under-valued status.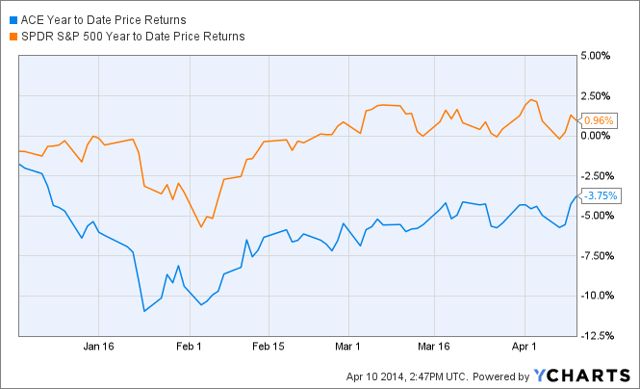 ACE Year to Date Price Returns data by YCharts
Things to Like
Like AAPL, the most attractive thing about ACE is its current valuation, which represents a discount to both its own sector and the broader market as a whole.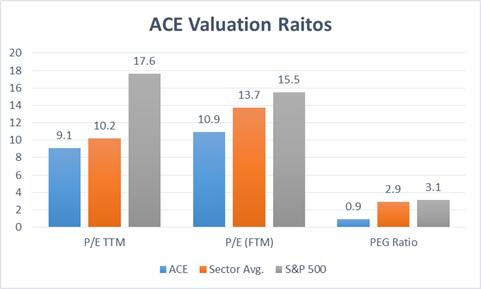 Additionally, ACE has also been producing some noticeable growth in recent years, outpacing the rest of the financial sector as well as the S&P 500 Index.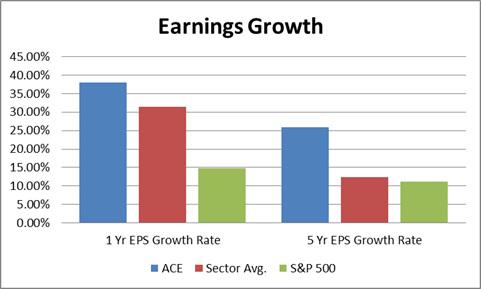 Risks
The primary risk to ACE, as an insurance company, is an unexpected deterioration of the credit quality of ACE's investment portfolio which would reduce the overall value. Further risks include unexpected spikes in claims that could arise from natural or man-made disasters.
Conclusion
While AAPL and ACE are two very different companies, their stocks currently have a lot of positive qualities in common. They are both low-risk stocks, undervalued in their own sector as well as the broader market, paying you to wait with adequate dividends. Either one could be a valuable addition to your diversified portfolio.
Disclosure: I have no positions in any stocks mentioned, and no plans to initiate any positions within the next 72 hours. I wrote this article myself, and it expresses my own opinions. I am not receiving compensation for it (other than from Seeking Alpha). I have no business relationship with any company whose stock is mentioned in this article.