The Civilian Unemployment Rate is a closely watched economic indicator. While many investors easily dismiss it as a lagging indicator, a chart of its performance relative to the S&P 500 over the last decade demonstrates its importance in figuring out the direction of both the market as well as the economy.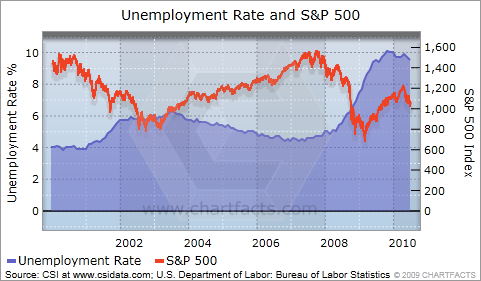 Over the last three months, the Unemployment Rate has dipped from 9.9% in April to 9.5% in June. That would appear to be good news. A closer look at the actual components of the calculation, however, is less exciting. The Unemployment Rate is based on the government's household survey. It is the number of Unemployed divided by the size of the Civilian Labor Force. The monthly change for both of these are pictured below.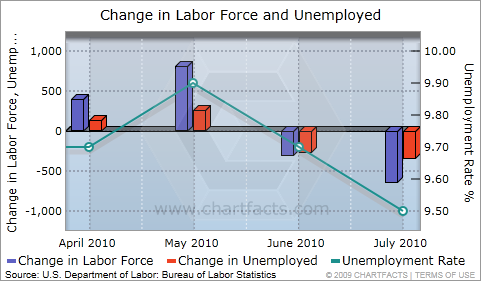 The ranks of the Unemployed have decreased by 637,000 since April. That would be good news for the economy if all of those people had been put to work. Unfortunately, the Labor Force has decreased by 974,000 over that time. That means that almost one million people who were formerly either Employed or Unemployed but looking for work, are no longer a part of the calculation. Presumably, the vast majority of those that drop out of the labor force at this time were previously included among the Unemployed. It should not be considered "good" for the economy if the Unemployment Rate is decreasing simply because Unemployed people are dropping out of the labor force.
With the ranks of those unemployed for 27 weeks or more at all time highs and climbing, it is possible that more will continue to leave the labor force in the short-term. That would have a positive impact on the Unemployment Rate.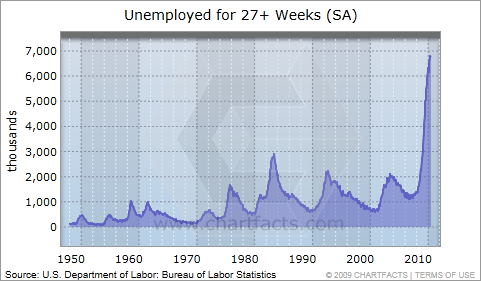 In the longer-term, however, the labor force will continue its upward trend. That means that even if we do start adding jobs again, the Unemployment Rate could go back up for a while.
Disclosure: no positions