Beazer Homes (NYSE:BZH) completed its $325 million junk debt sale on Wednesday (April 9). It is a four-year deal that priced about 440 basis points above the equivalent Treasury yield. The high yield for a bond with only 4 years in duration reflects the Moody's Caa2 assigned rating, which is only 2 notches above "distressed." Beazer is using the proceeds to refund an existing bond that is coming due.
In my view, now is the time that homebuilders should be using excess cash flow to deleverage their balance sheets by paying down debt. The fact that Beazer needs to raise more money to replace existing debt reflects Beazer's inability to service its existing debt load from its current and expected level of cash flow. It further reflects a deterioration in the underlying fundamentals of the housing market, which is reflected by the significant negative divergence of the homebuilder stocks from the general stock market.
Beazer's bond deal was assigned Moody's mid-level triple-C rating, which is just two levels above a "distressed" classification. In the summary of its credit assessment, Moody's explained that Beazer's operating and financial performance "will remain weak in the intermediate term, including elevated debt leverage, weak interest coverage metrics, and negative cash flow generation as the company pursues land investments."
While it can be argued that Beazer's decision to refinance its debt using more debt reflects management's optimism about the future, as a former junk bond trader who traded the homebuilder sector, I would have rather seen Beazer use some of the cash flow that it is generating while the housing market is showing a little growth to reduce debt in case the market turns around and goes south. Beazer could have accomplished this by possibly issuing a senior secured bank debt deal with forced amortization. This would have preserved liquidity and cost less money but would have compelled Beazer to start reducing its heavy debt load.
In fact, it's possible that this type of bank deal was not available because, as you see from Beazer's latest 10-Q, Beazer's cash flow used by its operations was negative $113 million in its latest quarter. If Beazer is having trouble throwing off cash flow when the market appears to be healthy, imagine what will happen if the market goes into another decline.
The double-digit year over year decline in mortgage purchase applications, which I've discussed previously, suggests that new home sales are beginning to head south again. This week's Mortgage Bankers Association weekly mortgage appications report showed a 14% decline year over year in purchase applications. This is significant specifically to new homebuilder sales because, as I've detailed in previous articles, 93% of all new homes are purchased using a mortgage. If mortgage purchase applications are dropping, it means new home sales are declining.
Beazer is not the only homebuilder lacking the willingness to delever its balance sheet while the housing market has bounced off of its bear market lows over the past two years. As I have detailed in several prior articles, almost every homebuilder has been issuing debt to expand its housing inventory rather than financing the expansion from current cash flow. If history repeats, it will turn out that the homebuilders will have once again leveraged up their balance sheets at the top of the market.
While it's my opinion that the market has topped out, the homebuilder stocks have been in a negative divergence from the S&P 500 since November: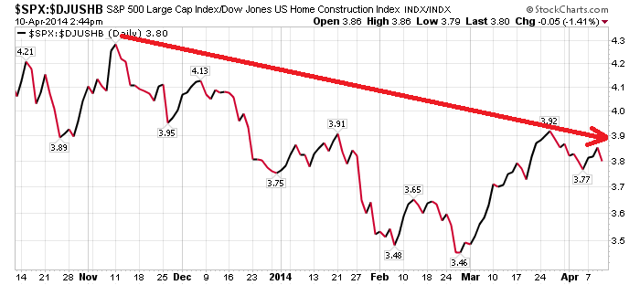 This graph shows the ratio of the S&P 500 to the Dow Jones Home Construction Index (DJUSHB). Since November, you can see that the homebuilder stocks have significantly underperformed the SPX. The significance of this is amplified by the fact that, going into its peak selling season, I would have expected that the homebuilders would be outperforming the general stock market on a relative basis. Especially given the bullish outlook for the housing sector coming from Wall Street analysts.
In fact, since peaking at 550 in May 2013, the DJUSHB is now down 12.5% as of today (April 10th). In my view, this relative performance by the homebuilder stocks reflects the deterioration in the underlying housing market fundamentals. This is an ongoing deterioration that I have detailed in several previous articles. Because of this, and because homebuilders appear to taking on more leverage to focus on inventory expansion rather than improving their balance sheets, I continue to recommend that investors sell long positions in these equities. I also recommend that aggressive traders can still do well shorting the homebuilders. I am short DR Horton (NYSE:DHI), KB Homes (NYSE:KBH) and Ryland (NYSE:RYL). I also think Lennar (NYSE:LEN), Pulte (NYSE:PHM), BZH, and Toll Brothers (NYSE:TOL) can be shorted with success.
Disclosure: I am short DHI, KBH, RYL. I wrote this article myself, and it expresses my own opinions. I am not receiving compensation for it (other than from Seeking Alpha). I have no business relationship with any company whose stock is mentioned in this article.