[Editor's Note: This article was corrected subsequent to publication.]
Opening:
Diamondhead Casino Corporation (OTCPK:DHCC) is a company with an interesting past and an even more compelling future. The company plans to build a casino resort on debt-free 404-acre 2-mile waterfront casino-zoned property that is located strategically on the Bay of St. Louis in MS. The area is seeing an influx of over one billion dollars. Located in Diamondhead, Mississippi the unique property sits on the shoulders of I/10 for a distance of 2 miles, and has more than eighteen million vehicles travel annually. This property is already zoned for a casino, removing any legal boundaries to its advancement.
Diamondhead's past was ripe with opportunity before a major deal with Trump Entertainment fell through, and the lack of the deal's completion led shares to languish. In 2014, the South Mississippi Casino industry has already started spending a portion of a planned one billion dollars to reinvest into operations enabling Diamondhead Casino's property to be well-positioned to capture a lucrative opportunity. With the risks noted, and if events unfold which are beneficial to Diamondhead's business plan, shareholders have the potential to be handsomely rewarded.
Expanded Thesis:
Valuable Land Holdings:
Diamondhead's plan to build a casino on its land will be profitable as its property holdings are worth a very tidy sum. In July, 2007, before the economic crisis, Diamondhead rejected (I,II) a $100M offer for the purchase of its 404-acre parcel of land. This $100M values the property at $250,000 per acre. At that time Diamondhead entered into an agreement to sell five acres for $750,000. It would have liked to sell its entire holding in line with that amount. With a market capitalization just over $23M this would value the land holding at more than four times the value of the company. This occurred during a period of over-inflated prices and massive market appreciations. It is worth noting that $250,000 per acre is the offer that Diamondhead rejected.
"The Board has also rejected, as not being in the best interests of the shareholders, a $100 million offer to purchase the entire 404 acre property. However, the Board has made it clear that the Company was not adverse to a tender offer, in which an acceptable purchase price for the entire property would be paid directly to the shareholders in return for tendering their stock."
Massive Fund Spending On The Casino Industry In 2014:
Recently, news has surfaced revealing that over one billion dollars is being spent to buy, upgrade and reconstruct casinos along the Mississippi Coast. A large amount of spending in the area is a factor that can directly favor casino operators or future operators in Mississippi. Diamondhead Casino Corporation owns 404 acres waterfront in Diamondhead, Mississippi, in a prime location that has been zoned for casino building.
There are several larger casino operators in the area, such as Beau Rivage and Hard Rock Casino. Diamondhead will benefit from the large amount of funds flowing into the area where it conducts its casino business.
"Construction projects, materials and land merger are typically a discount in a indolent economy," pronounced state Gaming Commission Chairman John Hairston, who is arch executive officer of Hancock Bank. "Optimistic investors will muster collateral forward of a certain swell in a economy to get a improved cost to build a project. The best time to build or buy is when no one else is building and buying." (Source)
State Gaming Commission Chairman, John Hairston, had some interesting words regarding money flowing into the area. He stated that now is an opportune economic time to build an investment project. One such project could be the large casino resort that Diamondhead is planning (which will be explained in more detail later on).
The area is undergoing substantial growth - a market factor that is beneficial to Diamondhead. In December, 2013 the Gaming Commission authorized dual casinos for construction - Scarlet Pearl and Hemingway Resort in Gulfport. Jeff Middleswart, a portfolio manager for Vice Fund stated that the area needs more hotel rooms and goes on to state that the area needs more activities.
"Now we need to have a skill that has shows," pronounced Jeff Middleswart, portfolio manager for Vice Fund. "You need to have a lot of hotel rooms."
The growth Mr. Middleswart is talking about can be provided by additional casino resorts. These supplementary casino resorts in the Mississippi gaming area have the potential to boost tourism and income in the area. In turn, Diamondhead's land holdings could grow to become more valuable on the back of a bustling gaming industry.
Ted Arneault Is An Excellent Addition To The Company
Quelling The Rumors Surrounding Mr. Arneault:
Just a few days ago, Diamondhead Casino Corporation announced the appointment of Ted Arneault as Chairman of the Board of the Company and President & CEO of Casino World, Inc. Note that Casino World Inc. is a wholly-owned subsidiary of Diamondhead and is the proposed developer of the Diamondhead casino site. Mr. Arneault is a powerful leader and has been conducting business in the industry for quite some time. He was formerly the Chairman, President and CEO of MTR Gaming Group (MNTG) for over 13 years after being pressured out of his job. MTR originally sued Mr. Arneault over a non-compete agreement but the court found in favor of Mr. Arneault and upheld the ruling. Mr. Arneault was awarded $123,500 after the judge ruled that MTR violated a settlement with Mr. Arneault.
Rumor has it that Mr. Arneault's integrity has been questioned as to the integrity of Mr. Arneault's character after the gaming commission opposed his application to renew his license in Pennsylvania 2010. This was due to inaccuracies during an interrogation. The commission ended up withdrawing its denial recommendation in January, 2010 after finding Mr. Arneault to be of suitable and good character to receive a gaming license. The 2010 settlement with Mr. Arneault stemmed from a lawsuit in which Mr. Arneault claimed that MTR failed to pay $150,000 in insurance premiums until he reached age 65. The company ended up paying him $1.6M to settle the dispute. Mr. Arneault was in court with his prior company due to the company's fault. The Gaming Commission withdrew its denial recommendation as to his gaming license renewal. Now that these rumors regarding Mr. Arneault have been explored, and resolved, I can now explore what a powerful leader he potentially can before the company.
Ted Arneault's Successful Past Provides Expertise For Diamondhead:

Ted Arneault worked for MTR for 13 years from 1995-2008. During 1995, MTR traded for around $1.50 per share. Upon his departure in 2008 shares traded as high as $7.03. Ted Arneault solely created material value for shareholders through several key areas.
Ted Arneault led a growth train during his reign at MTR generating large profits during his leadership. The below snippet is from a 2002 article outlining some of the key metrics Mr. Arneault was able to accomplish while at MTR. Interestingly, he was able to do this in an area (West Virginia) that was quoted as being symptomatic of a depressed economy. Today, money is flowing into the area. This influx of money to the Mississippi area was explained earlier and specifically outlines a factor that can help Mr. Arneault in his quest to manage Diamondhead's casino. If Mr. Arneault was able to grow a casino in the depressed area as he did then the money flowing into the Mississippi area creates a favorable environment to aid him in his success once again.
"Mr. Arneault's company was rated one of the nation's fastest growing by Forbes and Fortune, generating $218 million in revenues last year and $19 million in profits in an area rife with the symptoms of depression." (Source)
Profits were not the only feat this leader was able to accomplish in his past appointment at MTR. Several roadblocks had to be removed before success was reached. Mr. Arneault was able to remove legislative roadblocks to allow a slot machine casino to be added to the racetrack in his previous appointment at MTR.
"Mr. Arneault managed to get the legislature to allow a big slot-machine casino to be added to the racetrack, with a convention center, a spa and more than 300 hotel rooms. The gambling mecca has become a regional monopoly, 35 miles from Pittsburgh and 60 miles from Akron. It contributed more than $50 million to West Virginia last year, while local governments gained $3.5 million." (Source)
Regardless of the past legal issue and taking into account his very successful past at MTR, Ted Arneault is just the person to lead Casino World's construction of Diamondhead's casino resort. His vast experience in the creation of a profitable gaming company in West Virginia, coupled with his ability to overcome obstacles in the legislative realm, demonstrates that he's ready to do it again. This time it will be with Diamondhead's Casino World.
In closing, Ted Arneault has stated his views of the company's position to shareholders in a glowing fashion.
"I believe the Diamondhead site remains one of the last, great gaming opportunities in the country. The site is recognized in the casino industry as one that is expected to grow the entire Gulf Coast market because of its sheer size and the numerous amenities it could support. I am looking forward to working with the State of Mississippi and the City of Diamondhead to create a destination resort that will bring economic benefits to the entire State as well as the City. This is a unique opportunity to be associated with a project that has the potential to become a major tourist attraction on the Gulf Coast and one of the premier resort locations in the casino industry." (Source)
Past History Of The Property Demonstrates It's Potential
Taking a look at the past plans for a casino resort that was planned on Diamondhead's property could offer insight into what Mr. Arneault could create for the company. In September of 2007, Diamondhead entered into an agreement with EDSA to design and prepare a master plan for the company's property. EDSA specializes in hotel and resort planning throughout the world. Including projects such as the Atlantis in the Paradise Islands and Ritz Carlton around the world shows this master plan was established in hopes of bringing an interested party to the table. This could shed some light on what Ted Arneault may be able to create.
This master plan includes very interesting facts about the property that can educate investors on the potential value a casino resort could offer. First and foremost is the excellent location of the property right off the major Interstate 10. Over 18 million people travel the site yearly. It is also within close proximity to five airports.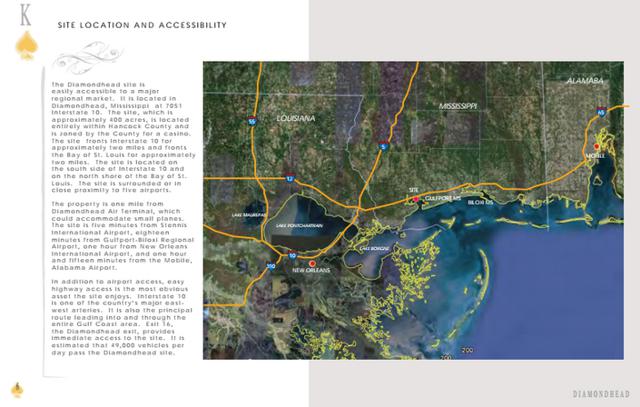 The State of Mississippi has had legalized gambling since 1992. The Gulf coast is a perfect location for additional casino resorts.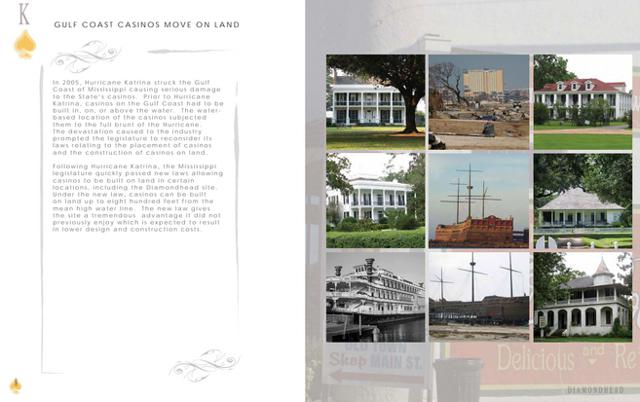 Following Hurricane Katrina in 2005, the coast of Mississippi was destroyed. Mississippi legislature passed a new set of laws that allow casinos to be built on land in certain locations such as the Diamondhead site. The law allows casinos to be built up to 800 feet from the mean high water line. This provides the company's site with a huge advantage it did not previously have that can lower costs for builders.
Originally in 2006, Trump signed a letter of intent to form a joint venture with Diamondhead to build a 40-acre resort on the company's land. The deal fell through in 2007. I surmise that it was due to the impending economic crisis that hindered the viability of the deal. Trump's interest in acquiring a small portion of the property speaks volumes regarding another catalyst; The land can also be subdivided, with more than one resort being built on the space.
Diamondhead Could Benefit From Increased Capacity:
Professor J. Anthony Cookson, assistant Professor of Finance and the University of Colorado's Leeds School of Business published a compelling research study in late December, 2013 titled "Anticipated Entry and Entry Deterrence: Evidence from the American Casino Industry".
In his report he used novel data to find that incumbent firms respond to threat of entry by expanding capacity. He goes on to state the following in his report:
"Additionally, I find that incumbents that increase capacity during a rival's planning stage retain a larger share of loyal customers." (Source)
Diamondhead is a company that can directly cause incumbent firms to respond to the threat of its property being the starting ground for competing casinos. They can increase capacity, which would make Diamondhead's land more valuable, or offer to purchase the land to increase capacity organically. As to the second quote, Diamondhead has just passed the planning stage so rivals may increase capacity. This increasing capacity can make the area and Diamondhead's land more valuable and the value proposition of a casino on the land even more attractive. Professor Cookson's report outlines a very important point that puts the gaming industry into perspective. Diamondhead's property introduces the threat of entry for a casino into the region on its property which is zoned for one and is also strategically located. As such, rivals may increase capacity or attempt to purchase the land as the threat of potential entry ensues.
Risks:
Diamondhead recently closed on the first $1M of a $3M convertible debt offering, which has the potential to be dilutive to shareholders. These proceeds will be used to help fund operations as the company seeks a partner to build a casino resort. These debentures will be secured by a lien on the Mississippi property after 180 days. Also, these debentures are divided into three tranches, which will be held in escrow until certain points are met.
Diamondhead is also a small and illiquid company. Investors should understand the risks prior to initiating its investment. Much of Diamondhead's potential success is contingent upon either selling its land to a potential buyer or finding a partner to build or fund the planned resort. If these fall through or fail to come into fruition investors could be negatively affected. Investors need to understand this is a microcap company whose success is based upon the events of a land sale or casino construction project on its land. DHCC has had a rough past, having to terminate the quarterly and annual filings back in 2011. If events unfold positively then Diamondhead has the potential to strengthen its balance sheet and offer current reports with Ted Arneault at the wheel.
Conclusion:
Diamondhead's property would serve to be the perfect company for Ted Arneault to grow up with. Mr. Arneault would be a major player in the casino industry in Mississippi. The company's land holdings are valuable and are strategically placed in a prime location. Having noted the risks, Diamondhead has a shot at being highly successful in the coming years. Considering the amount of funds that will be flowing into the area and having an experienced, successful leader at the helm, Diamondhead has the potential to reward shareholders handsomely moving forward.
Disclosure: I have no positions in any stocks mentioned, and no plans to initiate any positions within the next 72 hours. I wrote this article myself, and it expresses my own opinions. I am not receiving compensation for it (other than from Seeking Alpha). I have no business relationship with any company whose stock is mentioned in this article.
Additional disclosure: This article is informational and is in my own personal opinion only. Always do your own research and contact a financial professional before executing any trades. Always be aware of the risks and those risks associated with OTC stocks.
Editor's Note: This article covers a stock trading at less than $1 per share and/or with less than a $100 million market cap. Please be aware of the risks associated with these stocks.
Editor's Note: This article covers one or more stocks trading at less than $1 per share and/or with less than a $100 million market cap. Please be aware of the risks associated with these stocks.