As director of sales operations for Seeking Alpha, I thought I'd share my view of Rubicon's (NYSE:RUBI) position in the digital advertising industry after its recent IPO on April 2, 2014.
Digital Advertising
Online advertising was a $110 billion industry in 2013, with a steady average annual growth of 20% since 2002. This represents about 22% of the entire advertising industry, which was about $503 billion in 2013.
According to most sources, online advertising will continue to grow rapidly and increase its market share, while print will continue to decline.
Click to enlarge images.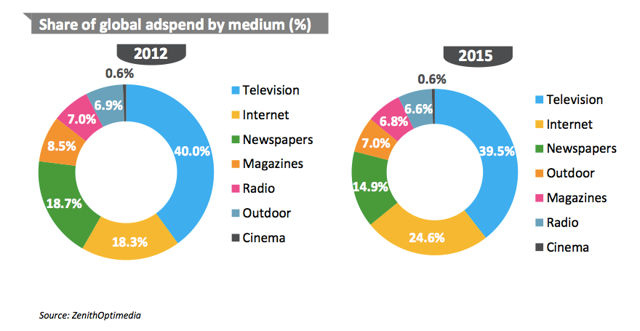 Digital advertising can then be further divided into two major categories: search and display. Search, a nearly $54 billion industry, is dominated by Google (GOOG, GOOGL) and its industry-leading product, Google AdWords, while display, a $48 billion industry, is far more competitive.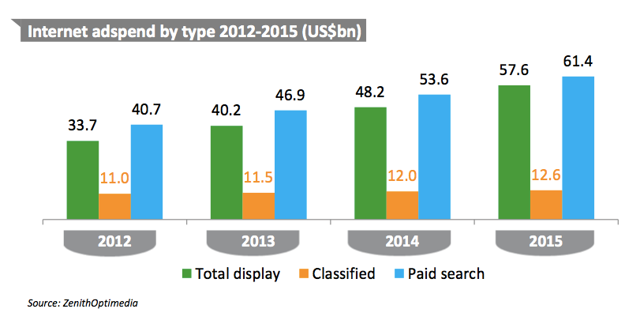 Programmatic Advertising
So where does Rubicon fit in? Rubicon's mission is to automate the buying and selling of advertising. More specifically, it is automating the buying and selling of display advertising. Programmatic is just another word for automated. Rubicon is a middleman that brings buyer demand from advertisers to seller supply from publishers. Rubicon, in turn, earns a revenue share on the publisher side.
Advertisers see programmatic as a solution to both operational and market inefficiencies in buying ad inventory. Programmatic dramatically simplifies the buying and selling process, while also making inventory more readily available on an exchange which allows for pricing efficiencies. Simply put, programmatic makes it easier for marketers to put their ads in front of the exact people they want, while reducing waste.
About $12 billion was spent on programmatic advertising in 2013, which is about 30% of the display advertising market. By 2017, experts project programmatic advertising to grow to $32.6 billion (172%).
Rubicon's Market Position
Despite such massive growth projections, there are relatively few programmatic exchanges in the industry. Google (not surprisingly) owns the largest, while Rubicon is close behind as the second-largest programmatic exchange. Other exchanges lag far behind the two leaders in this space, and I expect the gap to grow, since volume is what makes any exchange more efficient. Small exchanges simply don't have enough supply and demand to stay competitive.
While Google owns the largest exchange, it has done so by working with the early adopters of programmatic, which are primarily comprised of low-quality publishers. Many premium publishers, including Seeking Alpha, have moved away from Google and brought their inventory to Rubicon. Google is a strong solution for publishers looking to earn top dollar for their ad inventory, but the cost is low-quality ads that are detrimental to the user experience. Google is entirely automated in its quality control of ad creatives, while Rubicon is winning publisher business by investing in human quality control and high-level publisher service.
In my view, this is a winning strategy, as 43% of online advertising is spent on the top 20 sites. While premium publishers have been slower to move to programmatic selling, it is only a matter of time until they do, since this is what the buyers demand. Given previously quoted projections that programmatic advertising will grow 172% by 2017, inevitably most of that growth will have to come from the premium publishers. By winning the land grab for premium publishers early, Rubicon will reap the future benefits.
Programmatic Pure Play
Another reason to invest in RUBI is that it's the only programmatic pure play. With the Rubicon IPO, there are only two publicly traded ad exchanges, and investing in Google means only a small investment in programmatic relative to its many different lines of business. So, if you are a believer in this specific industry, the only way to add it to your portfolio is through RUBI. Ultimately, this strategy has its risks, as it's still subject to the operational execution of Rubicon management.
Seeking Alpha and Programmatic Advertising
My opinion is that in five to 10 years, digital advertising will be almost entirely made of two buckets: 67%-75% programmatic (includes direct automated deals with a sales relationship and indirect automated auction-style buying), and 25%-33% native and/or highly strategic advertising that is so differentiated it cannot be purchased programmatically.
Seeking Alpha is well-poised for this transformation, as we have the following advantages:
We have an abundance of a scarce commodity: An extremely high-quality audience made of groups of people that are in high demand and limited supply (financial advisors, asset managers, C-level executives and affluent individuals). Because buying will become more and more automated, advertisers will plug a budget into their buying platform and set certain parameters. The buying platform then scours the available inventory for the most efficient way to spend the budget while meeting the parameters. Due to the scarcity of our audience, we have already seen endemic advertisers bidding in volume at higher prices than we charge directly.

We can target that audience through first-party data: While programmatic buyers use third-party data sources to cross-reference our audience with their parameters, advertisers want first-party data more, because it's more accurate, more specific and direct from the source. Seeking Alpha will never offer first-party data programmatically, and will require advertisers to come directly to utilize Seeking Alpha Registered User Data. This will guarantee us a foothold in strategic ad buying.

We have strong native advertising solutions, which are inherently differentiated: Seeking Alpha is working hard to design native ad products that are both additive to the user experience and unique for advertisers. These sorts of solutions could never be purchased programmatically, and require a consultative and customized sale.
All of this means Seeking Alpha will be far more immune to commoditization. We have a very good reason for advertisers to buy us directly, and even those who don't will find that they must bid high to access our audience. And that's great news for Seeking Alpha users, as this is what funds the continual improvement in our platform and content.
Conclusion
Rubicon is the only pure play in a rapidly-growing industry, and has positioned itself well as the high-end solution for premium publishers. As top publishers inevitably embrace programmatic demand, Rubicon and its shareholders are in prime position to benefit.
Disclosure: I am long RUBI.
Business relationship disclosure: Rubicon is a vendor of my employer, Seeking Alpha. To be clear, Seeking Alpha pays Rubicon a revenue share for advertising run through Rubicon's programmatic exchange. As director of sales operations, my role involves a business relationship with Rubicon and other vendors in the digital advertising industry.
Additional disclosure: I am employed at Seeking Alpha as director of sales operations. Any opinions expressed in this article are my own and do not reflect the views of Seeking Alpha.