By Craig Bowles
Overview
Intel, Corp. (NASDAQ:INTC) is slated to report 1Q 2014 earnings after the bell on Tuesday, April 15th. The earnings release is expected at approximately 4:00 p.m. EST with a webcast conference call to follow at 5:00 p.m. accessible through Intel Investor Relations. A member of the Dow Jones Industrial Average, S&P 500, and NASDAQ 100, Intel has significant market influence and the potential to impact the broader market gauges. Other tech names are often impacted by the results, along with related ETFs such as the PowerShares (NASDAQ:QQQ) & Market Vectors Semiconductor ETF (NYSEARCA:SMH).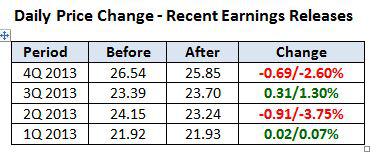 Outliers & Strategy
Key measures:
Earnings Per Share: The current Street estimate is $0.37 (range $0.34 to $0.43) (Source: Yahoo! Finance). Intel typically provides a "clean" number that is comparable to consensus but will otherwise publish a non-GAAP if need be.
Revenues: Company guidance is at 12.3 bln to 13.3 bln range. Analysts expect an increase of 1.9% y/y to $12.81 bln (range $12.7 bln to $13.0 bln).
Gross Margins: Company guidance is for 57% to 61%, so 59% is the midpoint.
Revenue Guidance (2Q 2014): Analyst estimates are for $12.95 bln (range $12.55 bln to $13.54 bln).
Gross Margins Guidance (2Q 2014): Company guidance for the current quarter was 59% plus or minus a few percent, so this was a decline to 57% to 61% from 59% to 63% and of higher interest for investors.
Intel shares are yielding 3.4% and above the industry average of 2.0% which helps against downside risk. Intel's yield is comparable to its 5-year average of 3.3%.
Intel announced stock buybacks of $10 bln in 2011 and $6 bln in 2012. 2014 began with $3.2 bln still available for buybacks, so another buyback announcement could come later this year. In the last six months, insiders have sold 1,390,630 shares.
Intel has 1-day average price change on earnings of 3.65%. Options are pricing in an implied move of 3.96% off earnings.
Recent News
04/08: Intel is cutting 1,500 jobs at an assembly and test facility in Costa Rica that will be closed, according to a post on Bloomberg.com.
04/07: Intel adjusts financial reporting to reflect mobile gadgets, according to a post on Reuters.com.
04/07: Pacific Crest upgraded Intel to Outperform from Sector Perform on signs of strong corporate PC demand and potential gains in the server market, according to a post on Marketwatch.com.
04/05: Samsung excluded Intel from their mainstream Galaxy Tab lineup probably due to price, according to a post on TheMotleyFool.com.
Technical Review
Intel is again trading at levels similar to early 2012's high with technicians suggesting a test of $29 if this third move up since early 2013 is similar to the five point move a year ago. If $27 remains a resistance area, the stock has some consolidated support down to $24.50 and didn't show real weakness until late summer two years ago. (Chart courtesy of StockCharts.com)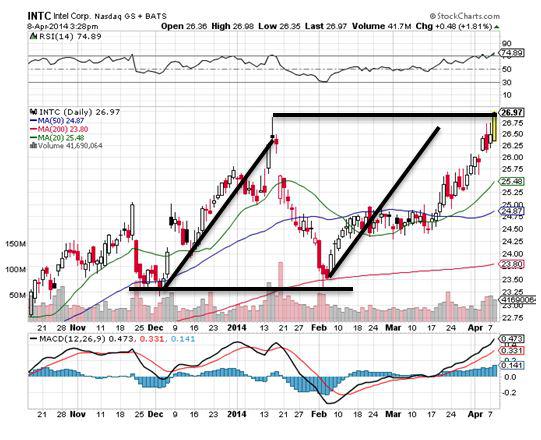 Summary
Intel has missed earnings consensus by 1c three out of the last four quarters and the one quarter beat by 5c only having limited upside movement for the stock. The high end of expectations at $0.43 would be a similar beat. The stock has been relatively strong since mid-March, so a bounce back in gross margin guidance after last quarter's reduction appears to be expected. The month and a half before last quarter's disappointment saw similar stock price strength before a retracement back to the 200-day moving average which is currently at $23.80.
DISCLAIMER: By using this report, you acknowledge that Selerity, Inc. is in no way liable for losses or gains arising out of commentary, analysis, and or data in this report. Your investment decisions and recommendations are made entirely at your discretion. Selerity does not own securities in companies that they write about, is not an investment adviser, and the content contained herein is not an endorsement to buy or sell any securities. No content published as part of this report constitutes a recommendation that any particular investment, security, portfolio of securities, transaction or investment strategy is suitable for any specific person.
Disclosure: I have no positions in any stocks mentioned, and no plans to initiate any positions within the next 72 hours. I wrote this article myself, and it expresses my own opinions. I am not receiving compensation for it (other than from Seeking Alpha). I have no business relationship with any company whose stock is mentioned in this article.