As an income-driven investor who is highly attracted to a number of stocks that offer double-digit yields, I've decided to shift my focus to the mortgage REIT sector, and highlight a number of reasons behind my decision to remain long on shares of Annaly Capital Management (NYSE:NLY).
Company Overview
With its operations based in New York, Annaly Capital Management, Inc. owns a portfolio of real estate related investments in the United States. The company invests in various types of agency mortgage-backed securities and related derivatives to hedge these investments; acquires, finances, and manages commercial mortgage loans and other commercial real estate debt, commercial mortgage-backed securities, and other commercial real estate-related assets; and operates as a broker-dealer. It also provides corporate middle market lending transaction services; and acquires residential mortgage loans and provides warehouse financing to residential mortgage originators.
Recent Performance And Trend Behavior
On Thursday, shares of NLY, which currently possess a market cap of $10.78 billion, a forward P/E ratio of 9.55, and a dividend yield of 10.54% ($1.20), settled at a price of $11.38/share.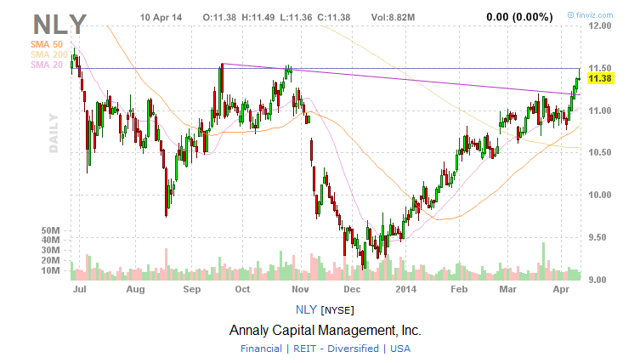 Based on their closing price of $10.54/shares, shares of NLY are trading 3.26% above their 20-day simple moving average, 5.38% above their 50-day simple moving average, and 7.67% above their 200-day simple moving average. It should be noted that these numbers indicate a short-term and mid-to-long term uptrend for the stock, which generally translates into a buying mode for most near-term traders and many long-term investors.
Annaly's Recent Dividend Behavior Has Been Anything But Fantastic, But That Could Change
Since the company's June 28, 2011, payout of $0.65/share both shareholders and potential investors have seen the company announce eight dividend reductions over the past 33 months. In most cases, this would be a clear a sign of jumping ship and looking for a much safer investment, but in all honestly I think the storm has passed and things may actually be looking a bit brighter for both Annaly and its dividend behavior over at least the next 6-12 months.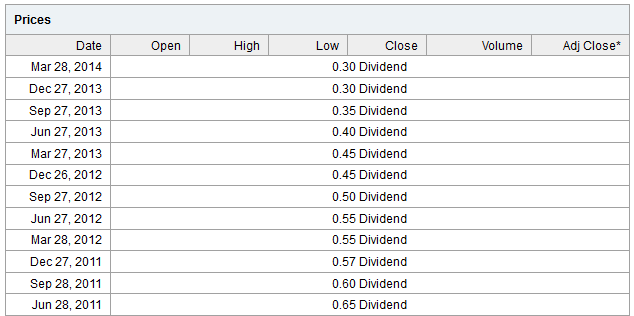 Why do I think Annaly's dividend has bottomed and an increase could potentially occur in the next 6-12 months? On one hand, if the company can continue to maintain or even slightly reduce its current leverage levels (which currently stand at around 5x) and become less exposed to rates there's a very good chance the company's current quarterly payout of $0.30 can be maintained. On the other hand, if the yield curve increases over the next 6-12 months the company would have the ability to buy higher yielding bonds and could see its leverage rise to somewhere between 5.8x and 6.2x which could very well support a quarterly payout of $0.37 to $0.44 share.
A Look Ahead To Annaly's Upcoming Earnings
When it comes to the company's upcoming earnings, there are a number of things potential investors should consider. For example, analysts are currently calling for NLY to earn $0.28/share in terms of FFO (which is $0.07/share lower than the company had reported during Q4 2013 and $0.19/share lower than the company had reported during Q1 2013). In order to meet and or exceed its quarterly FFO estimates, I'd like to see a continued reduction in prepayments (within the range of 5% on the low side and 15% or more on the high side), a fair increase in book value ($0.08/share on the low side and $0.16/share or more on the high side), and lastly an increase in its core earnings (I'm looking for +3% on a quarter-over-quarter basis the low side and +4.5% or more on a quarter-by-quarter basis on the high side). If the above mentioned criteria is met and or exceeded, there's a very good chance that current FFO estimates could come in-line or may even be surpassed.
Conclusion
For those of you who may be considering a position in Annaly Capital, I strongly recommend keeping a close eye on the company's recent trend performance, its ability to continue maintaining its dividend while taking advantage of a steepening yield curve, and its ability to continue to enhance shareholder value over the next 12-24 months, as each of these factors could play a role in the company's long-term growth.
Disclosure: I am long NLY. I wrote this article myself, and it expresses my own opinions. I am not receiving compensation for it (other than from Seeking Alpha). I have no business relationship with any company whose stock is mentioned in this article.