The Federal Reserve began tapering in January and at its most recent meeting signaled that it will only purchasing $55bln of eligible securities per month. These securities consist of $30bln of U.S. Treasuries and $25bln of RMBS. The Fed has justified this reduction in purchases on the grounds that the U.S. economy is steadily recovering, unemployment declining, and inflationary pressure is not evident -- the PCE Index is at 1.25% vs. a target of 2%. The minutes of the most recent FOMC meeting revealed that the unemployment target of 6.5% is no longer to be regarded as a catalyst for potential rate increases. Here are a couple of extracts from the March 2014 minutes:
With respect to forward guidance about the federal funds rate, all members judged that, as the unemployment rate was likely to fall below 6.5% before long, it was appropriate to replace the existing quantitative thresholds at this meeting,..

...Almost all members judged that the new language should be qualitative in nature and should indicate that, in determining how long to maintain the current 0 to 0.25% target range for the federal funds rate, the Committee would assess progress, both realized and expected, toward its objectives of maximum employment and 2% inflation.
Will the Tapering Continue?
I believe the Fed has no option except to taper. Its balance sheet has expanded dramatically over the last few years due to quantitative easing policy. However, as the chart below from Greg Weldon at Weldon Online shows, there is an uncanny correlation between QE and stock prices: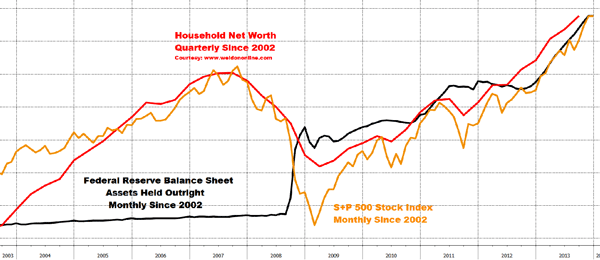 Source: Weldononline.com.
The flow into stocks is partly justified by the improved earnings of corporations. However, this is the result of low capital expenditure due to uncertainty about economic prospects since the 2008 crisis. Low or negative real interest rates act as a deterrent to investment, encouraging dividend payments and share buybacks.
The chart below shows capital expenditure and capacity utilization in the U.S. A disproportionate percentage of the capex since 2009 has been in the energy sector, but as capacity utilization increases, the need for capex will grow.
Click to enlarge images.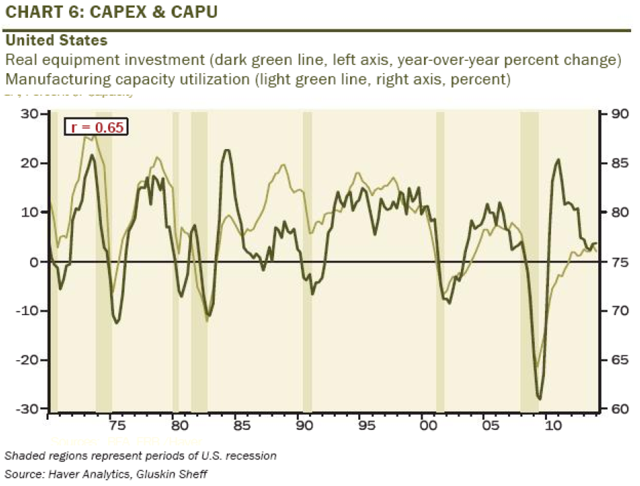 Source: Haver Analytics and Gluskin Sheff.
The effect of low interest rates and QE has been felt beyond the US. The World Bank -- Global Economic Prospects, January 2014 estimated that U.S. interest rates, QE and other external factors accounted for 60% of the increase in capital flows to emerging countries between 2009 and 2013.
Concerns about Fed tapering began before the December 2013 announcement, leading to a rise in Treasury Bond yields and a decline in several emerging market currencies. The U.S. stock market has since made new highs, bond yields have stabilized and RMBS spreads continue to narrow. The decline in mortgage related issuance has been a significant factor over the past year, as this chart from Soberlook.com points out, more than offsetting the Fed tapering from $40bln to $25bln per month: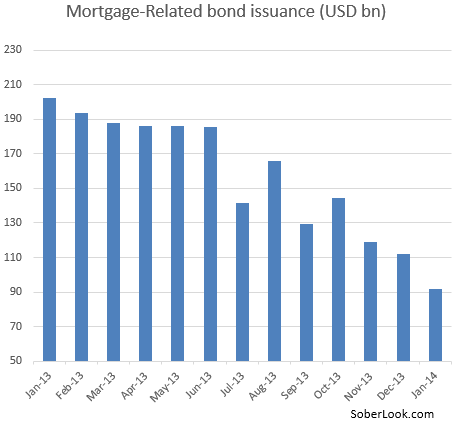 Source: Soberlook.com.
The Fed will continue tapering. It has a window of opportunity to reduce its purchases of T-Bonds and RMBS while U.S. stocks are strong and inflation low. International markets, especially emerging markets, remain vulnerable, but the reversal of capital flows (back to the U.S.) will help to offset the effects of tapering in the near term. The additional influx of private (rather than public) capital might act as a stronger catalyst for firms to increase capex to avoid capacity constraints. However, it is worth noting that capex as a proportion of sales is actually at elevated levels already -- capex usually follows sales and profit growth, and these are in decline for many corporations.
What Are the "Policy Offsets" to Tapering?
The first policy offset comes from within the Fed. While it has been tapering its purchases of T-Bonds, it has been extending the duration of its portfolio. This has the effect of supporting the longer end of the yield curve. It also insures that the 30-year mortgage market is supported. Here is a chart of the maturity distribution of the Fed bond portfolio, you will note that one- to five-year maturities have seen the sharpest increase while five- to 10-year maturities remain stable, but the portfolio of 10-year plus maturities continues to grow: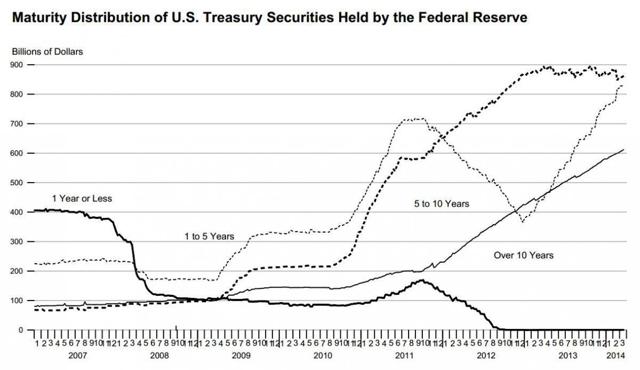 Source: St. Louis Federal Reserve.
Another policy change comes in the form of the Johnson-Crapo Housing Finance Reform Bill, due to be heard on April 29. This will seek to wind down Fannie Mae and Freddie Mac, creating a new agency, The Federal Mortgage Investment Corp., with similar guarantees to Ginnie Mae. The Heritage Foundation clearly has misgivings, as this article suggests:
Johnson-Crapo creates a new government entity with an ill-defined affordable housing mandate and the explicit authority to protect MBS investors in the event of a financial crisis. If the Senate's approach is adopted, banks will be the only segment of the market left without an explicit guarantee against mortgage losses.

The Senate bills would not help people buy homes; they would only protect investors and special interests at taxpayers' expense.
What is clear from this proposal, and other many aspects of regulation since 2008, is that public debt is being made increasingly more attractive to investors at the expense of the private sector.
Longer-Term Impact on Bonds and Stocks
Looking beyond 2014, I can see clouds on the horizon -- these may arrive in 2015 or 2016. The U.S. equity markets have performed exceptionally since March 2009, but it is worth noting that the average stock market bull cycle since 1932 lasted 61 months. After longer, deeper recessions, the recovery phase can be extended as in 1987-2000, 1929-39, and 1949-56. Nonetheless, given the strong correlation between QE and the performance of the S&P 500, it is not unreasonable to suggest that most of the positive news about stocks is already reflected in the price. Increased capex, if it materializes, may lead to higher P/Es but not necessarily higher stock prices, and it may even herald a decline.
The benign disinflationary effects of emerging market currency devaluations will run their course. Barring a renewed collapse in global demand, commodity prices will stabilise. Inflationary forces will return and the Fed will finally begin to normalise interest rates.
The new cost-push inflationary environment will be exacerbated by the reduced level of capex over the past half decade; meanwhile, capacity utilization rates may quite possibly rise in this scenario. The U.S. energy sector should escape much of this difficulty as will those industries that are benefiting from the U.S. energy renaissance. The Economist describes the potential, both near and longer term, in this article from November 2013:
As for the effects of fracking on the broader American economy, most of the forecasts that are bullish on this question assume that gas prices will remain at historic lows. 'I can't see any scenario, other than a widespread ban on drilling, that would push prices higher than $6,' says Scott Nyquist, one of the authors of a report by the McKinsey Global Institute which argues that unconventional oil and gas are set to provide a strong lift to American business.

The report reckons that between now and 2020, shale gas and oil will add $380 billion-690 billion, or two to four percentage points, to America's annual GDP, creating 1.7m permanent jobs in the process. 'America's New Energy Future,' a recent report by IHS, another research outfit, talks of a manufacturing Renaissance and predicts a $533 billion boost to GDP by 2025, creating around 3.9m jobs.

At first, say both McKinsey and IHS, a lot of the action will be in the energy business itself: not just in drilling and pipelines but in roads and ports, and all the other activities needed to produce and distribute the fuels. Electricity production is being transformed too, with gas-fired power stations being built to replace dirtier coal-fired ones. This has contributed to a 10% fall in the greenhouse-gas emissions from American power generation between 2010 and 2012. IHS reckons gas-fired stations will be providing 33% of America's electricity in 2020, compared with just 21% in 2008.

In the next few years the benefits of fracking will become more visible in other industries, especially those, such as chemicals firms, that consume a lot of energy or use raw materials derived from hydrocarbons. European industry pays around three times as much for its gas as its American counterpart, and Japanese firms pay more than four times as much. A report this week by the International Energy Agency, a think-tank backed by energy-consuming rich countries, predicts that by 2015 America's energy-intensive firms will have a cost advantage of 5-25% over rivals in other developed countries.
The benefits of cheap and reliable energy for the U.S. economy will really become evident during the second half of this decade and beyond. But I do not believe they will be sufficient, in themselves, to alleviate the headwinds of interest rate normalisation and temporary stagflation in the interim.
As stock prices begin to come under pressure the level of corporate debt, so easily serviced when Fed Funds were at the zero-bound, will become uncomfortably evident. Credit spreads will widen just as the economy slows. Government bonds will break lower increasing the damage to the corporate and, finally, household sector.
But here's the rub: As the U.S. stock and bond markets head into their next crisis, we will witness the appearance of the "Yellen Put." The faster they taper now, the sooner they can return to rescue the markets from the next crisis.
Disclosure: I have no positions in any stocks mentioned, and no plans to initiate any positions within the next 72 hours. I wrote this article myself, and it expresses my own opinions. I am not receiving compensation for it. I have no business relationship with any company whose stock is mentioned in this article.