By Brad Zigler
You gotta give it to 'em: Commodity stocks had a great run. Note that I said had. Last week, the tide officially turned against equities, when a key support level in the relative strength charts of two producer-tracking ETFs was broken.
The Market Vectors Agribusiness ETF (NYSEARCA:MOO) and the Market Vectors RVE Hard Assets Producers ETF (NYSEARCA:HAP) are portfolios representing companies in the business of producing the commodities that make up the PowerShares DB Agriculture Fund (NYSEARCA:DBA) and the GreenHaven Continuous Commodity Index Fund (NYSEARCA:GCC), respectively.
We've been tracking the relative strength of the two stock ETFs to the futures-based ones since the HAP product launched in late 2008. Since then, it's generally been better for investors seeking commodity exposure — especially to the agriculture sector — to get it through the equities market rather than futures.
This spring, however, the relative strength of commodity stocks peaked, and last week's hammering of the equities markets drove the last nail into the producer ETFs' coffins.
Specifically, the head-and-shoulders top formations in the relative strength charts were completed with breakdowns below their so-called necklines (see chart below).
Commodity Stocks vs. Commodity Futures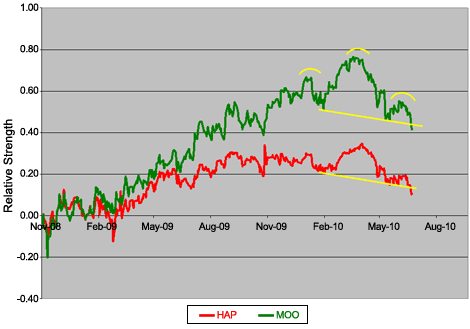 So, what does this mean? Are the ETFs short-sale targets now?
Well, perhaps, but that's not the point to be made here. Rather, the breakdown is a message to commodity seekers that going forward, there will likely be more bang for their bucks in futures-based portfolios.
Let's look more closely at the five biggest components of the two agriculture funds, MOO and DBA, to get a sense of their, um, futures by looking at their pasts.
Market Vectors Agribusiness ETF (MOO)
The agribusiness portfolio tracks 45 global companies engaged in the production or processing of agriculture chemicals, equipment, livestock and biofuels. Nearly half of the fund's capitalization comes from companies headquartered in the United States. Last year, the MOO portfolio appreciated 57.2 percent, but so far in 2010, it's under water by 17.1 percent.
Wilmar International (OTCPK:WLMIY); weight in MOO: 8.4 percent
Singapore-based Wilmar engages in oil palm cultivation, oilseed crushing, edible oil refining, manufacturing of specialty fats, oleochemicals and biodiesel fuels as well as grain processing and merchandising.
Since the top of the year, Wilmar shares have lost 10.6 percent in Singapore dollars, mitigated only slightly by the 0.6 percent appreciation of the Singaporean currency against the greenback.
The latest price insult stemmed from the announcement the Indonesian government was probing the company about possible tax fraud.
Deere & Co. (NYSE:DE); weight in MOO: 8.0 percent
The share price of the agricultural equipment manufacturer has stalled after a strong run-up in 2009. For the year, Deere's stock has risen 0.8 percent, while the company has hiked its dividend and invested extensively in new plant and equipment.
Monsanto Co. (NYSE:MON); weight in MOO: 7.7 percent
Shares of the St. Louis-based chemical and seed producer have nearly halved this year. Monsanto stock was off 43.7 percent going into the Independence Day weekend, as the company reported steep declines in revenues from its herbicide division. Sales of seeds and genomic products, however, continue to increase.
Syngenta AG (NYSE:SYT); weight in MOO: 7.7 percent
Syngenta is in the same business lines as Monsanto. In fact, the rivals are linked in a deal which, if approved by the European Commission, would result in the Swiss company buying Monsanto's hybrid sunflower seed business.
Syngenta's share price has been dragged down 18.7 percent (in Swiss francs) this year, though the European company has minimal exposure to glycophosate, a broad-spectrum herbicide that has been the principal driver of Monsanto's revenue decline. The 2.8 percent decline in the franc-dollar cross rate exacerbated the loss in the MOO portfolio.
Potash Corp. of Saskatchewan (POT); weight in MOO: 7.1 percent
Fertilizer-maker Potash Corp.'s stock has taken a 20.5 percent drubbing this year, largely due to a pullback in global capacity utilization and an overhanging supply of potash. In particular, demand from China has slackened along with disruptions in the Russian and Israeli fertilizer markets.
PowerShares DB Agriculture Fund (DBA)
The PowerShares DB Agriculture Fund tracks the agriculture subset of the Deutsche Bank Liquid Commodity Index and holds futures contracts on some of the most liquid and widely traded agricultural commodities. Last year, the DBA fund struggled with position limits and contango, but eked out a 0.9 percent gain. Year-to-date for 2010, DBA is down 8.8 percent.
Live Cattle (CME: LC); weight in DBA: 13.6 percent
A point-to-point glance at last year's spot cattle prices would seem to indicate a flat market, as live cattle opened and closed 2009 at 86.05 cents a pound. However, there was a lot of interim price volatility that's likely to be repeated this year. So far, live cattle prices are up 4.4 percent in 2010, as the market heads into the summer — a time when beef prices typically spike higher.
Coffee "C" (ICE: KC); weight in DBA: 13.4 percent
Recent reports of a steep decline in global supplies from the International Coffee Organization spooked short sellers in the London robusta market and set the dominos in motion for higher-quality Arabica prices to spike. So far in 2010, coffee prices are up 20.8 percent. In 2009, spot prices rose 21.3 percent for the year.
Soybeans (CBT: S); weight in DBA: 12.4 percent
The grain markets got a shot in the arm from a USDA stocks report indicating a 400-million bushel shortfall from previous corn expectations. But despite being often lumped in with corn and wheat, soybeans are oilseeds, not grains. While corn and wheat prices rocketed — and stayed — up, bean prices faltered. For the year, spot bean futures have fallen 15.1 percent, after rising 6.8 percent in 2009.
Cocoa (ICE: CC); weight in DBA: 11.1 percent
Soft commodities tend to be some of the futures market's most volatile elements. Relatively speaking, though, cocoa prices have been fairly stable, after a sell-off in February. For the year, spot cocoa is down 9.6 percent on the heels of its 23.5 percent gain in 2009.
Corn (CBT: C); weight in DBA: 11.0 percent
A recent spike in corn prices brought on by the first of what are thought to be many Chinese buying forays into the corn market signaled maize's readiness to rally after weeks of grinding decline. Then, a surprisingly bullish USDA stocks report sent corn prices soaring even higher. Still, corn's not above water for the year. To date, prices have fallen 11.9 percent. Last year, spot corn eked out a 1.8 percent gain.
Wrapping Up
To say that commodity stocks have weakened — and seem ready to continue weakening — against commodity futures is not the same thing as saying that futures are in a bull market. After all, the Thomson Reuters/Jefferies CRB Index has sagged 10.2 percent so far in 2010. If, however, some life is kicked into commodities, futures rather than stocks would likely be the immediate beneficiary.
Because of the equity market's current weakness, commodity producers and processors are lugging millstones 'round their necks. Their stocks are, after all, stocks. Yes, producers can provide levered gains when commodity prices rise above their costs of production, but leverage is a two-edged sword. Producers' bottom lines — and shareholders' wallets — suffer when commodity prices head in the other direction.
What's weighing on prices, compared with last year's action, are the increasing odds of deflation (see "The Latest Odds On Inflation Vs. Deflation"). A lot of the investment enthusiasm for commodities has been wrung out. That might not be such a bad thing — at least for those who feel speculators have distorted market prices.
Ultimately, though, fundamentals will out. Agricultural commodities, in particular, are likely to continue to be an exquisite bellwether of global demand.
Disclosure: No positions