In a market environment such as the one we're dealing with right now, finding investments that provide shelter from the storm is downright hard. Emerging markets certainly aren't the place to run to when the bears are in charge, and it appears they are, at least for now. That can be a bitter pill to swallow because most investors love emerging markets. The rapid expansion of the ETF industry has made dozens of emerging markets accessible to retail investors. Count me among the investors that loves being able to get exposure to markets from Colombia to Thailand in a single, low-cost ETF.
I don't want to be the bearer of bad news and I actually have some good news to deliver when it comes to emerging markets, but the problem with investing in emerging markets is that MOST of them seem to fall in unison when the market is retreating. The reason for this is simple: Professional money managers and traders don't bother to weigh each emerging market on its own merits. Rather the entire emerging markets universe is viewed as a single asset class.
What I mean is that if you could be a fly on the wall in a room full of professional traders and you hear that they're short China ETFs, chances are they're not stopping there. They're probably short an entire swath of emerging markets ETFs. Don't worry, there's a silver lining here. Remember, I just said that MOST emerging markets fall in unison, not ALL of them. And the good news is that the broader market's recent behavior is showing us what emerging markets ETFs have solid underlying strength.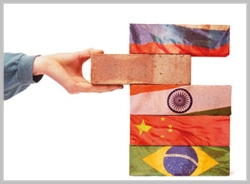 The thing with emerging markets is that most investors get lured in by some element of "sex appeal." I'll use the BRIC countries as an example. Brazil is intoxicating because it's Latin America's largest economy and rich in natural resources. Despite the fact that there only two Russia ETFs, investors like this market because of the opportunities that might avail themselves as the former communist country embraces more capitalist principles. China really needs no explanation as the growth story is well documented. We're talking about the third-largest economy in the world here!
One Emerging Market To Embrace In This Volatile Economy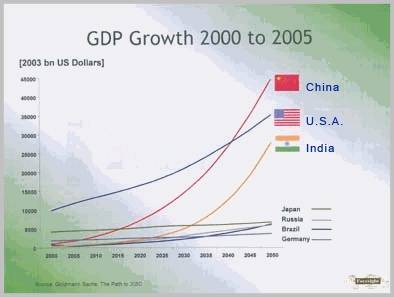 I skipped over India on purpose because that's the emerging market I want to talk about today. Recently, I was asked an interesting question by an investor that wanted to know about an emerging market that offers China-esque growth prospects without the volatility of China or Brazil. For my money, the answer is clear: India.
Investors can choose from three non-leveraged India-specific ETFs and one ETN. The iPath MSCI India Index ETN (NYSE: INP), the WisdomTree India Earnings ETF (NYSE: EPI), the PowerShares India ETF (NYSE: PIN) and iShares S&P India Nifty 50 ETF (Nasdaq: INDY) are the non-leveraged offerings. Direxion offers the Direxion Daily India 2X Bull Shares (NYSE: INDL) and the Direxion Daily India 2X Bear Shares (NYSE: INDZ).
The merits of each India ETF is a topic for another day and one I promise to address, but for today I want focus on why India just may be the preferred destination among emerging markets. No, India hasn't sported the GDP growth that China has, but from 2003-2008, India's average growth rate was 8.5%. That's still pretty darn good and a lot better than what we'd get from most developed markets. India is on track for GDP growth of 8%-8.5% this year and the country is aiming for 10% in the coming years.
The Wall Street Journal recently implied that 10% may be too lofty a goal for India, the second-fastest growing major economy in the world. To that I say so what? Even if 10% growth isn't in the cards, India will likely post annual growth of at least 8% for the next five years. Again, you're not going to get that kind of growth from the U.S., Japan or Europe.
The biggest point of attraction with investing in India is what you DON'T have to worry about. By that I mean a large part of the risk in investing in emerging markets is political. In the developing world, political regimes can shift at a moment's notice because most emerging markets aren't democracies. India is. In fact, India is the largest democracy in the world.
Trusting Russia is hard given the rampant corruption there. Who knows what China's growth would be if the state did not control so many major companies there? Brazil is better politically, but still not as trustworthy as India. Trust me, as someone who has actively traded all of the major BRIC ETFs with my money and other people's money, India is the one emerging market a conservative investor can feel comfortable with.
I've got the stats to prove it. Take a look at the chart below which compares EPI against the most heavily traded China and Brazil ETFs. The green line is Brazil, the blue line is China and the red line is EPI. Guess which ETF is the only one that is up this year? That's right, EPI.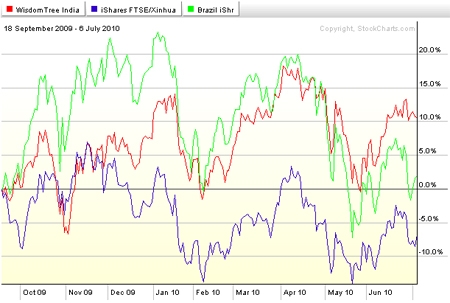 Past performance is no indication of future results, but there is no denying that India's future is bright. We recently added one of the India ETFs mentioned here to the ETF Profit Report portfolio and while China, Brazil and other emerging markets ETFs have been hammered, our position has been a winner for our subscribers. Yes, there's money to be made in India and you don't have to lose sleep at night to realize those profits.
Disclosure: No positions