"One major criticism that we always hear about value investing is "what's your risk management, how do you know when you're wrong"? Well, a great value investor gives himself a margin of safety, in other words you don't have to know how much a fat person weighs to realize they're overweight. Like John Keynes said "It is better to be roughly right than precisely wrong." If you come to a conclusion that a $100 stock is trading at $65, even if you're overestimating the stock's value by 25%, at $81.25 there is still plenty of room for the stock to appreciate to $100." -- The Irrelevant Investor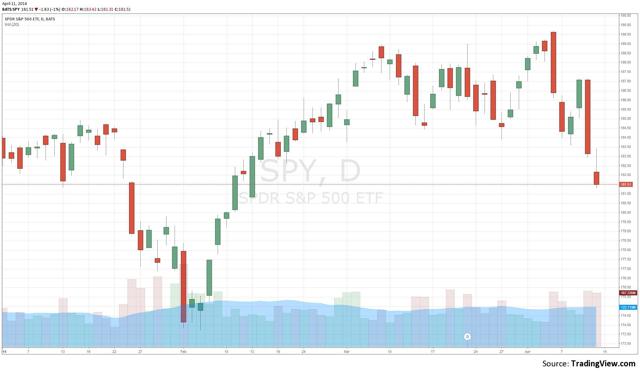 The markets faced some tough sledding this week, with the S&P 500 (NYSEARCA:SPY), shown above, falling once again below the levels at which it started 2014 (the chart is year-to-date performance). The markets were led lower by investors that walked away from lofty, speculative biotech firms and momentum stocks (those with little valuation support). We continue to believe that the broader equity markets will continue to face pressure during 2014, but Valuentum sees this as an opportunity to not only grow relative outperformance in the portfolio of the Best Ideas Newsletter, but also to start to consider putting much of its large cash position to work. The Dividend Growth portfolio is well-positioned for the coming difficult market, as all positions have solid valuation support, strong balance sheets and robust cash flow generation. We would expect the constituents of the Dividend Growth portfolio to continue raising their annual dividend payouts regardless of what the broader equity markets do in 2014.
The application of a discounted cash flow process could not be a more valuable tool in this high-risk market environment. The concept of making forecasts in a discounted cash flow model is not to be precise, but to arrive at reasonable forward-looking projections to arrive at an intrinsic value. As the quote at the beginning of the article states, the application of a discounted cash flow process has little to do with precision but almost everything to do with identifying valuation outliers: "in other words you don't have to know how much a fat person weighs to realize they're overweight." (We couldn't find a better comparison that really gets the point across, and this has been quoted from another source.) Within the valuation process at Valuentum, we focus a large amount of time on deriving the best fair value estimate of each company, but we do not consider a firm to be undervalued until it falls outside the fair value range. A margin of safety is a critical component of our stock-selection process.

For every firm in our coverage universe, we apply a complete three-stage free cash flow to the firm (enterprise cash flow) valuation model, which generates an estimate of a company's equity value per share based on its discounted future free cash flows and the company's net balance sheet impact, including other adjustments to equity value (namely pension and OPEB adjustments).
Our ValueRisk rating, which considers the underlying uncertainty of the capacity of the firm to continue to generate value for shareholders, sets the margin of safety bands around this fair value estimate. For firms that are trading below the lower bound of our margin of safety band, we consider these companies undervalued based on the discounted cash flow process. For firms that are trading above the higher bound of our margin of safety band, we consider these companies overvalued based on our discounted cash flow process. We think a focus on discounted cash flow valuation prevents investors from exposing their portfolios to significantly overpriced stocks at their peaks. This couldn't be a more valuable aspect of any process during these high-risk times.
Much like John Maynard Keynes, we preach that we'd rather be roughly right, than precisely wrong, and this represents the entire premise of the discounted cash flow process and margin of safety that is embedded within the Valuentum Buying Index. The market's valuation considerations are not as attractive as they were a few years ago, and a number of indicators are pointing to a difficult 2014. Still, we see opportunity to consider entering positions in some of the strongest, firms with solid balance sheets and attractive valuations. Here are three ideas that we think investors should put on their radar.
Altria
We continue to prefer Altria (NYSE:MO) on the basis of its hefty annual dividend yield. The company continues to raise the dividend at a nice clip and holds a prized 27% ownership stake in SABMiller, which continues to perform well. SABMiller currently sports a ~R800 billion market capitalization (or about $80 billion USD at current exchange rates), which means Altria is effectively sitting on $21.6 billion in potential cash (about 30% of its market capitalization) at current price levels. We think this hidden asset within Altria's portfolio is the primary difference between our fair value of Altria and its market price. Altria remains a core holding in the portfolios of our Best Ideas Newsletter and Dividend Growth Newsletter. We think Altria's shares are worth $40 each.
Apple
We think consensus estimates for Apple's (NASDAQ:AAPL) earnings through the middle part of this decade are too low (on the basis of the recent China Mobile transaction), and the company's committed entrance into China bolsters the sustainability of the firm's long-term earnings stream, offering support for our estimate of its cash flow based intrinsic value. We like the company's track record of innovation and its extremely healthy balance sheet that will pave the way for significant dividend growth and opportunistic share buyback opportunities. We continue to believe Apple's shares are worth north of $600, with upside to over $750 on the basis of the high end of our fair value range.
General Electric
General Electric (NYSE:GE) has transformed itself from the days it had to slash its dividend back in 2009, as GE Capital is much smaller and poses less risk to the overall financial health of the organization. It's hard not to like the pace of the industrial conglomerate's orders, the size of its backlog, and the trajectory of industrial segment margins. We see valuation upside in GE's shares to the mid-$30s per share under our optimistic case.
Disclosure: I have no positions in any stocks mentioned, and no plans to initiate any positions within the next 72 hours. I wrote this article myself, and it expresses my own opinions. I am not receiving compensation for it (other than from Seeking Alpha). I have no business relationship with any company whose stock is mentioned in this article.
Additional disclosure: APPL, GE, and MO are included in the actively-managed portfolios in Valuentum's newsletter products.