Biotechnology has led the most recent decline on the market as witnessed by the performance of iShares Nasdaq Biotechnology Index (NASDAQ:IBB). However, one medical product name that has outperformed this ETF has been a small company called Atrion Corporation (NASDAQ:ATRI). Over the past decade, the company has seen its share price rise over 500% from $45 in 2004 to over $300 in 2014. Both of these trends can be seen in the two price charts found below.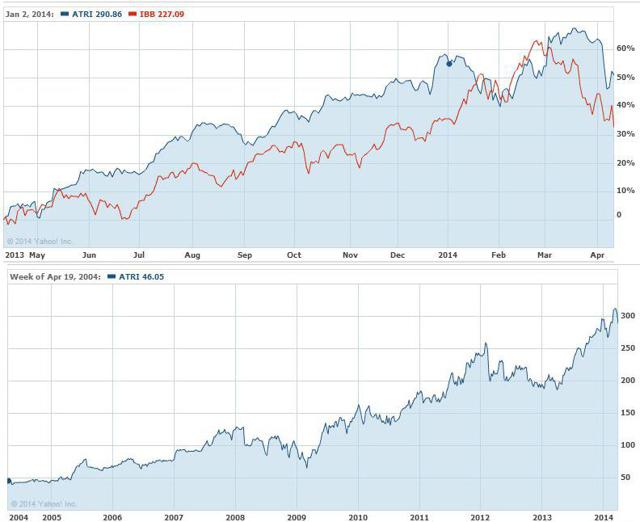 Atrion Corporation develops and manufactures products primarily used for medical applications. The company's expertise revolves primarily around three fields found in fluid delivery devices, cardiovascular products, and ophthalmic products. For 2013, these three fields accounted for 39%, 30%, and 16% of the company's annual revenue respectively. Yet in an expression of Atrion's diverse product range, it is also worth noting that the company markets non-medical products as well. These include valves and inflation devices used throughout the marine and aviation safety industry.
Some of the company's key medical products include the following:
The MPS2 Myocardial Protection System, a technology that delivers essential fluids to the heart during open-heart surgery.
Proprietary valves that promote needle safety & infection control.
Tubing clamps used in applications including anesthesia and oncology.
Cardiac surgery vacuum relief valves.
Inflation devices for balloon catheter dilation.
Contact lens disinfection cases.
A proprietary line of balloon catheters used for the treatment of nasolacrimal duct obstruction.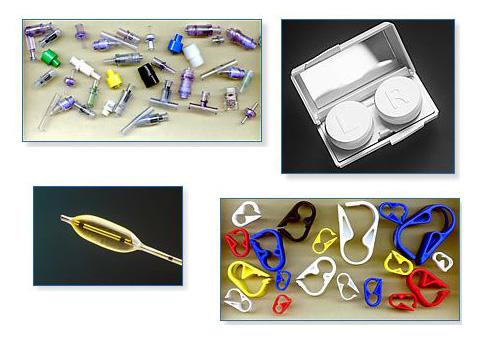 (Image Source)
An Advantage In Product Diversity
One of the key strengths of Atrion's business to investors is the company's product diversity. While largely focused on tube devices, valves, and inflation capabilities, Atrion's products are sold in several distinct markets. The company addresses three unique medical specialties along with a non-medical segment. As such, the company leverages its technology and expertise in a high-margin product field while capitalizing upon the underlying growth found in medical technology.
The revenue split between the market segments is also well-balanced. Fluid delivery devices and cardiovascular products continue to lead the way with $51.3 million and $40.2 million respectively in 2013, but neither accounts for more than half of the company's product revenue. The company also continues to see growth in each of its market segments. From 2012 to 2013, fluid delivery devices actually grew the slowest in light of outperformance in the company's other segments. Ophthalmology products and other non-medical products saw revenue growth of 31.9% and 8.3% respectively.
A Few Additional Thoughts About Atrion's Business
A Comparative Advantage In MPS2. The MPS2 Myocardial Protection System serves as a core technology used throughout Atrion's cardiovascular products. The company's technology is the only device used in open-heart surgery that allows for the mixing of drugs into the bloodstream without diluting the blood. The technology is useful for key functions such as regulating the rate and ratio of oxygenated blood, crystalloid, and potassium. It's also used for controlling the temperature, pressure, and other factors which can help improve patient outcomes. As cardiovascular disease continues to grow, it is likely that the demand for products used in cardiac surgery will continue to ride the underlying trend.
Long-Term Revenue Ramp. A key objective for Atrion is to secure long-term development and manufacturing agreements with its clients. In many instances, Atrion's products typically make up a single component of the final products sold by the customer. As such, the company designs products for these potential customers prior to gaining such agreements. The overall advantage of this strategy is that it secures a long-term revenue ramp for Atrion provided the company's product is consistent in quality. On the other hand, this also leaves Atrion dependent upon the success of its clients and the marketability of their products.
Intellectual Property. It is a well-known fact that the medical device industry is subject to frequent litigation when it comes to intellectual property. For this reason, it should be comforting for shareholders to know that Atrion retains an extensive patent portfolio. Along with trade secrets, Atrion currently has 501 active patents and patents applications pending that currently protect its products and products under development. The company is also paying royalties to outside parties for the rights to use 4 additional patents used in its products.
A Look At The Company's Financials
As of the closing price of $284.10 on April 11, Atrion now trades with a market capitalization of $564 million. The company has $172.1 million in total assets and $23.1 million in total liabilities as of the 2013 year-end. From December 2011 to December 2013, the company's assets have increased $10.2 million while liabilities have decreased $0.3 million. Over the same time period, annual revenue has increased from $117.7 million to $132 million while net income has merely increased from $26 million to $26.6 million.
Atrion appears to be well-capitalized. The company supports a current ratio of 9.65 with more than $90.3 million in current assets and only $9.4 million in current liabilities. Additionally, the company has been putting more capital into research and development. For the years 2011, 2012, and 2013, Atrion has expended $2.9 million, $3.8 million, and $4.3 million respectively. These increases in funding suggest the company is looking to build on its future growth.
Atrion has also been a consistent dividend grower. In 2004, the company issued an annual dividend rate of $0.52 per share. Raising their dividend every year thereafter, the company distributed $2.40 per share for all of 2013. Atrion currently maintains a forward annual dividend rate of $2.56 per share representing a 0.91% dividend yield. On several occasions the company also issued special cash dividends as noted in the chart below.
My Take On The Company
At a $564 million market capitalization, it remains difficult to believe that Atrion Corp. is undervalued in the present. The company trades with a premium price-to-sales ratio of 4.26 and price-to-book ratio of 3.79. At the same time, Atrion is supporting a trailing price-to-earnings ratio of 21.4. Over the past year, Atrion's stock has risen roughly 50% from $190 to $284. This steady rise appears rather unjustified for a company that only grew its revenue 10.9% from $119.1 million in 2012 to $132 million in 2013.
With this in mind, it remains important to point out that Atrion's business appears to be very steady. The company has consistently grown its top line, and has expanded into numerous markets with a core expertise. Additionally, the company has steadily grown its dividend and continues to reward long-term investors. Atrion appears to be a sound investment that is approaching a more than fair valuation in the present. I would be a buyer in the company should its share price experience a near-term dip. An increase to the dividend yield of at least 1.5% would also make the price more attractive in light of the current 2% dividend yield offered by the S&P 500 itself.
Disclosure: I have no positions in any stocks mentioned, and no plans to initiate any positions within the next 72 hours. I wrote this article myself, and it expresses my own opinions. I am not receiving compensation for it (other than from Seeking Alpha). I have no business relationship with any company whose stock is mentioned in this article.