OpenTable has clearly built a great business, with strong growth, brand recognition, network effects and user engagement. CEO Jeff Jordan has a deservedly stellar reputation from his time at eBay (NASDAQ:EBAY). Its restaurant reservation website and mobile apps have become the de facto industry standard (wannabe competition notwithstanding). However, there is a difference between a great business and a great stock. Given its lofty multiple (12x trailing revenue, 55x trailing EBITDA, 56x 2011E EPS), a great deal of success seems already priced in. How can we tell if OPEN's valuation is reasonable?
Reverse DCF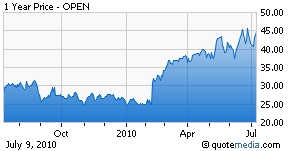 Although I am always skeptical when a sell-side analyst uses a discounted cash flow model to set an exact price target on a stock, I do believe that a DCF is a useful sanity check on equity values. So, I built a simple DCF model on OPEN. I posted the model on Google documents so anyone can make a copy and play with the assumptions, which are the cells in blue. I used what a think is a fairly rosy set of assumptions, namely that the company would more or less hit Wall St. estimates for 2010 and 2011 and then continue to grow at slightly lower rates each year for 10 years while expanding operating margins to a maximum of 36%, which is approximately on par with Google (NASDAQ:GOOG). I discounted back 10 years of earnings per share (ignoring the buildup of working capital and the excess of capital expenditures over D&A) and assigned a terminal value using the dividend discount model of d/r-g with a 3% perpetual growth rate.
At a 10% discount rate, the DCF only comes to about $22.00 per share. At a 36% maximum operating margin, you have to assume that the 31% revenue growth expected in 2010 continues for four more years and stays above 20% per year through 2019 to reach $44.00 per share. Since OPEN's revenue growth fell to 23% in the 2008 recession before re-accelerating to 31% expected this year as the company laps easy comps, maintaining a 31% growth for four more years as the company gets larger hardly seems realistic.
Terminal Value
Even after discounting back 10 years of earnings, over 60% of the DCF per-share value is in the terminal value, so perhaps this assumption bears further examination. The undiscounted terminal value is $33, or lower than the current stock price despite the company going from $0.56 or so in pro forma EPS this year to $2.36 by 2019. Is this too harsh?
To answer the question, I attempted to determine what OPEN's financials will look like assuming it is wildly successful and goes on to completely dominate online restaurant reservations. Of course, as any eBay, Microsoft (NASDAQ:MSFT), Intel (NASDAQ:INTC) or Google investor can tell you, once a company dominates its industry the growth rate naturally slows down and the multiple investors are willing to pay for earnings is reduced, typically to the 10-15x range. For OPEN, the relevant metrics are the number of restaurants in its system, the annual subscription revenue per restaurant, the number of seated diners per restaurant and the revenue per seated diner. The company claims that there are about 30,000 domestic and 30,000 international reservation-taking restaurants. In this spreadsheet (also publicly available in Google spreadsheets with assumptions in blue) I attempt to determine what OPEN's financials will look like at varying restaurant market shares, seated diners per restaurant, operating margins and mature free cash flow multiples. Note that the current metrics are in the first column.
From this analysis, I get a range of mature values of from $9.00 per share to $41.00 per share. The $41 number assumes that the company goes from 38% penetration of domestic restaurants today to 80%, 5.5% of international restaurants to 45%, nearly doubles the number of seated diners per restaurant (a number that grew 18% Y on Y in the most recent quarter comping the depths of the recession), achieves a 36% operating margin and gets a 14x FCF multiple. This gives the company credit for a great deal of success. Note also that the $33 terminal value multiple that appeared in the original DCF is pretty near the top end of the range.
Another way to look at it: if you assume that OPEN is wildly successful over the next several years, doubling its domestic restaurant share and going from 5% to 45% internationally while doubling the number of diners it seats per restaurant and achieving a 36% operating margin, the company should earn around $72M. Divide this by about 24.5M F/D shares outstanding and you get $2.94 per share in EPS. OPEN is already trading at 15x this number, and it will probably not be achieved for 7-10 years.
Conclusion
As the above analysis details, I believe OPEN is substantially overvalued. Shorting stocks just because they are overvalued is a dangerous game, because overvalued stocks can always become more overvalued and vice versa. However, I feel like the valuation disconnect is too great to ignore, and I am short OPEN. To me, the company is either going to have to successfully launch an as-yet unannounced line of business, or prove my assumptions vastly too conservative in terms of number of potential restaurants, diners per restaurant or pricing to justify its current stock market value. Perhaps as a natural monopoly they will have room to substantially raise prices in the future.
What will make investors notice OPEN's extreme valuation? It's difficult to say. Growth should slow in the next few quarters as the company faces much more difficult comps, although some of that is already in analyst numbers. If a double-dip recession does occur, high-end restaurant dining will be curtailed and OPEN will get the nasty double whammy of reduced EPS estimates and a compressed multiple. Short of a recession, the one area where I think the company could run into trouble meeting growth expectations is in restaurant additions. While the company has reported healthy net new adds so far this year, I believe that the addressable number of U.S. reservation-taking restaurants might actually be far smaller than the 30,000 the company claims. From a quick spot check of the Zagat's listings of a few cities, it appears that over 90% of the reservation-taking restaurants listed in Zagat's are already on OpenTable. Given that OPEN reported about 11,500 North American restaurants last quarter, it seems that penetration is well in excess of the 38% implied by the company's 30,000 reservation-taking restaurant estimate.
Until then, this stock may go up if it can nominally beat analyst estimates and momentum investors flip the stock to a greater fool. However, it is hard to see how any sober long-term investor expects to realize an attractive return from holding OPEN at these prices. No wonder insiders are selling stock at a healthy clip.
Disclosure: Short OPEN